Your donations directly support our work eliminating the shark fin trade by researching trade data, policy introduction and advocacy. Our work is helping establish marine protected areas in SE Asia through local support and collecting data on shark populations and range.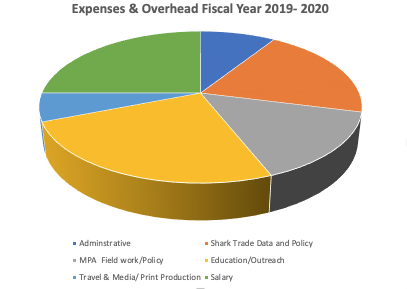 We are as lean as a shark and 91% of your tax deductible donation goes directly to program. We don't have expensive offices or high paid staff. We work with community and volunteers in the field and in the capital to fight for sharks. Our education programs reach over 10,000 community and youth in the classroom, at beach clean ups and Bioblitzes and online learning each year.
"Shark Stewards is on the frontlines saving sharks, please support their work." Dr. Sylvia Earle, National Geographic Fellow and Founder, Mission Blue
Please enter your one-time donation in the attached form or consider a monthly donation or stock donation. We are part of The Earth Island Institute, a US 501(c)(3) non-profit with the highest rankings by Charity Navigator and Guidestar. All donations are secured by GeoTrust.

---