Saving endangered sharks and fish from extraction in Hawai'i and the central Pacific
A panel discussion with experts, filmmakers and cultural elders, hosted by Shark Stewards.  We are thrilled that our discussion to celebrate the day and to include THE DARK HOBBY and to organize this important day for fish from algae eaters on the reef to pelagic sharks.
.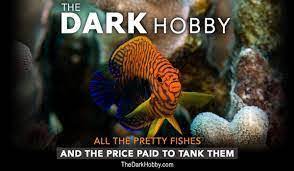 TOPIC: THE DARK HOBBY: Respect for Fish Essential Actions
Time: 2PM Hawai'i, 5PM PT, 8PM ET.
Moderator: David McGuire: National Geographic Explorer, Founder of the San Francisco Oceans Film Fest & Director of Shark Stewards
please Support Our Work. DONATE
Panelists:
Willy Kaupiko, Mayor of Milol'ii, Plaintiff in lawsuits to protect Hawai'ian reefs
Kaimi Kaupiko cultural practitioner and teacherr Milol'ii Village, to protect Hawai'ian reefs and fish
Robert Wintner, Owner of Snorkel Bobs, Writer, Activist and Producer of THE DARK HOBBY
Paula Fouce, Director and Producer of THE DARK HOBBY
Public Registration Link to share: https://bit.ly/Action4Fish
Facebook event page: https://www.facebook.com/events/366194225157338/
The conversation will be streamed on multiple platforms, including the film's social media pages.
Social Media Toolkit for Respect for Fish Day with factsheets, social media images, and copy
Hashtag: #Respect4Fish+ Add to Google Calendar+ Add to iCalendar
DETAILS
Date: May 13, , 2022 Time:7:12:00 pm – 1:00 pm PDT
Event Categories:Meeting, Online Event