Keep Puako Beautiful Beach and Bay Cleanup
July 9, 2022 @ 11:00 am

-

4:00 pm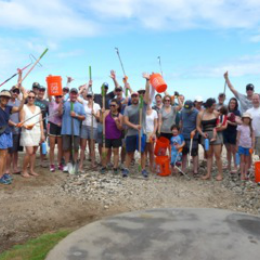 Meet: Kawaihae Surf Park. See attached

What: Tailgate style cleanup of the facility, beach, land  and water.

RSVP: Confirm Land or Water or both

Jay Nickerson (DOBOR) approved the 7/9/22 land & water cleanup. 

'Alohi Chinen asked us to host this cleanup for 50 people. Laura has volunteered to help us on the site. All 50 volunteers will have their paperwork ready for drop off when they arrive. 

Keep Puako Beautiful and South Kohala Reef Alliance participants must sign in on liability waivers.
Activities: Welcome to the cleanup and guest speakers from 8:30 tp 9 AM. 

Cleanup from 9 AM to 10 AM. Please take short video for our web site of cleanup, land or water, picking up trash and placing trash in your bag or bucket, sorting recyclables and taking trash to the dumpster.

Weigh, total tally trash 10 AM to 10:30

Keep Puako & South Kohala Reef Alliance will provide cleaners with waivers, data cards, supplies, buckets, pickers, and gloves ect.

Safety & Stewardship: Kurt, Heather & Paul, David & Hanna and others are scheduled to speak/ share their ocean stewardship work with volunteers just prior to the cleanup.

Hanna Puentes : Discuss 3 Rs cleanup safety and UXO's in the Kohala area. Safety materials available