Shark Week- Anna and the Thresher Shark Film and Conversation
August 14, 2020 @ 9:00 am

-

10:00 am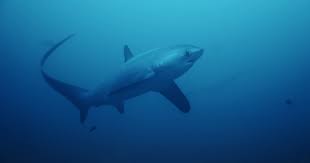 Join Shark Stewards David McGuire, Blue Endeavors Vince Smith and Save Philippines Seas Anna Oposa in a discussion Anna and the Thresher Shark and saving sharks through diving with the International Ocean Film Festival.
Live conversation on saving sharks and diving in the Philippines. Join the conversation here.
Sharks Program (TRT: 93 min)
Transformation – Gui Garcia & Cathryn Castle Garcia, USA, 4 min
Space Sharks – Stefan Schumacher, USA, 5 min
Galapagos Evolution – Roberto Ochoa, Ecuador, 32 min
Anna & the Thresher Shark – Franck Swanson, France, 52 min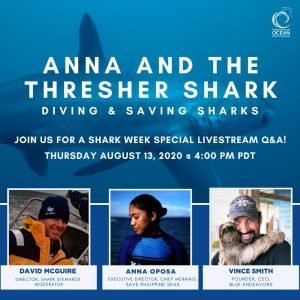 Shark BITES at noon.
Join Shark Stewards in our own Shark Week with Dave the Finless Shark, shark science and fun facts at noon on Instagram