Socorro Giant Manta Expedition
June 11 @ 10:00 pm

-

June 22 @ 7:00 am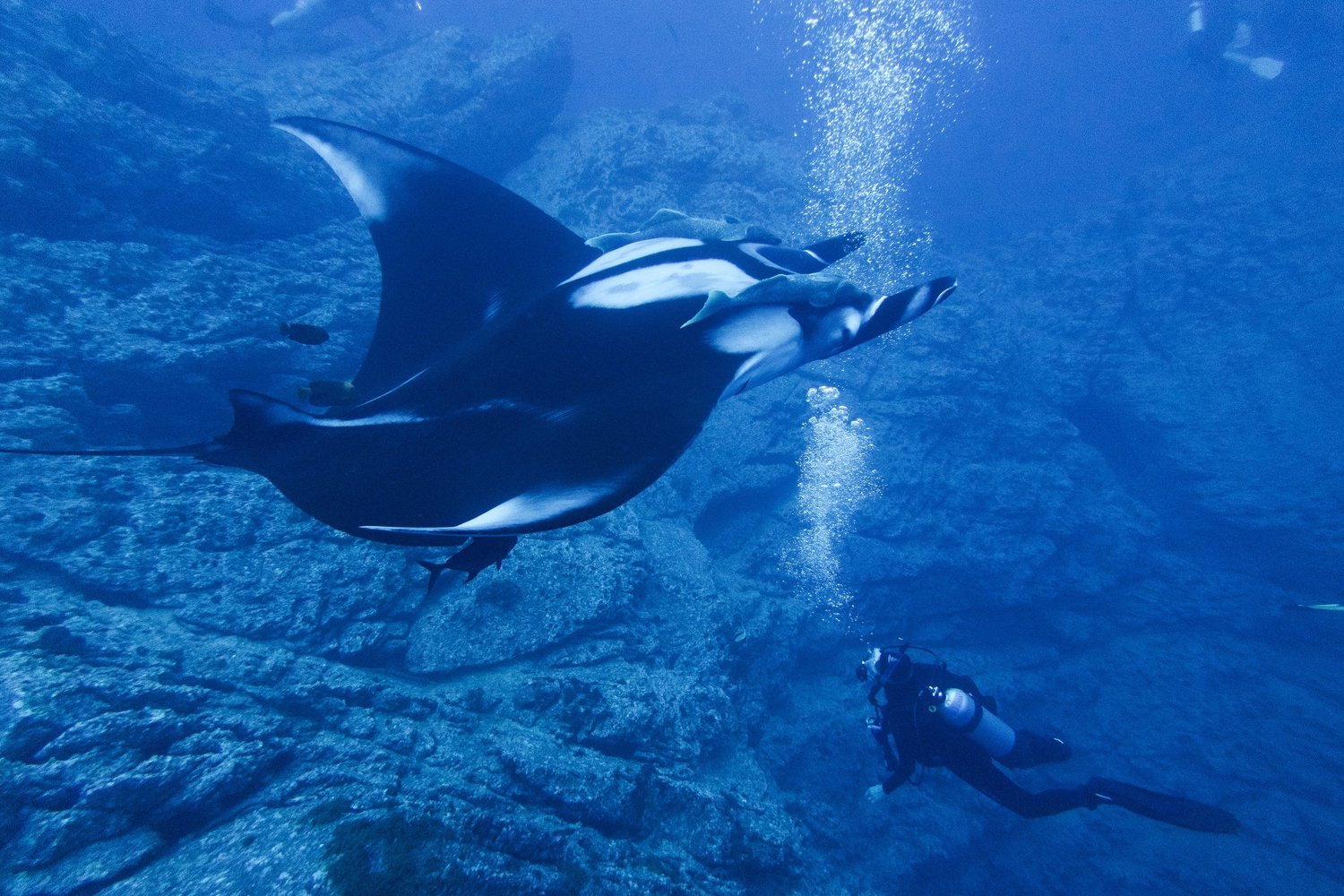 Join Shark Stewards and Blue Endeavors on a research adventure, learning and documenting wildlife at the Mexican Islands of the Revillagigedos Islands, Baja California Mexico. A marine reserve, world heritage site and major aggregation for giant manta rays, hammerhead, silky and galapagos sharks and other marine megafauna from whales to sea turtles, these islands host some of the most magnificent marine megafauna on the planet.
This expedition combines scientists, citizen scientists and students to observe and collect data on an exciting conservation expedition.
Donate to Support a student and join us as a diver!
Funds raised will be used to strengthen our partnership in shark and ray data collection, inspiring the public and youth through education and advocacy and applying science and education into permanent shark and marine protection. This year we are partnering to bring students and documentarians on our joint venture bringing students to document manta rays using new technology in June 12- 20 at Mexico's famous Socorro Island. Funding will also be leveraged to match a Patreon campaign to produce a shark adventure and conservation documentary to be screened at the International Ocean Film Festival in spring of 2023 and other documentary festivals and online broadcast.
NOTE: Expedition is full but there is a waiting list.
You can see mantas in many places around the world. But nowhere else boasts a population of giant mantas that literally seek out interaction with divers and snorkelers. The behavior these giant mantas exhibit is almost inexplicable. These gentle giants with a wingspan up to 20 feet consistently approach divers for intimate eye-to-eye encounters. If you are able to be calm and still in the water, you are almost sure to experience what we call "manta love." While mantas are the reason to voyage out to Socorro, there are lots of other animals to see, including schooling hammerheads and silky sharks, plus 8 other species of sharks, bottlenose dolphins that consistently hang out with divers at certain dive sites, large schools of pelagic fish, and, in season, humpback whales.
Socorro Island is a small volcanic island in the Revillagigedo Islands, a Mexican possession lying 600 kilometres off the country's western coast. The size is 16.5 by 11.5 km, with an area of 132 km². It is the largest of the four islands of the Revillagigedo Archipelago.
PROJECT
Giant Manta Expedition
THE PROJECT:  Members and students will be developing and collecting data via underbelly photographs and measurements for a new cutting edge cloud based database of giant mantas that we are developing using facial recognition software to allow researchers to learn more about these unknown pelagic animals. Blue Endeavors members may participate in this project or simply enjoy seeing the results in the evenings.
WHO IS ELIGIBLE: Current Blue Endeavors members and students who have completed a previous Blue Endeavors expedition. Additional training in Monterey may be required based on experience level.
PREREQUISITE CERTIFICATIONS: Divers must be certified in both Nitrox and Deep Diving, and comfortable shooting an SMB. Divers will have an opportunity to take these specialties and practice skills in Monterey before the expedition.
FINANCIAL AID: A friend to Blue Endeavors, Mike Lever, has donated some funds for students that have a financial need.  Please email vince at vince@blue-endeavors.org if you would like to participate, have a financial need or would like to help additional students participate on the trip.
STAFF & CHAPERONES: Similar to previous trips, in addition to the dive staff on the Nautilus, we will have Blue Endeavors instructors leading the dive operations with marine biologist David McGuire, with a student chaperone, Bruce Hamren from The Athenian School.
DETAILS
The Ship
For more info on Socorro and to see the ship The Nautilus UnderSea, please click these links.  The three room options are explained on this site.
Trip Costs
THE ITINERARY: 
Group Flight:
Prices do not include air travel, but we will have a group flight when available as an option.
June 23rd: Board the Nautilus UnderSea, and journey to Socorro. (No cell access on this trip. There is the possibility of poor internet service for $100 extra, but it often does not work. The ship has satellite phones to make and receive important calls.
THE DEPOSIT:
We have very limited space on this trip.  To secure your spot please use the links "Add to Cart" button below.
Deposits are refundable for any reason once the full value of all the spaces on the trip have been purchased by another diver.
Included:
Divemaster lead dives in Socorro

Accommodations – 2 divers per stateroom

All meals (Not including alcohol for 21+)

Lifelines and SMBs
Not included:
Airfare

Checked bag

Airline transfers (We can arrange pick up)

DAN insurance (Required)

Click here for more info, or, to purchase or renew your DAN insurance

All taxes and port fees (Will confirm final price)

Dive gear rental (Please let us know what dive gear you require so we can make sure it is waiting on the ship for you)

Nitrox (Highly Recommended)

Crew Gratuity
Totals
Total w/ Triple Stateroom Accommodations: $3,459.75
Total w/ Standard Stateroom Accommodations: $3,805.75
Total w/ Premium Stateroom Accommodations: $5,076.75
Deposits (not including group airfare):
Deposit 1: Ensures your spot on the trip: $1,000