Wake For Whales Event: World Oceans Day
June 8, 2021 @ 11:00 am

-

12:00 pm
Save the Whales, Save the Sharks Event
Whales are washing up dead on our beaches. These giants of the sea face numerous threats to their survival including entanglement in fishing gear, collisions with ships, and climate change.
In Southern California sharks, seabirds, sea turtles and whales are entangled and die in a deadly swordfish fishery.
For this year's Oceans Day, we're holding "A Wake for the Whales." We'll honor these majestic animals, hear from experts about what our elected officials can do to help them, and take action.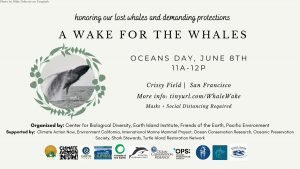 What: A Wake for Whales
When: Tuesday, June 8, 11 a.m.
Where: Crissy Field East Beach, across from the Crissy Beach parking lot, near the intersection of Jauss and Javowitz St., San Francisco, Calif.
COVID Safety: All attendees are required to mask up and social distancing will be enforced.
Please Donate to Support Community Action
Join us to demand immediate action to protect whales from our state and federal government.
If you're on Facebook, join the event and share it with your friends.
PRESS RELEASE
'A Wake for the Whales' to Mark Bay Area Deaths, Call for New Protections
Colorful Event on World Oceans Day, June 8, at San Francisco's Crissy Field
SAN FRANCISCO— Conservation groups and whale lovers will gather on Tuesday, June 8, which is World Oceans Day, at Crissy Field East Beach in San Francisco to honor the 12 dead whales that have washed up in the Bay Area so far this year and call for greater protections.
"A Wake for the Whales" will feature colorful visuals, a scenic backdrop and speakers with expertise on the three top threats to whales: ship strikes, entanglement in fishing gear and climate change.
"Dead whales washing up on Bay Area beaches is a wake-up call. We'll honor the dead, celebrate whales' essential role in healthy oceans and urge our representatives to better protect these amazing creatures," said Stephanie Prufer, an oceans program organizer with the Center for Biological Diversity. "We know ship speed limits save whales' lives. We're excited that ropeless fishing technology can replace the thousands of entangling crab lines along our coast. And we understand how climate change threatens whales, even as whales sequester carbon and are part of the climate change solution. So join us on World Oceans Day and let's celebrate the magnificent whales that travel our beautiful coastline."
WHAT: A Wake for the Whales, honoring the whales being killed in the Bay Area and advocating for solutions to their main causes of death. Attendees can take specific actions at the event to urge official solutions. Facebook livestream of the event is at http://biodiv.us/whale-wake.
Visuals will include whale headstones and blow-up whales with the threats they face, against the background of the Golden Gate and possibly large container ships passing through.
WHEN: 11 a.m. on Tuesday, June 8, on World Oceans Day
WHERE: Crissy Field East Beach, near the intersection of Jauss and Javowitz streets, San Francisco.
WHO: Speakers and supporters from the Center for Biological Diversity, Friends of the Earth, Pacific Environment, Earth Island Institute, Climate Action Now, Environment California, Turtle Island Restoration Network, Ocean Conservation Research, NRDC, Ocean Preservation Society, International Marine Mammal Project, and Shark Stewards.
Background:
Blue, fin, humpback, grey and other whales migrate along the West Coast, where they are most threatened by vessel strikes and entanglement in fishing gear. Climate change also poses new and growing threats to whales, including malnutrition as their food sources are diminished or moved, sometimes bringing whales into areas where they're more likely to be entangled or hit by ships.
Eleven dead whales have washed up around the Bay Area since early April, and at least four died from ship strikes. Two dead whales were also found on the hull of a military ship in San Diego last month.
The Center and Friends of the Earth sued the federal government in January for failing to protect endangered whales from vessels along the West Coast. The Center also filed a federal petition in April calling for mandatory 10-knot speed limits for ships using California ports. Similar legal actions have also been filed for the East Coast and the Gulf of Mexico.
Entanglement in fishing gear has also been a leading threat to whales in California, with the annual number rising dramatically after 2014. The Center sued the state over the issue in 2017, leading California to adopt new rules for the commercial Dungeness crab fishery last year to avoid entangling whales.
California's new rules allow the use of new ropeless or "pop-up" fishing gear but do little to incentivize its adoption. Ropeless traps eliminate the entanglement threat. The Center and other groups supported the Whale Entanglement Prevention Act of 2021, which would mandate conversion to ropeless gear by 2026.