Picture above: R/V Viking.
There is strong evidence that illegal fishing has increased in marine reserves from California to the Galapagos during the COVID crisis. These marine protected zones prohibit commercial, and in many cases recreational fishing and take of marine wildlife. However, a lack of eco-tourism and patrols has lead to increased fishing in the Northeast Pacific- particularly off Central America.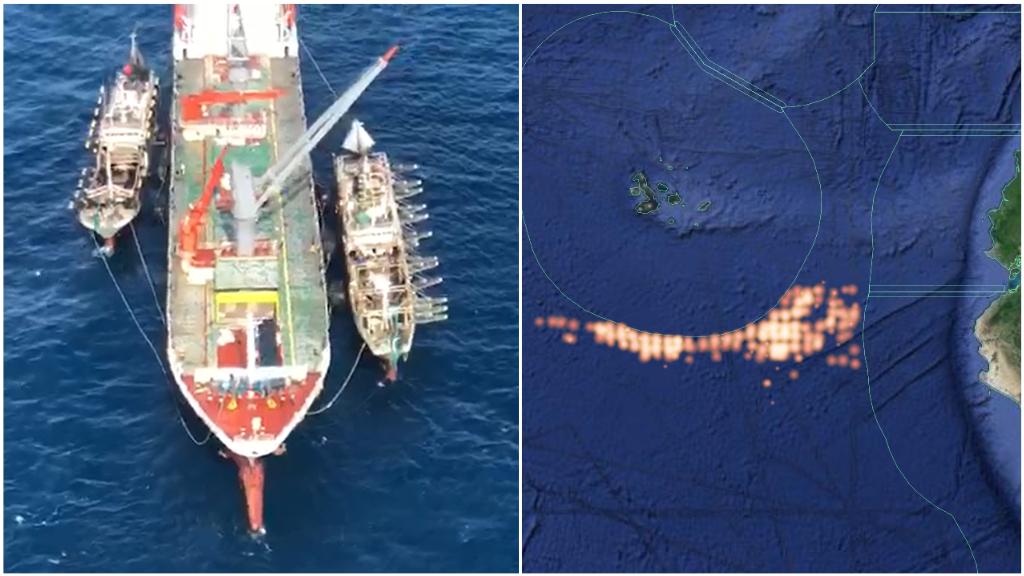 Since June 2020, over 300 Chinese fishing vessels have been observed fishing the edge of the Galapagos Exclusive Economic Zone, one of the richest and most diverse marine ecosystems in the world, This fleet has been fishing in international waters since 2017, but a greater number has been recorded in 2020.
Using satellite technology, Global Fish Watch has followed vessels fishing along the edges and encroaching inside the Galapagos killing tuna, but also sharks and sea turtles. There is also evidence that the smaller vessels are transferring fish to a larger mother ship (called trans-shipment) to allow them to fish to continue fishing for extended periods of time. Some of these vessels turn off their transponders providing location information, "going dark" and suspected to be fishing inside the protected zones.
According to Oceana, nearly 300 Chinese vessels accounted for 99% of visible fishing just outside the archipelago's waters between 13 July and 13 August this year.
This vast fishing armada tracked by Global Fishing Watch just off the Galápagos Islands logged 73,000 hours of fishing in just one month. These vessels harvested thousands of tons of squid and other fish, as longliners harvested thousands of sharks and tons of tuna near this World Heritage Area and national marine reserve.
Additional evidence indicates fishing is occurring inside the Cocos Island Marine reserve off Costa Rica, and other concerns have been voiced among dive tour operators in Mexico. Taking advantage of the lack of ecotourism and patrols, these vessels are targeting sharks and other large species in marine reserves and along the migratory pathway shared by other species such as marine mammals and sea turtles.
In May 2020, 26 tons of shark fins, belonging to 38,500 specimens, were seized in Hong Kong, China. The two containers had arrived from Ecuador.
In September, Peruvian Police announced the seizure of eight tons of hammerhead and Thresher shark meat, in a border city located 30 kilometers from Ecuador. According to the authorities, the animals came from Ecuadorian territory.
This region of high abundance and species richness includes the waters, coasts and islands off the shores of Central and South America. We will document sharks and fishing near and in the UNESCO World Heritage Sites of Cocos Island, Malpelo Island, and Coiba National Park, Galapagos Islands and Marine Reserve.
Meanwhile, in California, we have monitored and received reports of illegal fishing in our State MPAs including Duxbury Reef and SE Farallon Island in our Golden Gate MPA region. To address this, we are hosting a public compliance education workshop with California Fish and Wildlife, are active in our California MPA Collaborative network and MPA Watch, and are developing an online education module for MPAs statewide, including a compliance module.
This fall, Shark Stewards joins Ocean Explorer on an expedition diving remote Pacific marine reserves areas to expose and document Illegal, Unreported and Unregulated (IUU) fishing in and around marine protected areas. Follow us on live Instagram.
This media and film adventure will support Mission Blue and Turtle Island Restoration Network to create one of the world's first marine protected areas connecting the UNESCO biosphere reserves of two countries. This region also known as he Cocos- Galapagos Swimway was also recently adopted by Mission Blue as a Hope Spot.
Their letter urges Costa Rica and Ecuador to act quickly to create the Cocos-Galapagos Swimway, a 240,000 square-kilometer underwater highway that connects the National Parks of two sovereign nations: Costa Rica's Cocos Island National Park with Ecuador's Galapagos Marine Reserve. Both island groups are federal marine protected areas and are UNESCO World Heritage Sites.
Scientific research in the Eastern Pacific conducted by a network of organizations known as MigraMar revealed endangered and threatened marine species like whale sharks, green sea turtles, leatherback sea turtles, silky sharks, and scalloped hammerhead sharks use this swimway to migrate between the marine reserves. When these species leave the protected areas, however, they enter the open ocean where they are at grave risk to industrial fishing.
Our team has transited from San Francisco, heading down the coast visiting select marine protected areas from California to the Hammerhead Highway, to recognize the urgent need to protect sharks and marine habitat.
You can see where we have been, but not where we are going.
Follow our voyage from California to Panama live and on Instagram and Facebook and posts on our Field Notes column with National Geographic to learn more.
Can you support the cause?