If designated this would be the nation's 16th national marine sanctuary, the 5th in California waters, and the first Indigenous -led National Cultural Heritage Area.
Following input from tribal nations, state and federal agencies, conservationists and the public, NOAA has released a proposal to designate a 5,617-square-mile area offshore of San Luis Obispo and Santa Barbara counties in central California as Chumash Heritage National Marine Sanctuary. This and three other proposed Sanctuaries, are part of President Biden's America the Beautiful Initiative, with a goal to conserve and restore 30 percent of U.S. lands and waters by 2030.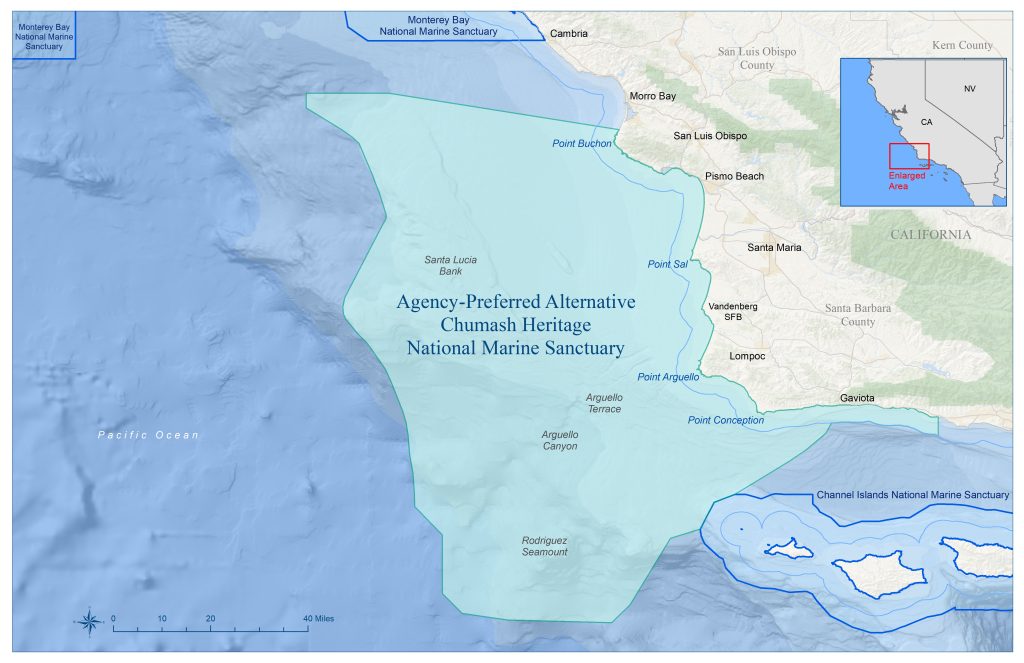 Map of the area off the coast of San Luis Obispo County, California, that NOAA is proposing to designate as the Chumash Heritage National Marine Sanctuary. (Image credit: NOAA)
The agency's proposed boundary for Chumash Heritage National Marine Sanctuary would stretch along 134 miles of coastline from Hazard Canyon Reef, south of Morro Bay, to an area just south of Dos Pueblos Canyon in Santa Barbara County. This site is of one of the largest historical Chumash villages along the Gaviota Coast and host to several sacred sites.
This proposed designation is the first Indigenous-led nomination for a national marine sanctuary.
The public can comment on the sanctuary proposal through Oct. 25, 2023, through the Federal eRulemaking Portal. The docket number is NOAA-NOS-2021-0080. In addition, NOAA will host two in-person and one virtual public comment meetings during which members of the public can offer oral comments.
NOAA is accepting public comments through October 25, 2023. In addition, NOAA will host virtual and in-person meetings to gather additional input.
Public Comment Meeting 1 (in-person):
Monday, September 25, 2023 at 5 PM PDT
County of San Luis Obispo Board of Supervisors Hearing Room
1055 Monterey Street, San Luis Obispo, CA 93408
Public Comment Meeting 2 (in-person):
Wednesday, September 27, 2023 at 5 PM PDT
Dick DeWees Community Center
1120 West Ocean Avenue, Lompoc, CA 93436
Public Comment Meeting 3 (online):
Thursday, October 12, 2023 at 1 PM PDT
We encourage your input on this action and look forward to hearing from you during this designation process. For more information, please visit the website.
NOAA will also host two in-person informational workshops and one virtual informational webinar approximately two weeks in advance of the public comment meetings. More detailed information on the dates, times, and locations for public meetings is available at: https://sanctuaries.noaa.gov/chumash-heritage/.