Shark Stewards Join's Earth Island Institute in Law Suit Against Big Plastic
Lawsuit seeks to hold major food, beverage, and consumer goods companies accountable for plastic pollution

Shark Stewards with Island Institute has filed the first major lawsuit against the top ten largest producers of single-use plastic for polluting our waterways, coasts, and oceans with millions of tons of plastic packaging. The lawsuit was filed in California State Superior Court for violations of the California Consumers Legal Remedies Act, public nuisance, breach of express warranty, defective product liability, negligence, and failure to warn of the harms caused by their plastic packaging.
"This is the first of what I believe will be a wave of lawsuits seeking to hold the plastics industry accountable for the unprecedented mess in our oceans. These plastics peddlers knew that our nation's disposal and recycling capabilities would be overrun, and their products would end up polluting our waterways."

Josh Floum, Earth Island Institute's Board President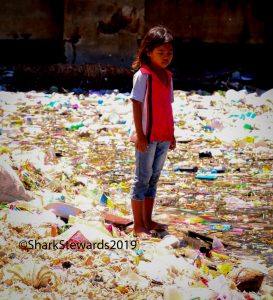 Through this lawsuit, Earth Island is seeking, among other things, to recover the significant resources it expends to prevent and mitigate the effects of plastic pollution on humans, wildlife, oceans, and waterways in California, where the impacts are particularly acute.
"Scientists estimate that by 2050 there will be more plastic than fish by weight. We are putting too much plastic in and taking too many fish out. Now, we are doing both by pulling plastic out of the ocean inside the shark. Mutagens, toxic, and hormone mimics: plastic is coming back to bite us."

David McGuire, Director of Shark Stewards.
Microplastics: Sweat the Small Stuff
An October 2019 report by the San Francisco Estuary Institute revealed that the San Francisco Bay has some of the highest levels of microplastics measured anywhere to date, and many of the particles appear to be linked to single-use plastic items. And a June 2019 study by the Monterey Bay Aquarium Research Institute found that microplastic concentration in Monterey Bay exceeds that of the Great Pacific Garbage Patch. The primary source was plastic associated with food, beverage, and other consumer goods. The same study also found that small marine animals are consuming these microplastics, thus introducing the particles into the food web that feeds California.
Filed complaint available here.
Shark Steward's mission is to restore ocean health by saving sharks from overfishing and the shark fin trade, and protecting critical marine habitat through the establishment of marine protected areas and shark sanctuaries. With your help, we can do it!