The Aquatic Stewards program is an ongoing volunteer program educating youth on marine ecosystems and species, and collecting data in a long-term study of terrestrial and marine sources while engaging the public to support our National Park and public beaches.
We are working with underserved youth in San Francisco and Los Angeles public schools learning ecosystem science and cleaning up the beach. Youth and citizen scientists record data and are mapping and identifying species in Aquatic Park Cove using iNaturalist with the California Academy of Sciences. We also train citizen-scientists to conduct Bio Blitzes in the Park with the community to observe and record species data in the Cove and nearshore. Join us at one of our events in San Francisco, Berkeley, Southern California and Hawaii!
We upload data on marine litter using the Marine Debris Tracker App, and Flora and Fauna observations to the Aquatic Park Ecoblitz Project.
In 2022 we have expanded our cleanups and wildlife surveys at Aquatic Park Berkeley, documenting shark and ray die-offs and working with the City and State to mitigate this hazard to wildlife and human health.
CORPORATE SPONSORS? Supporting our National Park and beaches through your donations and volunteer hours!
Our youth film Hang Onto Your Butts wins the youth competition for middle schools at the San Francisco International Ocean Film Festival..
Congratulations, the Aquatic Park Stewards youth volunteer program has been awarded the prestigious George Jr. & Helen Hartzog National Awards for Outstanding Service Youth Groups Division by the National Parks Service at the Western Regional and National levels!

Kevin Hendricks, Superintendent, San Francisco Maritime Heritage National Park
With our partners* our aim is to reduce plastic pollution in the Bay Tributaries, San Francisco Bay and adjacent beaches through direct action, education and policy. This campaign aims to raise awareness about the environmental impact of cigarette butt litter on our oceans, waves and beaches, and to help eliminate cigarette butt litter in San Francisco County and beyond to the Bay and Pacific Ocean. Commonly littered on our sidewalks and streets, butts end up in our storm drains, flowing to our streams, rivers, bays, lagoons and ultimately the ocean.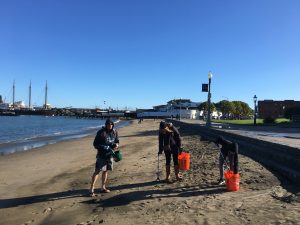 WHAT TO BRING
Layered clothing
sunscreen and hat
sunglasses
reusable water or drink container
lunch or snacks if desired- no single use plastic please!
sandals, sneakers of beach shoes.
We are a volunteer program relying on donations for cleanup materials. Donate $10 to support the Healthy Bay Program to fund gloves, tools and clean up materials.
*Partners include the San Francisco Dolphin Club, San Francisco Unified School District, Friends of Aquatic Park , Friends of 5 Creeks and many others.