Shark Stewards is committed to the formation and protection of habitat and marine ecosystems under Marine Protected Areas from California to SE Asia.
"The use of Marine Protected Areas (MPAs) for conservation has increased along with the growing global recognition of the need to safeguard the marine environment. Two of the primary reasons for establishing MPAs are for nature conservation and/or for fisheries management. With the increasing trend of applying an ecosystem-based approach to fisheries, MPAs with broader combined objectives for ecosystem management are likely to become more common." United Nations Food and Agricultural Organization
What is a Marine Protected Area?
MPAs have a breadth of definitions from fully protected no-take reserves, to protection for cultural and historical purposes. A general definition is:
"A clearly defined geographical space, recognised, dedicated and managed, through legal or other effective means, to achieve the long-term conservation of nature with associated ecosystem services and cultural values."

Source: International Union for the Conservation of Nature 2008
Since 2009, Shark Stewards has worked with the State of California Ocean Protection Council and Department of Fish Wildlife in the selection and implementation of our state network of marine protected areas. We participated as stakeholders for habitat and shark protection along the North Central coast from Point Arena to Pigeon Point helping identify key areas, such as the Farallon Islands.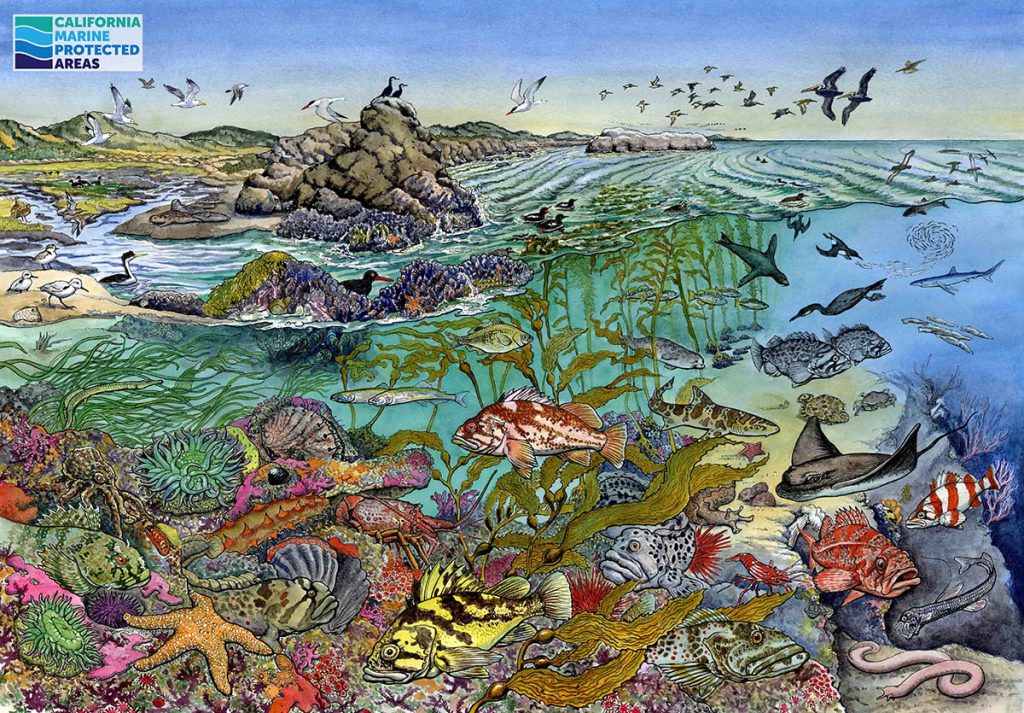 Ecosystem-Based Protection and Management Networks
A network of MPAs is a collection of MPAs that have a common purpose. Ideally, a network of MPAs should be designed as a synergistic system where the "whole is greater than the sum of the parts." A potential benefit of a network of MPAs rather than a single (presumably larger) MPA, is that the network may be more resilient to a wide range of threats.
Since 2015, we have been a leading partner of the Golden Gate Marine Protected Area Collaborative Network, whose mission is to help communicate the importance of Marine Protected Areas along the San Francisco and Marin shorelines. As the coastal resources are a public trust, it is necessary to balance needs for multiple use with conservation priorities. The MLPA provides for this by defining four different types of MPAs.
National Marine Monuments and Sanctuaries
Greater Farallones National Marine Santuary
Our National Marine Sanctuary System consists of thirteen national marine sanctuaries, and three Marine National Monuments: the Papahānaumokuākea; the Pacific Remote Island Remote Island and; Rose Atoll Marine National Monuments. These federally-managed marine protected areas have very different management processes and definitions. National Marine Sanctuaries are designated under the National Marine Sanctuaries Act, while Marine National Monuments are established under the Antiquities Act.
The National Marine Sanctuaries Act (NMSA) directs Greater Farallones National Marine Sanctuary to take an ecosystem-based approach to management with the primary mandate of resource protection. Shark Stewards has worked as a proud partner within the GFNMS, including supporting the expansion in 2015.
Shark Steward's mission is to restore ocean health by saving sharks from overfishing and the shark fin trade, and protecting critical marine habitat through the establishment of marine protected areas and shark sanctuaries. With your help, we can do it!
Resources
State of the California Central Coast – Results from Baseline Monitoring of Marine Protected Areas 2007 – 2012