Since 2016, Shark Stewards has been collecting data on sharks in the wild, sharks observed dead or in recreational shark catch in California. Starting in the San Francisco Bay, Shark Watch has been recording observations with the California Academy of Sciences using the iNaturalist platform. Now, with Ocean Sanctuaries, we are asking underwater and topside photographers to record their observations into our National Science Foundation Sci -Starter California Shark Project platform.See a Live Shark? Record it!
Through monitoring of fish reports and mining social media, we have collected observations of hundreds of incidents of capturing large sharks for sport, including protected white sharks. These sharks are captured and killed or caught and released in public waters near high densities of recreational water users. Many of the sharks are killed or harmed, even when released.
Leveraging these data and shark attack incidents associated with sportfishing and encounters observed by life safety personnel, we are proposing an amendment to ban chumming or baiting large sharks in state waters and on recreational piers. This will increase public safety by keeping sharks, especially juvenile white sharks frequenting Southern California waters, from being attracted to areas of high human activity.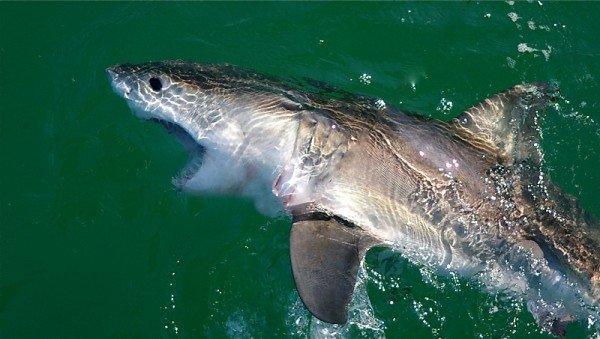 Background
Scientists, students, interns, and volunteers have documented several encroachments of white sharks near public beaches, attracted by bait and struggling fish. One study at the Balboa Pier, which is directly adjacent to a popular swimming and surfing area, shows repeat approaches of white sharks attracted by fishermen. One egregious example occurred on July 5, 2014, when open water swimmer Steven Robles was bitten by a juvenile white shark that had been attracted by fishermen, hooked, played and released, despite the fact that white sharks are a protected species and their capture is illegal. The fishermen's actions aggravated the shark, which is believed to have directed its fury onto the adjacent swimmer immediately following its release.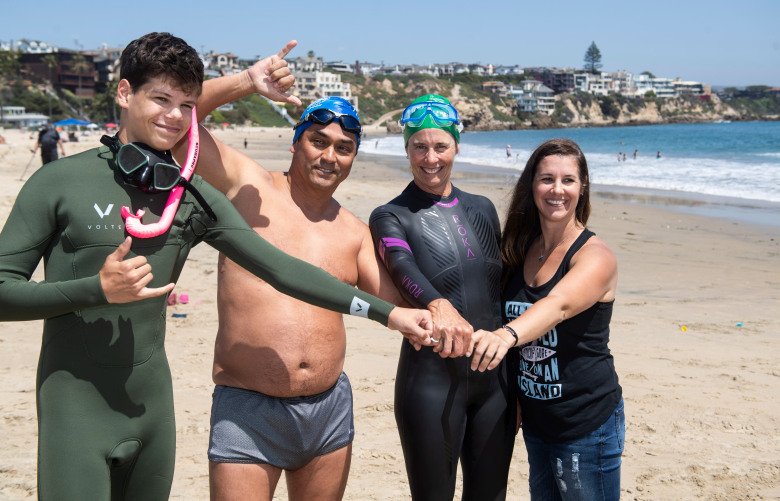 In summer 2020, Mr. Robles confronted another fisherman shark fishing from the same pier where his group swam and has since has become an advocate for swimmer protection. Additionally, many kayak- shark interactions are catalyzed or exacerbated by baiting or attracting sharks including an encounter with an endangered hammerhead shark off Santa Barbara. These interactions invariably lead to news and social media messaging with negative connotations ("shark attack"). As the white shark population rises off Southern California, reducing risk will also reduce the risk of a vendetta effect, as seen in the shark culls that have taken place in Australia and South Africa during periods of high encounters.
Public safety officials, shark attack survivors lead by our Southern California chair, herself a shark attack survivor, other non profits and Fish and Wildlife staff interviewed all support this measure for public safety.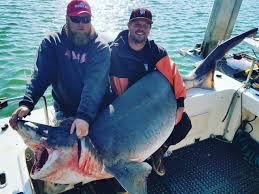 Photo: World Record sevengill catch killed in San Francisco Bay, 2017
See a Live Shark? Record it!
Not limited to white sharks, this program includes tracking the catch and kill of sportfishing record sevengill sharks in the San Francisco Bay and from public piers in Southern California. These sharks are generally mature females, the most important segment of the population to protect. The Guinness Book of World records and the IGFA world record for this species (Notorhynchus cepedianus) have been recorded here and attract fishermen for around the globe. In the Bay, commercial charters leading boatloads of anglers killing as many as 30 sharks per trip in an important nursery area. The largest sharks are pregnant females, so this targeted hunt is having untold consequences on the long-term health of the sevengill population.
Goals:
Compile data for a better management and scientific understanding o sharks and increase public safety on public beaches and piers in state waters.