Shark Stewards has developed and manages several programs that engage youth and the community, collecting scientific observations and data for long-term use. Join us!
CA Dive MPA Data
Shark Stewards is a leading partner in the California Marine Protected Area Collaborative Network. Our mission is to help communicate the importance of Marine Protected Areas along the San Francisco and Marin shorelines and assist fishermen to comply with the regulations under the Marine Life Protection Act. The MPA Watch program is reaching coastal residents and visitors, providing training to collect observations on human use and interactions inside our MPAs. Volunteers are also diving and adding observations inside MPAs through diving using iNaturalist.  
Shark Watch
Beginning in 2013 with the California Academy of Sciences we initiated the Shark Watch iNaturalist Citizen Scientist program. This App allows users to identify and collect observations on sharks and rays. Initiated in the San Francisco Bay, the program is now global and provides a database for scientists to identify time, place and species. Information can be used for education and fisheries or habitat management.
Aquatic Park Stewardship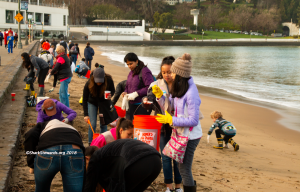 The Aquatic Park Stewards program is helping lead marine debris prevention through beach clean-up, quantifying marine debris, and wildlife and supporting our partners, the National Park Service. The school program brings underserved youth to the San Francisco appreciating and learning about marine ecosystems, threats and solutions. Join us cleaning and supporting Aquatic Park National Marine Heritage Area.
California EcoBlitz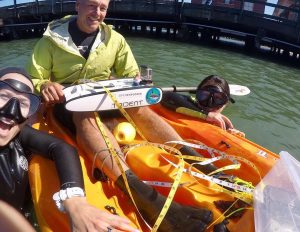 EcoBlitz CA with National Geographic- a statewide urban to ocean plastics and species data collection with youth.
This is a project engaging educators & classrooms to gather data, shared with National Geographic Explorers in a project to better understand the interconnected nature of the human & natural world.
Shark Citizen Science, 7 Gill Sharks