Empowering coastal communities to advance MPA management
and catalyzing our community ocean stewardship
The Golden Gate MPA Collaborative brings together environmental NGOs, agencies, fishermen, scientists, aquaria and vessel captains interested in raising awareness of marine protected areas in Marin and San Francisco counties, including the Farallon Islands.New Statewide Online MPA Training Modules Release 

Join the MPA Collaborative Network for a "train the trainer" launch event of the Online MPA Training Modules

The Golden Gate Collaborative Team has been hard at work finalizing the statewide Online MPA Training Modules and we will be launching the modules in a virtual event next Wednesday February 9, from 10 am to 11 am. Please see the event flyer attached or at this link for more information. The Zoom registration is below and the event will be recorded and shared out afterwards. 

This training will introduce the 4 modules developed under a grant by the Ocean Protection Council with Coastal Quest, to facilitate our understanding and appreciation of our state network of marine protected areas, and to facilitate compliance.

Thank you to everyone who reviewed and provided input on this project including collaborative members from across the state, Tribal leaders, the California Department of Fish and Wildlife, and MPA Collaborative Network staff. This interactive online training is meant to serve field educators, docents, volunteers, interpreters, students, and the public at large. 

 Register in advance for this meeting:
https://bit.ly/MPAonlinetraining
After registering, you will receive a confirmation email containing information about joining the meeting.

Thank You!
The Golden Gate MPA Collaborative and MPA Collaborative Network Team




With support from the Ocean Protection Council and Coastal Quest, our team has developed four online MPA Training Modules to better serve our ocean community and facilitate compliance in our state marine protected areas. These modules are tailored to serve each of the three major regions (North, Central and South) with a fourth on compliance. Developed with input from the entire state collaborative network membership, tribal leaders, California Fish and Wildlife and the California Collaborative leadership team, these interactive online training is meant to serve docents, non profits, state employees, enforcement staff and the public at large. 

Modeled after the successful Golden Gate MPA Ambassador module our Golden Gate Collaborative team developed in 2019, we are proud to launch this statewide education program. Please share this newsletter, join our collaborative network team, and give us your suggestions and feedback on how we can better serve our ocean.




JOIN US

California Marine Protected Area Long Term Monitoring Program Final Reports Released 2019-2021After three years, Marine Protected Area Monitoring Program research teams have completed seven long-term projects to gain a better understanding of California's marine protected areas (MPAs). Teams collected and synthesized past research and utilized a variety of novel scientific approaches for their final reports. These reports will inform the evaluation of California's MPA network and contribute to the 2022 decadal management review of the network. MPA long-term monitoring final reports here 


NOAA celebrates 50 years of National Marine Sanctuaries Act with new poster series. Click to download a pdf of the Greater Farallones National Marine Sanctuary
Click for poster pdf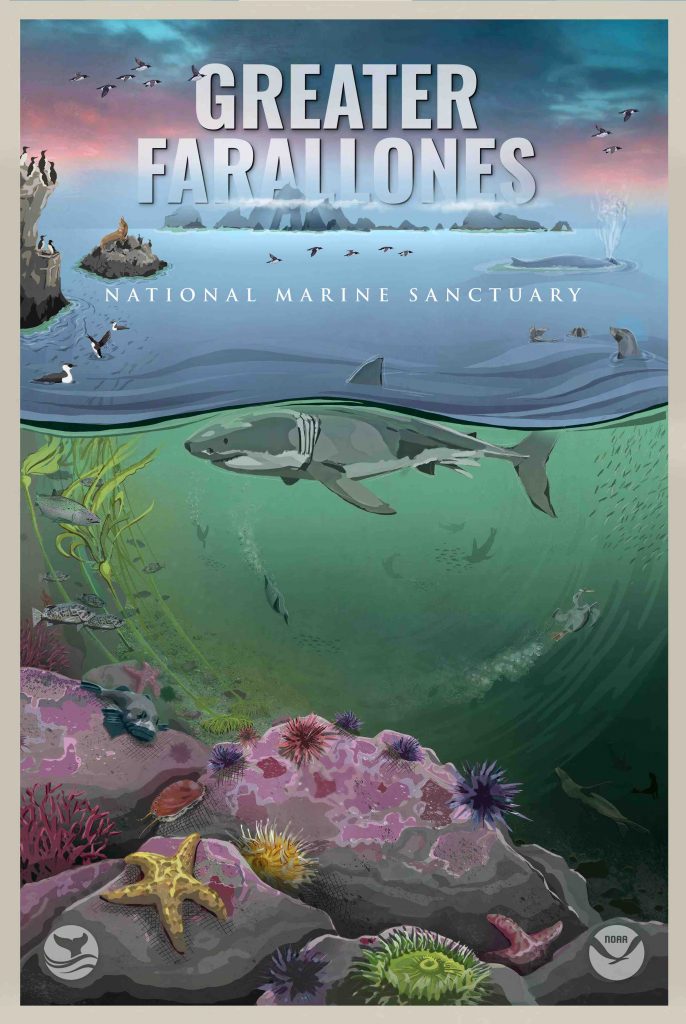 Meetings, Events and Doings
April 21st – 24th, 2022 13th Annual Point Reyes Birding & Nature Festiva| Marin/Sonoma Counties. Learn More
Know your MPAs before you Go!
Click the map to download the Golden Gate Collaborative's MPA Brochure
JOIN US
With your help, we hope to build our local MPA Ambassadorship and continue supporting the restoration and conservation of marine habitat and life through our local MPA collaborative.  
Download our Golden Gate MPA brochure
Read the MPA Collaborative Network blog
Copyright © 2022 davidmcguire, All rights reserved.
You are receiving this because you have signed up or shown previous interest, engagement or participation in the MPA network in the Golden Gate region.
Our mailing address is:
davidmcguirePO Box 617Sausalito, CA 94966-0617
Add us to your address book
Want to change how you receive these emails?
You can update your preferences