A man was pronounced dead mid- morning on December 24th, 2021 due to a shark attack off the coast of Morro Bay, a popular surf break. The 31 year old boogie boarder was observed face down by a nearby surfer. The nature of the injury indicates it was a white shark (Great white, Carcharodon carcharias), a species of shark relatively common along the central coast of California.
Attacks on people are rare however, and this makes the 11th confirmed white shark encounter in San
Luis Obispo County going back to 1956. According to the Global Shark Attack File, this is believed to be the third fatality from a white shark recorded in San Luis Obispo County, and the first fatality by a shark in 18 years in the County. 1
The last white shark-human incident in San Luis County occurred on August 15, 2015, also at Morro Strand Beach when a white shark bit a female surfer's board, with no injury to the surfer. Although white sharks are fairly common along the west coast, and the shark population is increasing since hunted to near extinction in the 1970s and 1980s, human-white shark encounters are rare.
The individual attack risk has dropped by more than 91 percent during the past six decades in California according to a Stanford study

Ferretti et al, 2017 Ecology and the Environment
The authors estimate surfers are the highest risk group, with a 1-in-17 million chance of being bitten by a white shark in California. By contrast, incidence of death by car accident in California is far higher at approximately 9 in 100,000.
San Luis County is a rural California County situated along the coastline between Santa Barbara County to the south and Monterey to the North. Over 80% of recorded shark fatalities along the west coast are north of Point Conception.
Previous to this incident, the most serious injury in California in 2021 was suffered by 38 year old Nemanja Spasojevic while freediving at Grey Whale Cove in San Mateo County in June. The last shark related fatality in California was 26 year old Ben Kelly, who was bitten by a large white shark while surfing at San Dollar Beach in San Mateo County in May 2020.
Globally, there were 94 human shark encounters involving bites or injury in 2021, with 8 fatalities total. Several of the 94 encounters were provoked (fishing, or attracting sharks), and most of the survivors were lightly injured.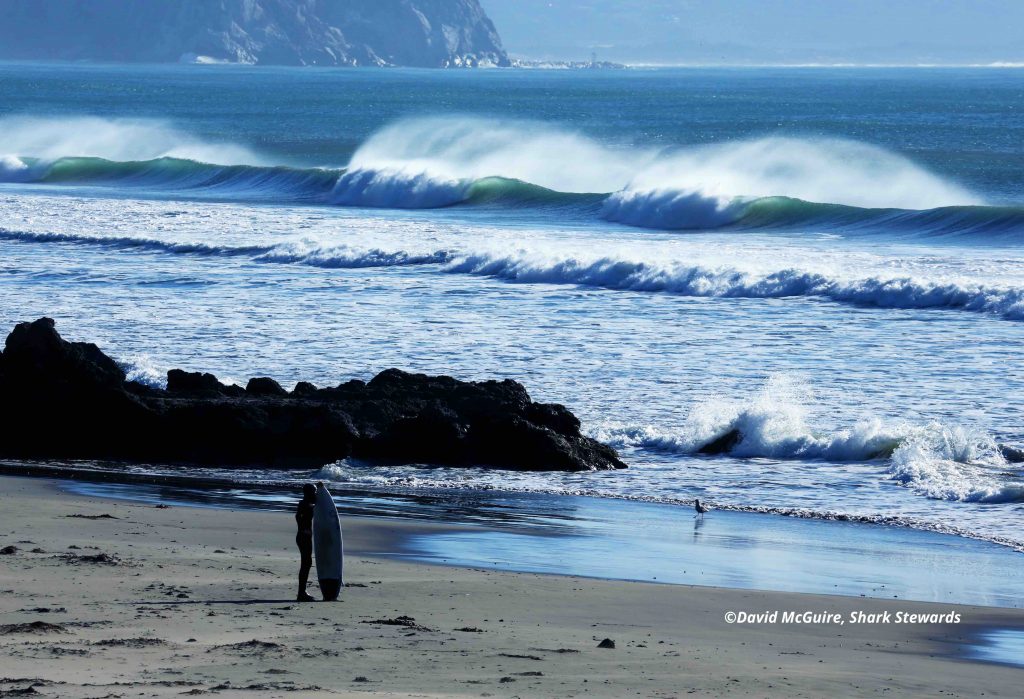 A history of white shark-human incidents in San Luis Obispo County
January 9, 2019, 19 year old Nick Wapner was bitten in the legs by an estimated 15 foot great white shark while surfing off Montaña de Oro State Park. Mr. Wapner's board was left with a semi circle near the tail and he suffered 50 stitches.
August 15, 2015, an estimated 8 foot white shark bit the nose of 58 year old surfer Elinor Dempsey's longboard at Morro Strand Beach. The shark shook her board leaving tell-tale confirmation, after releasing. Ms. Dempsey was unharmed.
July 5 2014 a surfer's board was bitten at Oceano Dunes, a long sandy beach south of Pismo Beach. The surfer was unharmed.
 December 24, 2014 surfer Kevin Swanson was bit while surfing Montaña de Oro State Park at 11:30 Am. An 8-10 foot white shark bit the surfer in the leg leaving lacerations.
June 21, 2009 the San Luis Tribune reported a male surfer was treated for a puncture to the left foot from a shark bite. The shark species was not identified but it is unlikely it was a white shark and it did not make it into the formal shark attack files.
 October 2, 2004, surfer Ben Ikola was knocked off his board at Pismo Beach and his board bitten by what was reported as a white shark. He was unharmed.
August 19, 2003 50 year old Deborah Franzman was bit in the hip and thigh while swimming at Avila Beach. She was wearing a black wetsuit and fins and seals were reported in the water nearby. Her femoral artery was severed and she died before she could stabilized.
On April 24 1988, McCosker and Lea reported that a surfer, Mark Rudy, was struck by a white shark while surfing north of Morro Rock at Strands beach. It was reported the surfer suffered no injury.2
On July 24, 1962 paddle boarder Casimir Pulaski was knocked off his board off Point Buchon, without injury. 3
On April 28, 1957, 25 year old swimmer Peter Savin was the first recorded fatality in San Luis Obispo County at Atascadero Beach. An observer reported seeing his arm in the mouth of what is presumed to be a white shark. The body was not recovered. 4
On August 15, 1956 Douglas Clarke, 10 was swimming near the Pismo Beach pier when a 2.7 m white shark bit him. He suffered lacerations to the thigh, hand and shoulder. 
Sources
1. Collier R. Global Shark Attack File, Shark Research Institute
2. J. McCosker & R.N. Lea; R. Collier, p.102.
3. R.D. Miller & R. Collier pp.16-17;
4. V.M. Coppleson (1958), p.255, 256