In this issue:
Marine National Monuments Event
Fed Ex Shark Fin Campaign
Name the Shark Winner
Farallon Island Expeditions
Upcoming Events
————————————————————————————————-
Special Event to support Marine National Monuments

Protecting our Marine National Monuments: An Evening of Hidden Beauty
Thursday, November 17, 7 pm
Learn about our efforts to protect the Pacific Remote Islands Marine National Monument and other marine protected areas from proposed stripping. Experience the beauty with conservation filmmaker and award-winning photographer Ian Shive presenting a special collection of breathtaking images, with a panel discussion and Q&A.The evening will conclude with a wine and cheese reception in the Hazel Gallery, surrounded by the National Geographic exhibit Art/Act: Brian Skerry – SHARKS. Special tour with Shark Steward's David McGuire.  Sliding Scale | Register
ACTION FOR SHARKS

Fed Ex Fin Campaign to join other cargo carriers to stop shipments of shark fin and manta gill rakers. Sign the petition and join us at Fed Ex locations to end the fin. SIGN THE PETITION telling CEO David Bronczek to divest from carrying illegal wildlife cargo like shark fin and manta gills. Join us at the San Francisco Embarcadero Fed Ex in full shark drag December 1, 12 PM.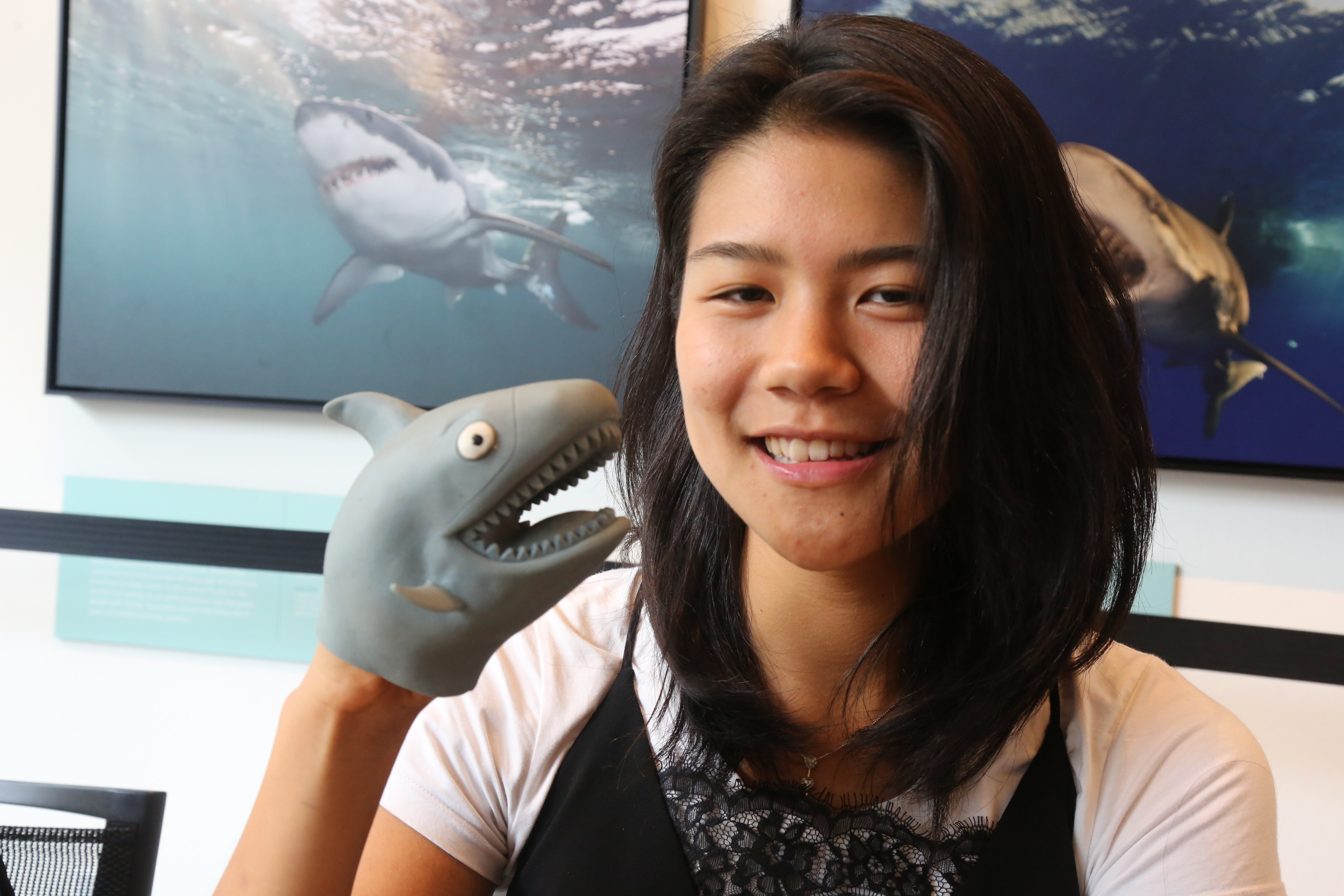 Vicky Fong – Name the Shark Contest Winner!
There were some good entries like Chompers, Finny and Storm, but our winner is Vicky Fong for giving the name XiǎoTānɡ (小 的 ) or in English, Little Soup or Soupy, to the character in our short film. Born in Hong Kong, Vicky is a diver, filmmaker and an undergraduate biology student at U.C. Berkeley and has a passion for sharks. This shark travels to China to serve as an ambassador and save sharks from shark fin soup. We plan to premiere the film at the International Ocean Film Festival, San Francisco March 7-10.

Swimming With Sharks, Running 4 Sharks
Meet mom, triathlete and shark survivor Maria Korcemaros, with Aussie surf giant Ian Cairns and David McGuire for a film and discussion on white sharks, attacks and solution to co-exist, hosted by Beach Cities SCUBA, Newport Beach November 9. Korcemaros survived being bit by a white shark while swimming at Corona del Mar, and came back to help Shark Stewards take a bite out of the shark fin trade. Cairns is applying technology using a smart buoy system to detect sharks and deter attacks. On November 18, Korcemaros, also a coach and competitor, is hosting a fundraiser 1 mile and 5K run and walk for sharks at the Newport Dunes. Learn more.

Open Explorer and Farallon Sanctuary ExpeditionsWe are leading weekly field excursions into the Greater Farallon National Marine Sanctuary as part of our National Geographic Open Explorer project observing and monitoring benthic habitat and species. This fall we are recording wildlife observations using the Trident to monitor California Marine Protected Areas as part of the Golden Gate MPA Collaborative building citizen science. Two more events scheduled  November 17 and 25.

This exciting new tool is allowing scientists and educators to discover and share our ocean experiences and increase data collection in our marine protected areas. Follow the expeditions documenting our marine ecosystems on National Geographic and join us for select Farallon Sanctuary Expeditions. 
EVENTS
November 7, Golden Gate MPA Collaborative Workshop  3-5 PM, Sausalito Bay Model
November 9, Sharks and Survivors Talk and Film with survivor Maria Korecemaros and David McGuire, Beach Cities SCUBA Newport Beach 6-9PM
November 14-17 DEMA Dive Show Las Vegas- stop by our booth- Volunteers Needed!
November 15 Hidden Pacific and panel on Marine National Monuments and MPAs at the  Brower Center, Berkeley 7-10PM Advance tickets.
November 18 Run for Sharks, Newport Bay Fundraiser for Sharks. 9 AM-12PM.
November 18, 25 Farallones MPA Expeditions. Shark Stewards is running select public educational expeditions into the Gulf of the Farallones viewing and recording whales, seabirds and other wildlife. Tickets available
December 8 Ocean Gratitude Event, Sunrise Center Corte Madera, Film and Photo Show 7:00-9:30 PM
December 13 Shark Stewards Team Event Old and new ocean lovers invited. Libations, gifts, $5 T-shirts, 20% discount 13-16th for shark stewards.Sports Basement, Presidio Location 630-830PM
 Help build our youth education and ocean network. Your donations go to on the ground science, education and advocacy protecting sharks and the ocean. Shark Stewards is a 4 star Charity Navigator, Platinum ranked charity and a proud project of the Earth Island Institute.

Copyright © 2018 Shark Stewards, All rights reserved.
Hi. You are receiving this email because of your past commitment as a volunteer or supporter, or you opted in in a sign in list for Shark Stewards. ThanksOur mailing address is:

Shark Stewards

PO Box 617

Sausalito, CA 94966