Protecting sharks and the Entire Ecosystem of the San Francisco Bay.
The San Francisco Bay is an important and complex ecological system whose influence extends from the Sierra to the Sea. In the past century, the Bay has undergone dramatic change. Nearly 95 % of wetlands habitat have been impacted and 99% of seagrass meadows have disappeared. Dredging, pollution and toxic runoff have impacted marine life and overfishing is causing our fisheries to collapse. The San Francisco Bay is an important nursery for several species of sharks and rays. The Shark Sanctuary is an initiative to better understand and help conserve our remaining living resources, especially sharks, and to support marine protected areas and habitat restoration and ecosystems in the Bay such as eelgrass beds and native oysters.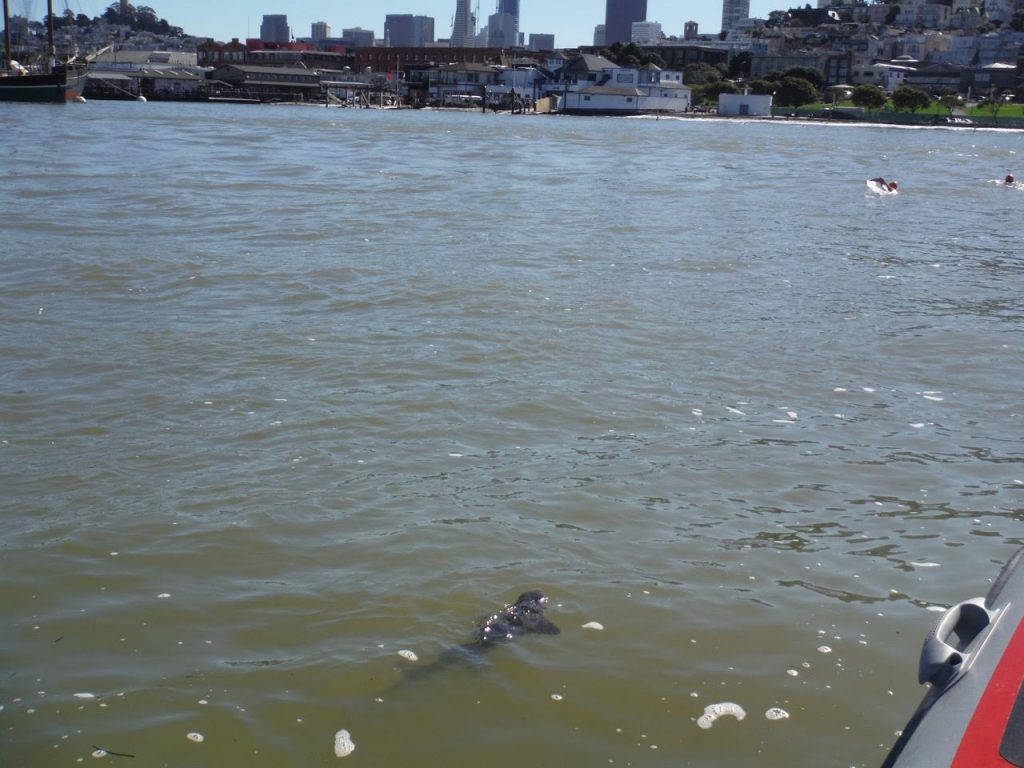 The Shark Sanctuary is in reality a multi faceted MPA ecosystem protection approach using sharks as a symbol for the health of the entire bay, from the Delta to the Golden Gate Bridge.
The Sanctuary is based on the these platforms
Advocacy:
The State of California has established a network of interconnected marine protected areas along our 1100 miles of coastline. From Mexico to Oregon we have now protected 16% of important marine habitat along the coastline.
Under the Marine Life Protection Act, the San Francisco Bay was considered as the last of five regions. We have protected the coast- now we are urging the California Fish and Game Commission to protect critical species like sharks, salmon and herring along with important habitat and marine foundation species such as salt marshes, native oysters and eelgrass beds inside the San Francisco Bay. But our regulators have neglected the Bay by tying fresh water politics in the Delta to Bay Marine Protection.
Developing partners and establish stakeholder support including fishermen to support protected areas in the San Francisco Bay.
Research:
Determining the size, range and biology of local shark populations.
Quantifying and Evaluating the impacts of shark fishing on the Bay shark populations.
Protecting large female sharks from overfishing and protecting critical nursery habitat.
Assessing and restoring wetland and eelgrass habitat.
Ecosystem Restoration and Protection:
Evaluating existing research and impacts on entire ecosystems of select regions of the San Francisco Bay known to host shark populations and other species of interest.
Determining regions with ideal habitat that will benefit sharks and other fish and marine invertebrates.
Defining regions where shark pupping is known to occur. Garnering support from local and state fisheries management to establish seasonal, size and regional protection for sharks.
Education:
Shark Watch Program: Reaching out to schools and the public through shark events to celebrate the importance of sharks and a healthy San Francisco Bay.
Raising awareness on the importance of sharks locally and globally.
Conducting ecosystem assessment of select regions for considering marine protection
Educating recreational fishers on the impacts of mercury and other toxins in bony fish and sharks taken from the Bay.
Promoting the practice of catch and release of sharks in the San Francisco Bay.
Advising consumers about health risks from mercury toxicity
What Can You Do?
Watch for our events and lectures with the Golden Gate MPA collaborative, Aquarium of the Bay, Save Our Bay Save Our Oceans and others.
Help support sharks and a sustainable fishery through sustainable consumption and fishing practices.
Support wetland restoration and protection and clean water in the Bay.
Help us educate consumers and let the community know that sharks are important for a healthy San Francisco Bay and World Ocean.
Support Our Healthy Bay Initiative- Donate and Become a Bay Steward
How Can You Help?

Volunteering, sharing #sharkstewards on Facebook, Instagram, Twitter or other social media