By Molly Yoon, Shark Stewards Education Team, In Honor of Women's History Month (Photo Maria Brown, GFNMS, Sylvia Earle, Mission Blue, David McGuire, Shark Stewards)
Dr. Sylvia Earle has become one of the oceans greatest champions and marine biologists of our time.
Before she received these acclamations though, she was a young woman passionate about nature and the ocean. Dr. Earle took these passions and allowed them to inspire her through her education, as she achieved her Bachelor's degree from Florida State University, her Master's degree from Duke, and her Doctorate in Phycology from Duke as well. Faced by many young women in the field sciences, Dr. Earle did not let obstacles placed by sex or discrimination stand in her way.
The years after achieving her Ph.D., Dr. Earle worked as a research fellow at Harvard, a research associate at the University of California in Berkeley, and the Curator of Phycology at the California Academy of Sciences. She also spent time as the resident director, conducting research, at the Cape Haze Marine Laboratory, founded by Dr. Eugenie Clark. Dr. Earle is a notable and skilled SCUBA diver and has spent countless hours underwater. In 1970, she led a team of all-women aquanauts in a research project at the underwater lab Tekite, off the coast of the Virgin Islands. In 1990, Dr. Earle became the very first woman Chief Scientist at the National Oceanic and Atmospheric Administration (NOAA) where she became a strong advocate for National Marine Sanctuaries and ocean exploration.
Despite all of these incredible and trailblazing career accomplishments, one of Dr. Earle's most notable achievements is her work in ocean conservation and the establishment of Hope Spots. Recognizing that of overfishing, pollution and other human impacts are increasingly harming the health of the oceans, Dr. Earle has been an early an vocal ocean champion. Humans are causing great, nearly irreversible, harm to the ocean.
Decades ago Dr. Earle observed that protections that apply to national parks and terrestrial animals and ecosystems, are usually not applied to their marine counterparts. Through diving, documentaries, photographs and articles as a National Geographic Explorer in Residence, Dr. Earle continues to show the need for marine conservation and the establishment of marine protected areas.
In 2008 Dr. Earle founded Mission Blue, a 501c3 non-profit dedicated to inspiring action to explore and protect the ocean. She created the concept of nominating Hope Spots, as any special place that is critical to the health of the ocean. Hope Spots are about recognizing, empowering and supporting individuals and communities around the world in their efforts to protect the ocean. Dr. Sylvia Earle introduced the concept in her 2009 TED talk and since then the idea has inspired millions across the planet.
"We dream of a global network of Hope Spots that will protect and restore a healthy ocean."

Dr Sylvia. Earle
She has spent most of her life educating people that we are at a crossroads that we will never reach again. It is the crossroads between taking action or losing ocean life forever. Seeing the value and importance of marine wildlife, Dr. Earle also advocates for the importance of the ocean in our fight against climate change. The ocean absorbs much of the heat of the planet and most of the carbon dioxide and helps regulate the earth's climate as a whole. It is for all of these reasons that Dr. Earle has fought so hard for the conservation of the ocean and all of its inhabitants.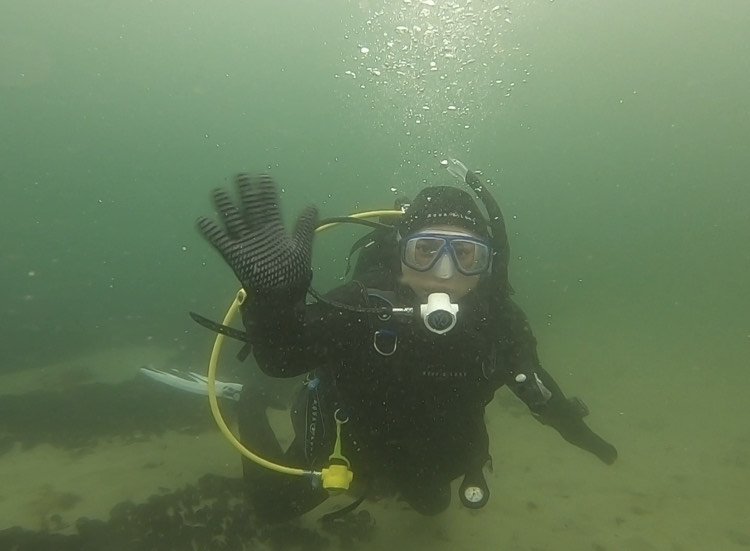 As a young woman marine biologist I am inspired by the pioneering work of Dr. Earle in science and in advocating for conservation and hope. The planet is changing, and the ocean has faced stark changes even in the last 20 years. Dr. Earle continues to remind us, there is so much left that is worth saving, that must be saved. An incredible life and career of research, study, advocacy and conservation, Dr. Sylvia Earle continues to inspire and invoke the conservationist in all of us.
As part of Shark Stewards, I am proud to have been part of a team that advanced the Ombai Wetar Straits in Timor Leste as a Hope Spot. Shark Stewards is now working in Sabah Malaysia helping advance another Hope Spot with partners BluHope at Sipadan Island. We are in the fight of our lives, against climate change and for marine conservation. Let us follow in her footsteps and practice ocean stewardship to help protect this planet that we live on, this Blue Planet. 
Editor's Note: Starting on International Women's Day, this is a series of guest posts by young women inspired by women leaders in science, ocean exploration and conservation.