Guest contribution by Molly Yoon
Growing up, a majority of the faces seen in science textbooks were white men. This is not to say that this is the only demographic with notable scientific achievements, they were just the most commonly discussed and praised scientists. As a girl growing up, this made it harder to find representation and inspiration in science. But there were and are strong, brilliant women scientists who need to be highlighted. Not only as an homage to their strides in their respective fields, but also to inspire and serve as a reminder for younger generations of girls and women that there is a place in STEM for them, and not just as the token female.
A particularly inspiring woman in STEM was Eugenie Clark. Renowned Ichthyologist, appointed "Shark Lady", and founder of the Mote Marine Laboratory in Florida, "Genie" created her own path in science and the study of sharks when none else existed. She was one of the first people to claim that sharks were not mindless monsters who would kill anything in their path but that they are smart, instinctive animals who are worthy of our protection and respect.
Genie decided from an early age that she would become a biologist. Growing up in the mid 1920s-1930s, Genie did not let the lack of representation or opportunity for women in Biology and Zoology derail her from becoming one of the most notable shark experts of our time. She studied and worked harder than the men, not because she was less capable or not as smart but because there she had no other alternative if she wanted to be accepted into the community. The same principles still apply for women and people of color; the necessity of having to work harder but still not get as far as their white, male counterparts. Genie was an inspiration and continues to inspire young girls and women in the study of Marine Biology.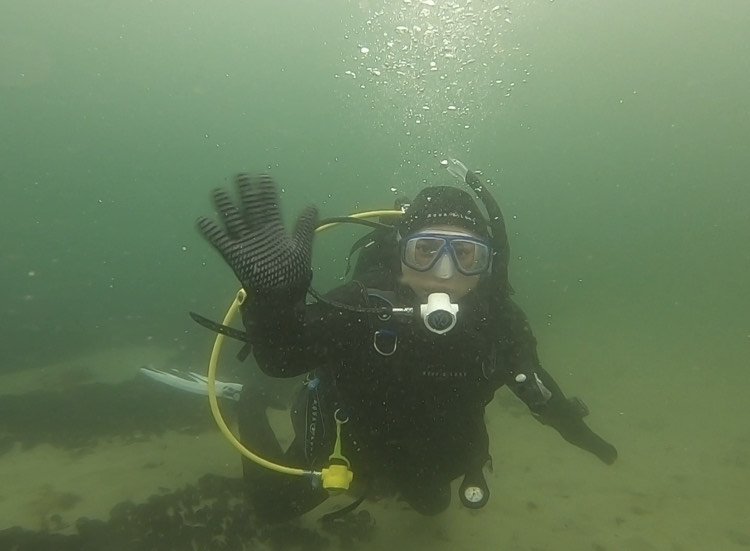 When I was young, I was enamored by the water and the ocean. I would spend summers in Sarasota, FL where I would swim in the gulf and attend sea camp at… you guessed it, the Mote Marine Aquarium and Laboratory, co-founded by the one and only Genie Clark. It was in the waters of the gulf and in the halls of Mote Marine where I really fostered my love for the ocean.
I brought this love back to California where I was once again overwhelmed by the beauty of the sea. This time, instead of the sea grass and warm water, it was crisp, clear kelp forests. That was when I realized that to me, it didn't matter whether the water was turquoise and warm or dark and gives a bite when you dive in. The water is where I wanted to be, always. I didn't know it at the time, but before I even knew who she was, Genie was influencing my life.
Unfortunately, there continues to be a somewhat large disconnect between women and the STEM field, particularly women of color. Like Genie, this is not due to a lack of brilliance or determination, but due to the fact that there are not as many opportunities presented to women of color and the gatekeepers of the STEM fields are predominantly white men. But this does not mean there is no hope for change and inclusion. In recent years, there have been great strides in increasing representation. Even things as simple as showing girls in commercials with NASA shirts or in science clubs can show that there is a place in STEM for them and that they can be the next great scientist inspiring more representation.
My volunteer work with Shark Stewards has allowed me to apply science, learn about marine protected areas and continue Dr. Clark's work pioneering shark science.
Editor's Note: This is the first of a series celebrating Shark Steward's women in science during Women's History Month.