Happy Sharktober- Celebrating Sharks for 15 Years
Since 2008, Shark Stewards has conducted intensive education and outreach efforts to appreciate and protect sharks with events from Seattle to San Diego.

Sharktober is a celebration of white sharks to our Sanctuary offshore, and to educate and motivate the public to save endangered sharks and rays. Our first Sharktoberfest events were intended to drive support for the now successful California Shark Fin Ban introduced by Shark Stewards, and the USA shark fin trade ban passed in 2022.  Since that time we have used these events with our partners at the California Academy of Sciences, the Greater Farallones National Marine Sanctuary, the California Ocean Protection Council and other NGOS and agencies to reach over 100,000 public and youth directly in the Bay Area and beyond to celebrate and save sharks. Join us for our 15th year celebrating and saving sharks!
Learn More

Sharktoberfest Online Celebration September 20, 6 PM PDT
Meet the Shark Stewards team learning about shark diversity, threats and how you can participate in our Shark Watch community science program. Shark fun, prizes and meet the team at this free online event. Win a trip to the Devil's Teeth! RSVP to Join.
Sign up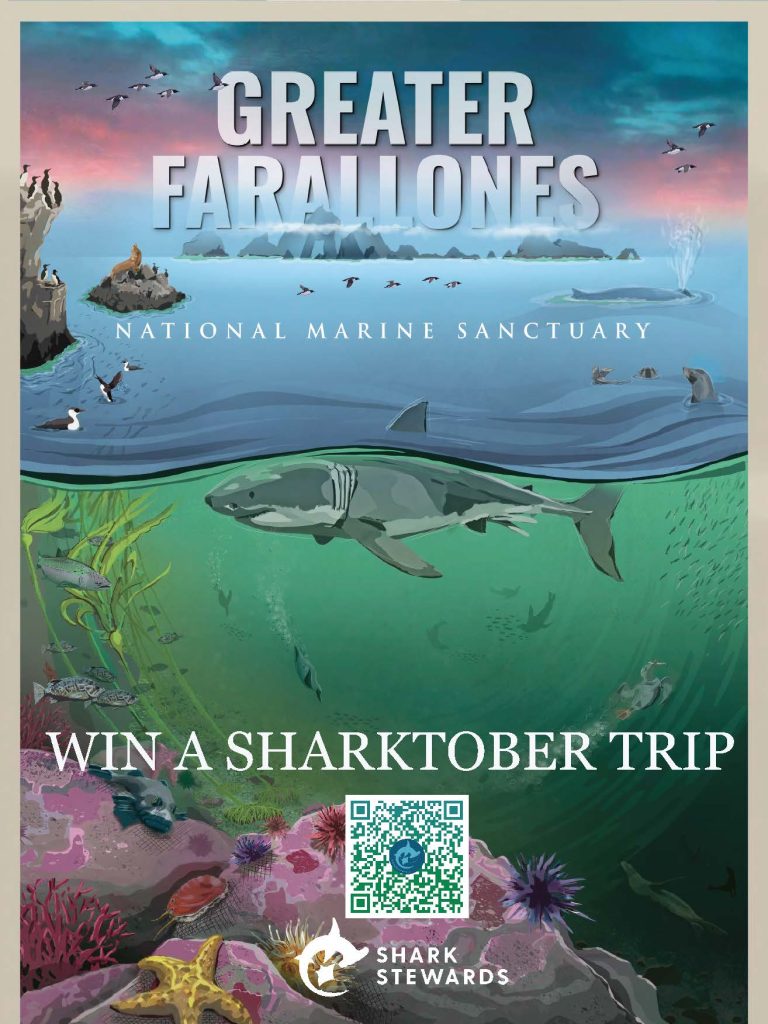 Expedition to the Devil's Teeth September 23- Nov 3  Sharktober Sanctuary Wildlife Expeditions 
Join us on our first 2023 public adventure to SE Farallon Island. Explore and learn about the fascinating history of this protected area and wildlife refuge. Experience our Greater Farallones National Marine Sanctuary, Wildlife Refuge and California Marine Protected Areas, on a wildlife educational cruise observing and recording whales, seabirds, weird marine wildlife, and maybe even a great white shark! 
Learn More



Our 6th annual run/walk and ocean health fair with education partners including the CSULB Shark Lab, health educators and sponsors. Scan the QR code to join us or volunteer in Newport Beach CA, October 7. Kid friendly!



Sharktoberfest Golden Gate Cruise and Art BenefitOctober 15 
Our annual Sharktoberfest with the Sanctuary has been cancelled due to staff shortages- but we are taking it to the water! Celebrate with the Shark Stewards team on a sunset cruise on the San Francisco Bay with naturalists and artists celebrating sharks. Meet ocean artists with original art aboard the luxury vessel Empress, with an auction for original art to benefit shark conservation and marine protection.

Donate


Join Us!


Oceanic Whitetip sharks are critically endangered, with less than 10% of the original population remaining. Support our campaign for global protection and zero retention in commercial fisheries for this shark worldwide. Image of Alyssa Rodrigues during the production our film, Kahu Manō.

To keep sharks swimming, it is urgent we protect them, including the ecosystems they inhabit. Join us and help keep sharks and marine ecosystems alive and thriving!
Donate


With your support, we keep sharks swimming and the ocean healthy. We value your time, your passion, and any size donation.Shark Stewards is rated highest by Charity Navigator, Platinum-ranked by GuideStar, a member of 1% for the Planet, and a proud project of the Earth Island Institute, a federally registered 501(c)3 non profit.
                                            

Will you help us save sharks with your donation?
   
Copyright © | 2023 | SHARK STEWARDS | All rights reservedOur mailing address is:
Shark Stewards, PO Box 617, Sausalito, CA 94966
Add us to your address bookWant to change how you receive these emails?
You can update your preferences or unsubscribe from this list.