February Newsletter, 2023
Stop the Dump of Radiation into the Pacific
Sometime in the Spring or Summer of 2023, Japan's TEPCO intends to dump 1.3 million tons of radioactive waste water from the Fukushima nuclear meltdown into the Pacific ocean.
This toxic release will have negative impacts on reefs, marine wildlife and Pacific Island peoples for countless generations.
We join the Pacific science community, including the Pacific Islands Forum and their expert scientific panel, the National Association of Marine Labs (an organization of over 100 labs including Monterey Bay Aquarium Research Institute, Stanford, and The National Oceanic and Atmospheric Administration), Pacific Island nations, and 9 million Japanese citizens, uniting to to stop this toxic release.
Join us telling your representative to STOP THE DUMP.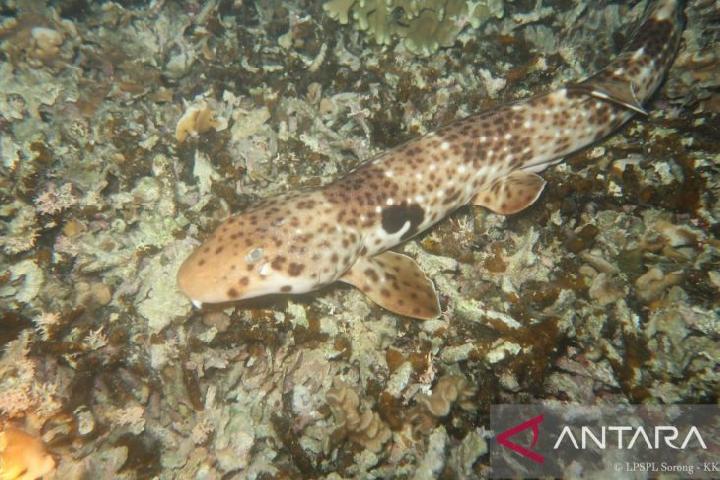 Walking Sharks Protected in Indonesia
Did you know that some sharks walk? Epaulette sharks in the genus Hemiscillyium use their lobed fins to wriggle along the seafloor or clamber from tidepool to tidepool. This adaptation has helped the sharks radiate and evolve in a rapid manner, yet also places them at increased risk of extinction, according to a recent study.

In February, Indonesia's Ministry of Marine Affairs and Fisheries declared all six species of Hemiscyllium in their waters as a fully-protected species to ensure their continued existence and to prevent their population from declining.

Learn about these fascinating sharks and how you can support saving sharks and coral reef habitat in SE Asia. Follow us if you want to join a shark and reef survey and help support a new protected area in Indonesia!



We are a team of passionate ocean lovers across the Pacific, engaging kids and community, protecting habitat and saving sharks. Join us on one of our weekly shark zooms or at one of our events. We love to work with youth groups!
Click the volunteer button and join us wherever you live!
Meetings, Events and Doings
March 4 West Hawai'i Community Beach Cleanup with Keep Puako Beautiful:Details
March 4 Festival of Whales (shark) Parade Dana Point CA 10M-4pm Join the team marching with a giant shark and the shark van or join us at booth 40 for Whales and Ales.
March 12 Beach Cleanup with Patagonia Aquatic Park San Francisco 10am12pm
March 14 MPA Collaborative Network Statewide Forum- A free statewide Marine Protected Area (MPA) forum for collaborative members, partners, and anyone interested in getting involved.
March 15 MPA Decadal Management Review Forum with California Department of Fish and Wildlife, Monterey on findings and recommendations of California's Marine Protected Area Decadal Management Review. Non-interactive web streaming will be available for those who cannot attend in person, and video recordings will be made available after the event for future viewing.
March 16 Fish and Game Commission Marine Resource Committee meeting focused on the MPA Decadal Management Review. More information here.
March 18 Beach Cleanup, Cherry Beach Long Beach, near Farmers Market 9am-11am
April 1 Catalina Underwater Cleanup with PCH SCUBA Fight for sharks and clean the ocean. Register for Cleanup at https://www.avalonharborcleanup.org and Hotel deals with round trip ferry at PCH Scuba at www.pchscuba.com
April 13-16 International Ocean Film Festival – we will be celebrating the 20th Anniversary at Cowell Theater in Fort Mason Center for Arts & Culture Festival, Special shark session Saturday! Volunteer sign ups open and tickets on sale now now.
April 21-23, Point Reyes Birding and Nature Festival– Join Environmental Action Committee of West Marin for 40+ field-based events to learn about birds, wildlife, plants, marine life, photography, and journaling with award-winning naturalists and birders while hiking or kayaking. Attend our free Sunday Family Fun Day supporting Amigos Alados. www.pointreyesbirdingfestival.org
TBA Sevengill Shark ID- with Waterhorse Charters La Jolla CA, When the sharks are back!

NOAA celebrates 50 years of National Marine Sanctuaries Act with new poster series. Click to download a pdf of the Greater Farallones National Marine Sanctuary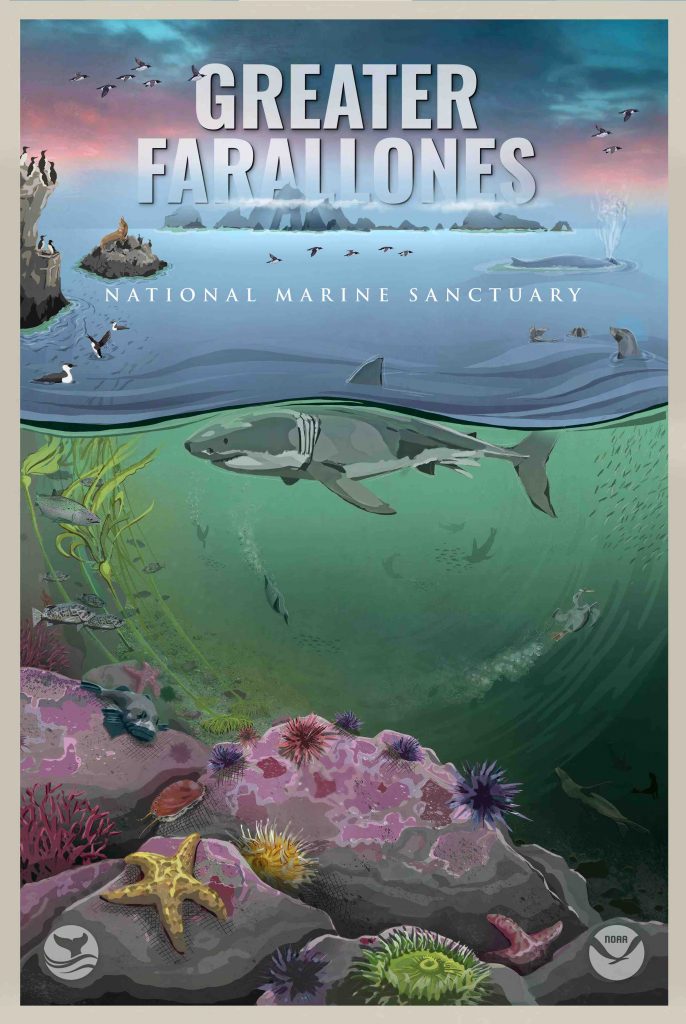 With your support, we keep sharks swimming and the ocean healthy.