Saving Reefs World Ocean Day, Taking Action for the Ocean
June 2, 2023 Newsletter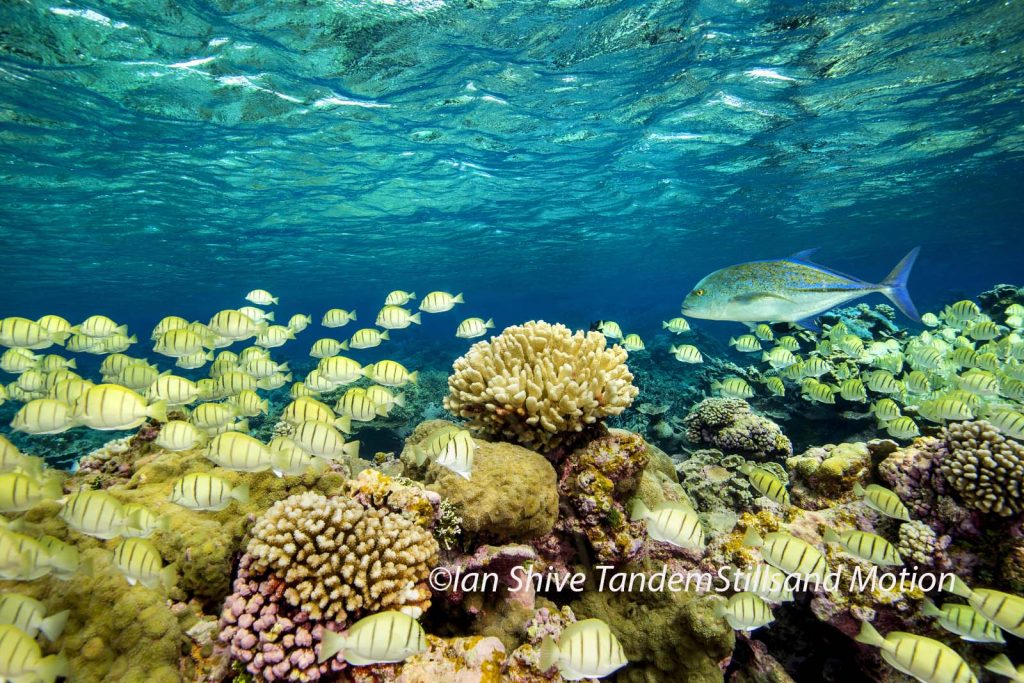 Palmyra Atoll and the Palmyra Atoll Research Consortium Documenting Marine Life (Image Ian Shive Tandem Stills & Motion)
Comment Period Ends to Support Pacific Remote Islands National Marine Sanctuary June 2
In 2006 we dove with the California Academy of Sciences research team at Palmyra Atoll documenting marine life, assessing the shark population and making a film in support of the designation Pacific Remote Island (PRI) Marine National Monument. With the Papahānaumokuākea Marine National Monument north of Hawai'i, the PRI is currently proposed for National Marine Sanctuary designation. These new National Marine Sanctuaries will increase protection for sharks, sea turtles, coral reefs and other marine life, provide funding for increased study and marine debris removal.
This is one of the most remote, healthiest and sharkiest places in USA territorial waters and deserves further study and protection. The comment period in support of the Pacific Remote Islands National Marine Sanctuary ends June 2nd.
Please sign the linked letter to the National Oceanographic and Atmospheric Administration in support of protecting these precious places.
Learn More
View this email in your browser
Happy Following World Reef Day,
Today we have an opportunity to support increased protection for coral reefs in two new Pacific National Marine Sanctuaries. Next week, June 8 is World Ocean Day. On World Ocean Day, people around our blue planet celebrate and honor our one shared ocean, the ocean that connects us all.

The critically endangered oceanic whitetip shark (pictured above) is pan-global, swimming in tropical and temperate waters crossing the open sea. Representing the world ocean, this vanishing shark is our symbol and focus to save from extinction. Join us at one of our Events celebrating and taking action for sharks and ocean health, check our campaigns or conduct your own beach cleanup, snapshot or shark celebration!
Events

Another Dead Shark Epidemic Hits San Francisco
In the past two months we have received reports of over 20 dead and dying sharks in the San Francisco bay and outer coastline. Most of these are leopard sharks (Triakis semifasciata) a smaller, bottom dwelling shark with splendid coloration and a gentle disposition.
Since sharks do not have swim bladders, most dead sharks sink before washing ashore, making those observed the tip of the iceberg when it comes to fish mortality. These harmless sharks, along with their shallow water cousins, the bat ray (Myliobatis californica), are abundant in the Bay and coastal areas, and are an indicator of Bay health. With warming Bay water temperatures and a projected El Niño, we are mapping and monitoring these die offs, reporting to the Pelagic Shark Research Foundation and the Department of Fish and Wildlife. If you observe a dead or dying shark, or want to
learn more about California sharks, please scan the QR code and report it.



THE DIVING EVENT OF THE YEAR! JUNE 3-4, 2023



Join us at the SCUBA SHOW Long Beach, the coast's largest dive event with manufacturers, dive companies and Shark Stewards, educating and advocating for sharks! Come visit the Shark Stewards team learning about sharks and the importance of shark diving to conservation, including a conversation on the recent developments at Guadalupe Island.
Visit us at our booth #755 and our partners Waterhorse Charters to learn about the sevengill shark ID and Shark Watch project. Win an opportunity to take a free California Shark 101 course, and dive with our team September 2 with Waterhorse and search for sevengill sharks!Take the survey and enter an opportunity to dive with us and do a shark survey in La Jolla Cove with Shark Stewards and Waterhorse Charters.
Dive in and Join Us!

Events and How to Get Involved


CALIFORNIA
June 11 Snapshot, World Ocean Day Snap Shot California Coast- Join naturalists and the California Academy of Sciences on a summer solstice Snapshot of the California Coast, searching for sick and dead sharks, documenting sea stars and other surprising species in San Francisco. Download the iNaturalist App and explore! 
June 3, 4 Scuba Show Long Beach- Join us for the coast's biggest SCUBA event at the Long Beach Convention Show. Look for the shark and enter to win a dive trip with Waterhorse Charters in La Jolla Cove this Sharktober.
September 16-Nov 3 Journey Into The Greater Farallones National Marine Sanctuary And Visit The Waters Of The Devils Teeth. GET TICKETS  to this unique journey to the Islands of the Dead, and the Great White Shark! 
September 30, Sharktoberfest at the Greater Farallones National Marine Sanctuary (GFNMS).  Join us for a shark fest with science, education, live music and all about sharks!  At the GFNMS Sanctuary Headquarters, Crissy Field, San Francisco
October 7 Annual Run for Sharks & Ocean Health Fair – 5k/1mile fun run or walk, ocean festival to benefit our ocean youth program. Thanks to our sponsors SUBURU IRVINE, SPICY SHARK, KPC HEALTH, BEACH CITIES SCUBA AND SCAR REHAB for their support of the 6th Annual Run4Sharks! We are seeking additional sponsors for our supporting our youth ocean education programs.
October 22,  Sharktober Golden Gate Bay Cruise And Art for Sharks Wildlife Benefit Celebrate Sharktober on the San Francisco Bay with art and nature on the magnificent San Francisco Bay. Advanced tickets to this exclusive event on the luxury yacht Empress. Original ocean art available to support our endangered shark program. Buy Advance Tickets to this benefit event!

HAWAI'I

June 7 World Ocean Day with World Whale Film Festival, Maui Screening of our film and other ocean films to benefit the Pacific Whale Foundation.
June 16  Beach Cleanup with Keep Puako Beautiful – Spencer Beach Kawaihae 
July 1, Harbor Beach Cleanup and Sunset Kanukapila Kona 4 -6PM
July 8, Beach Cleanup with Keep Puako Beautiful and youth – Kawaihae Harbor
July 22,  8 am – 11:30 am Get Into Your Sanctuary Day Celebration Mā'ili Beach Park, Waianae, Oahu


Support the establishment of the Papahānaumokuākea Marine National Marine Sanctuary


Donate


With your support, we keep sharks swimming and the ocean healthy. We value your time, your passion and your donations.Shark Stewards is 4-star rated by Charity Navigator, Platinum-ranked by GuideStar, a member of 1% for the Planet, and a proud project of the Earth Island Institute, a federally registered 501(c)3 non profit.
                                            
Will you help us save sharks with your donation?   
Copyright © | 2023 | SHARK STEWARDS | All rights reservedOur mailing address is:
Shark Stewards, PO Box 617, Sausalito, CA 94966

Add us to your address bookWant to change how you receive these emails?
You can update your preferences or unsubscribe from this list.