Shark diving and adventure tourism is a growing business globally. In 2013 a study indicated that globally, around 590,000 shark watchers spent $314 million per year, directly supporting 10,000 jobs. By comparison, the landed value of global shark fisheries is on the decline and valued at around $630 million.* Now approaching a 1 billion dollar industry, the same study projected a doubling of that income by 2033.
Shark tourism income not only benefits shark diving operators but also many other services in the local economy. Increased tourism in locations for shark diving like the Philippines, Palau and French Polynesia reduces shark fishing and stimulates the development of the region. Shark diving also generates revenue for the government and provides an incentive to protect their shark populations.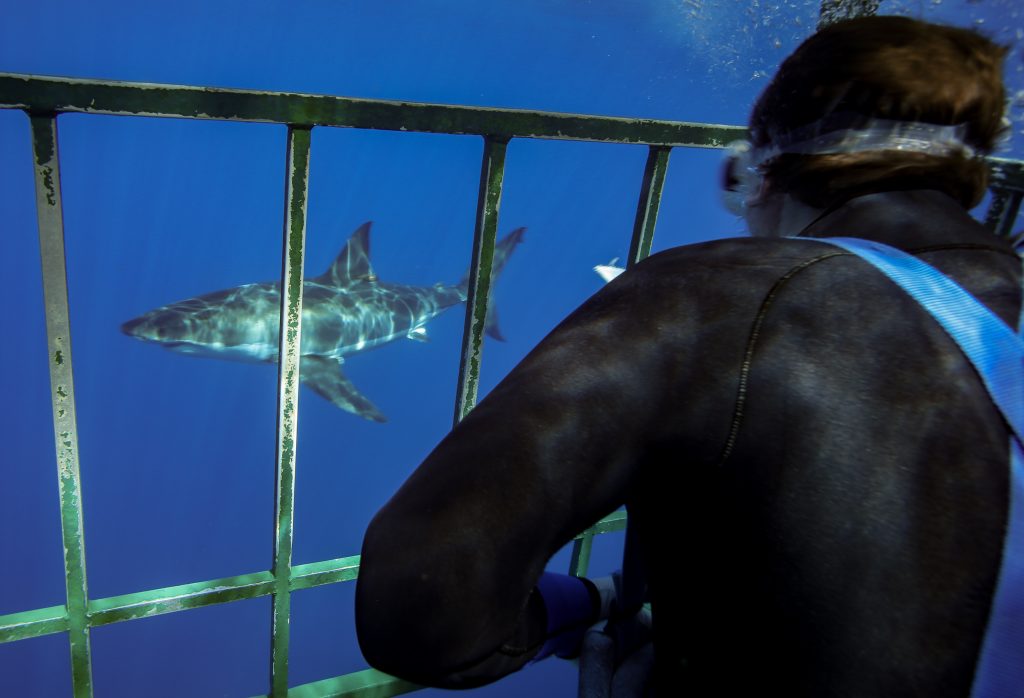 Sharks Worth More Alive Than Dead
For example, a 2011 study by Dr. Mark Meeken of the Australia Institute of Marine Science estimated that shark dive tourism contributed up to 18 Million Dollars US to the Island of Palau's national economy. The estimated annual value to the tourism industry of an individual reef shark that frequents these sites was U.S.$179,000, or US$1.9 million over its lifetime.
Another study in French Polynesia indicated one shark is worth 100,000 US a year. Alternatively, a dead shark might bring a fisherman $100 for a one time gain. In areas of Mexico and Honduras whale shark ecotourism is helping prevent poaching. While economic data is not available, white shark tourism off Guadalupe Island, Baja CA Mexico has grown significantly since 2000, now with 9 cage dive operating vessels. Once fished commercially, white sharks are protected in Mexico, and cage tourism is supporting hundreds of jobs and research. Not without its problems, this industry has observers onboard and a required code of conduct. Incidents of sharks ramming cages and even entering cages with divers, placing both species at risk, have caused alarm and a brief shut and assessment down of these activities at Guadalupe. In general, the operators have adapted and complied and the activities resumed with government approval and monitoring. In 2022, the Mexico Departmento de Semarnant (Department of the Environment) shut down all cage diving activities for unknown reasons, but Horizon Charters has reported there the Governments doing a complete assessment of activities in the Biosphere reserve.
Code of Conduct, White Shark Cage Diving, Mexico Departmento de Semarnant
Shark tourism can be good for the economy and for shark conservation. However, if not managed, tourism can be harmful to sharks and their habitat. Too much food can habituate sharks or create too many nutrients or microbes on a coral reef system. Shark feeding outside of a cage can be dangerous and even fatal in some cases, and in areas like the Bahamas, has habituated sharks resulting in migration disturbances.
Not all shark observations require feeding or even diving! Tours of shark aggregations (including white sharks at the Farallon Islands) with well trained naturalists, allow passengers to observe sharks at the surface or through underwater cameras, sometimes observing a predation event!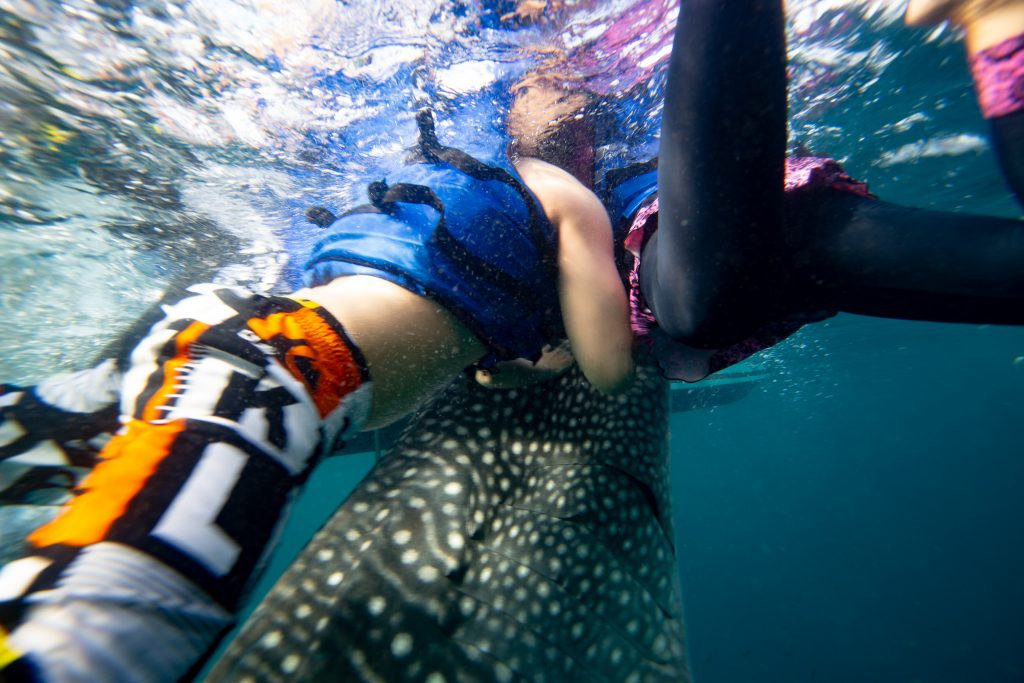 Troubled Waters
Large concentrations of sharks are not always natural. At Oslob on the Philippine island of Cebu, whale shark dive tourism grew rapidly in the 2000s. Whale sharks frequented the region and were not traditionally fished, but fishermen discovered they could feed the whales and attract them for tourists. Fishermen and operators seized the opportunity to make money and the entire town blossomed around tourism dollars. One study indicates that Oslob Whale Sharks brought livelihoods from ticket sales of US$18.4 m in five years.**
However, a lack of regulations lead to severe negative impacts on the sharks. Malnutrition caused by a diet only on shrimp or small fish, a change in behavior including negative impacts by deterring migrations and an increase in propellor strikes scarring the sharks and even removing parts of fins. Additionally, tourism climbing on sharks and riding sharks tire them and can lead to disease and early mortality.
Left over fish that decays on reefs can create an overabundance of microbes that leads to coral death or algal blooms. Some shark wrangling can lead white sharks striking cages and injuring themselves or the occupants of the cage. On the other hand, tourism can benefit the local economy leading to better shark awareness and protection.
How shark tourism is conducted depends on the operation and the location. Below we have helped develop some suggested shark tourism guidelines that will help minimize impacts while providing opportunity to see sharks safely in the wild.
Tips for Shark Conservation Travel Developed with SEE The Wild.
Respect the shark: maintain a respectful distance in the water. Observe the shark's behavior and act accordingly
Avoid approaching or spooking a shark- let the shark approach you. With whale sharks snorkel only and stay alongside or behind the shark.
Avoid shark diving operations that use chum or excess bait to attract sharks. This practice changes the natural behavior of sharks and can be dangerous to humans.
When baiting large sharks use containers that will not harm the shark or break free, or hemp line that will degrade and not injure the shark's mouth.
Clear the water and beaches of plastic and other litter, even if it's not yours. Sharks and other wildlife can ingest plastic, small floats or get entangled in fishing or mooring line.
When boating in the ocean, slow down when sharks and other wildlife are present and avoid anchoring in sensitive coral reefs and seagrass beds.
Choose to eat local and sustainable food caught with environmentally-friendly fishing gear – preferably troll or hook and line.
Avoid establishments that serve shark fin soup in Asian (any)countries.
For the best experience, look to travel with a shark conservation tour or volunteer with a shark conservation project.
Reduce your carbon footprint while on vacation. Climate change affects ocean wildlife by altering their habitat and affecting their food sources.
Donate to local shark and wildlife conservation organizations where you travel.
Dive with an expert, they can help you understand shark behavior and know what kinds of sharks will be around.
References
Cisneros-Montemayor, Andrés Global economic value of shark ecotourism: Implications for conservation, JOUR 2013
Lowe and Tejada, The role of livelihoods in collective engagement in sustainable integrated coastal management: Oslob Whale Sharks Coast & Ocean Management 2018
Vianna GMS, Meekan MG, Pannell D, Marsh S, Meeuwig J (2010) Wanted Dead or Alive? The relative value of reef sharks as a fishery and an ecotourism asset in Palau. Australian Institute of Marine Science and University of Western Australia, Perth.