Marine plastics- the problem
It is estimated that eight million metric tons of plastic enters the oceans every year.We are producing over 300 million tons of plastic every year, 50% of which is for single-use purposes. Coca Cola produces 1 million single use plastic bottles every day. In the US about 8% of all plastic is recycled. One study determined that over 90% of all seabirds have plastic in their stomachs. Another study discovered microplastics in the organs and flesh of every single fish in a sample of 120 examined. A report by the Ellen MacArthur Foundation, in partnership with the World Economic Forum predicts that by 2050, there will be more plastic in the oceans than fish.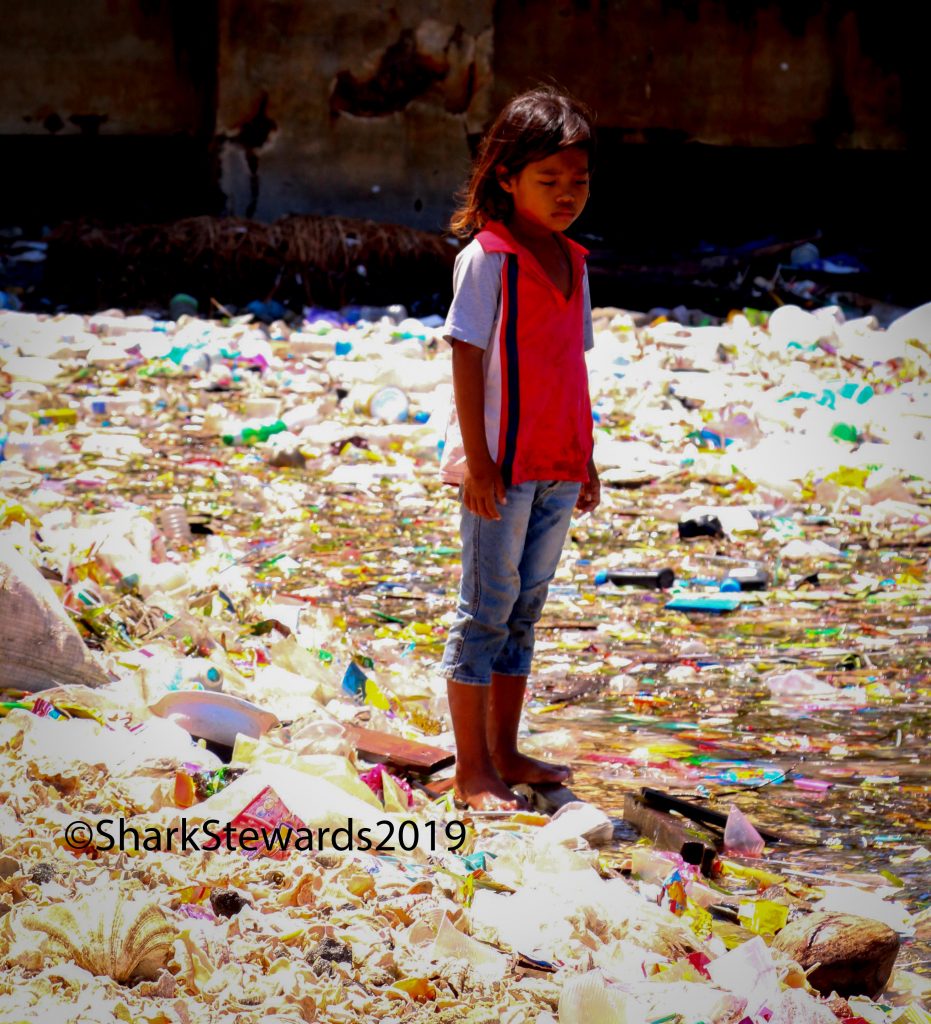 How we stop plastic pollution
In California, Shark Stewards has participated in reducing marine litter and plastic pollution since our early days as surfers in the 1970s. With Surfrider Foundation we became formally involved in the 2000s participating in beach clean ups and the Rise Above Plastics movement. With Marin County Surfrider foundation we actively supported the introduction and the successful passage of the Fairfax plastic bag ban, followed by a county wide single use plastic bag ban in Marin. Since that time we have been engaged and led 100s of beach cleanups and conducting education to reduce ocean plastics.
Perhaps plastic in the ocean is most apparent in Asia where we work each summer in shark fin trade reduction, coral reef protection and supporting marine protected areas. In Malaysia and in Indonesia we are joining with communities to clean up beaches and the ocean while diving to reduce this insidious threat to ocean health, as we work toward international reductions in plastic production.
Aquatic Park Stewards
In 2015, we formed the Aquatic Park Stewards program introducing underserved youth to San Francisco bay ecosystems and learning how to solve threats to ocean life by quantifying and cleaning up marine litter. Focusing on cigarette butts, we produced a student film Hang Onto Your Butts, which won the youth competition for middle schools at the San Francisco International Ocean Film Festival. We are engaging community and youth in monthly beach surveys and cleanups, partnering with our National Park to prevent plastic from entering the bay.
We lead beach surveys and cleanups in San Francisco every second Sunday at Aquatic Park.
EcoBlitz
In 2019, we took the program to the state of California with National Geographic conducting Eco Blitzes that combines collecting data on litter with observations of flora and fauna. This program reached several thousand children, cleaning thousands of pounds of litter from schools, parks, streets and beaches. As a National Geographic Explorer, we will again lead this program in Fall 2020 with educators and students.
Holding Big Plastic Accountable
With Earth Island Institute, represented by Cotchett, Pitre, & McCarthy, we filed the first major lawsuit against the top 10 plastic manufacturers for polluting our waterways, coasts, and oceans with millions of tons of plastic packaging. The lawsuit alleges violations of the California Consumers Legal Remedies Act, public nuisance, breach of express warranty, defective product liability, negligence, and failure to warn of the harms caused by their plastic packaging.