Relative risk and how to avoid an encounter in light of recent attack.
The unfortunate death of surfer Ben Kelly at Manresa State Beach May 9 was, in all likelihood, caused by a white shark (Carcharodon carcharias). The attack occurred around 1:30 PM while the 26 year old man was surfing at a beach near Santa Cruz California in an area of the Monterey Bay where aggregations of white sharks have been observed over the past 5 years. Although there isn't any information on the accident at this time, the time of day, location of the incident and traumatic injury (possibly a femoral artery) point to a white shark involvement.
Although other species of large shark such as blue shark, salmon sharks and thresher sharks visit this coastal region, they generally avoid humans. White sharks are the most commonly encountered large shark species by humans off the west coast. Protected in California since 1993, more sightings and close encounters with young sharks are occurring in Southern California. However, actual shark encounters involving bumps and bites are very unusual. According to the Department of California Fish and Wildlife, 190 shark-human encounters have been recorded since 1950- 2020. Mr. Kelly makes the 191st incident and the 14th fatality recorded in that period.
California Fish and Wildlife records indicate that, on average, there have been 5 human white shark encounters per year since 2000. Most of these did not involve an injury and are considered investigations.
White sharks, also called great white sharks (Carcharodon carcharias), are intriguing to many, and a fact of life to ocean goers off the west coast of North America. Protected since 1993, this population had been overfished commercially and killed in a backlash to the movie Jaws. Shark fishing tournament's occurred along the coast including n the San Francisco Bay and a commercial fishery at the Farallon Islands nearly wiped out this population.
According to the Global Shark Attack File conducted by Dr. Ralph Collier of the Shark Research Institute, the last fatality in California occurred in 2012 on surfer Francisco Javier Solario Jr. at Surf Beach near Point Concepcion. That fatality followed one 2 years earlier experienced by a white shark on a 19 year old body boarder Lucas Ransom also at Surf Beach. Prior to that, the last recorded fatality was on triathlete Dave Martin swimming off Solana Beach, San Diego in 2008. The last serious incident with a white shark and a human occurred in 2018. Thirteen year old Keane Webre- Hayes was bit by an 11 foot white shark while diving for lobster off Encinitas, San Diego. Keane was released by the shark and rescued, and resumed his ocean activities less than a year later.
Evidence by Professor Chris Lowe of California State University Long Beach and Stanford Biologists from the Tagging of Pelagic Predators (TOPP) suggest that white sharks are recovering in the Northeast Pacific population. White sharks are birthed, or "pupped" in the summer months off Southern California and Baja. These juveniles and Young of Year frequent warmer shallow waters and feed on sting rays and other fish.
Shark food has increased since protection in 1972 under the Marine Mammal Protection Act. Populations of marine mammals like California Grey Whales have been on the rise, including white shark's favorite food: elephant seals. Protection of shark food and the sharks themselves has lead to an increasing population, but estimates of the total size vary. A 2011 study by Chapple et al estimated the population of sub adults and adult white sharks in the Central California Assemblage which includes Guadalupe Island Baja, at only 219 individuals. The authors predicted that the entire adult and subadult population might be around twice that. Another study that included young and juvenile sharks estimated the population greater than 2000 in the Northeast Pacific between British Columbia and Baja California Mexico. It is believed that most of this population are Young of Year, juveniles and sub adults.
Southern California serves as the birthing ground and nursing area for the young white sharks which consume fish including stingrays.  Subadults in the ten to twelve foot range transfer their diet to seals and sea lions which have more calories. Eventually these subadult sharks head north of Point Conception where seal colonies are more common.
Mature adults undergo a large offshore migration, leaving the favored feeding grounds where seals and sea lions breed like the Farallon Islands, to an area near Hawaii. In the late summer and early fall, these sharks come back to forage and human encounters peak out in October. 
In general white shark prefer a temperature between 54 and 75 degrees Fahrenheit, with the adults tolerating colder waters. More sensitive to colder water, these shark typically migrate to water temperatures in the mid to high 60s. In 2015 – 2017 a trend of unusually warm waters off the west coast was generated by a high sea surface temperature phenomenon known as "the Blob" followed by an el Nino. These warm waters lead to the young sharks living in the Southern California Bight staying off Southern California instead of instead of heading south in winter in their normal pattern.
This warm water event also lead to younger sharks traveling north to the Monterey Bay and frequenting the area around Santa Cruz, near the site where the most recent incident on Ben Kelly occurred. Current trends in sea surface temperatures are leading to predictions that another cycle of warm water may be developing off the west coast. Whether this leads to an increase in white shark encounters in 2020 remains to be seen.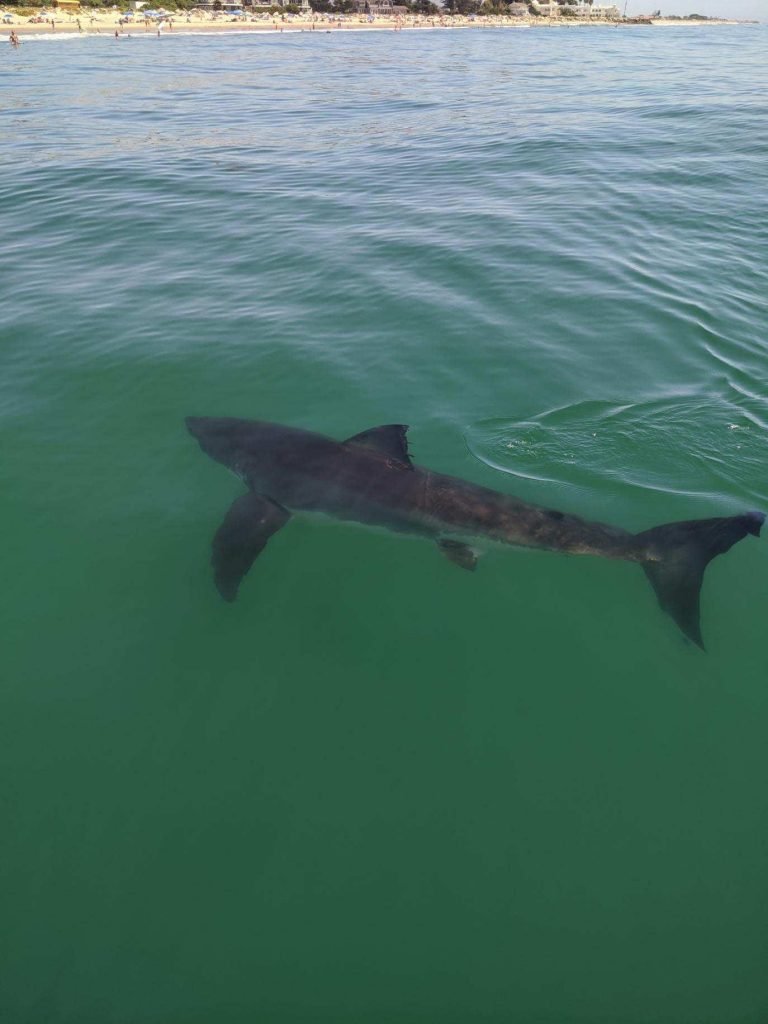 Excluding the last few decades, data on shark attacks was difficult to acquire, was inconsistent and even the sharks were misidentified. Research and follow up of attacks by Dr. Ralph Collier of the Shark Research Committee, Dr. McCosker of the California Academy of Sciences, and Professor Chris Lowe of California State University Long Beach, as well as staff from the California Department of Fish and Wildlife, has lead to more careful investigation and documentation on shark attacks and human interactions since the 1970s. Statistics on species and victim behavior along the west coast of North America are probably the best available in the world. Although data collection methodology and statistical evaluations vary between the SRC and the California Department of Fish and Wildlife (CADFW), the department has published detailed reports on California shark attacks.
Of the 105 attacks (among all shark species) that have been reported by the CA Department of Fish and Wildlife since 2000, the largest group of victims were surfers, with 64 incidents, compared to 17 kayakers. Eight of the victims were swimmers, six were divers, and another six were paddleboarders. The remainder were an outrigger canoe, windsurfers, fishers, and boogie boarders. These incidents are all considered unprovoked. However, kayakers as second largest and growing category, were participating in fishing, or had bait or fish onboard which offers an additional attractant and could be argued are at least partially provoked.
The use of drones and social media have increased our awareness of sharks swimming off the California coastline, but a Stanford study published in 2015 indicates the risk of a shark attack off the west coast has decreased significantly.
Shark Inhabited Waters
Although sightings are higher in recent years, the number and risk of aggressive encounters is are still very low. The Stanford study, published in Frontiers in Ecology and the Environment in 2017, finds that despite increasing records of shark attacks, mostly by white sharks in California, the individual attack risk has dropped by more than 91 percent during the past six decades.
Risk of Encounter by Activity
A 2015 Stanford study indicates that in the highest risk group, surfers, have a 1-in-17 million chance of being bitten by a white shark in California.

Francesco Ferretti et al Frontiers in Ecology and the Environment
The study determined that the risk by other ocean activities include:
Scuba divers are 6,897 times more likely to be hospitalized for diving-related decompression sickness than for white shark bites.
Ocean-goers are 1,817 times more likely to drown than die from a shark attack.
Scuba divers have a 1-in-136 million chance of being bitten.
Surfers have a 1-in-17 million chance of being bitten.
Over 80% of recorded human-shark related fatalities along the west coast are north of Point Conception.
Surfers, swimmers and divers in the region called the Red Triangle have the highest risk of an encounter with a white shark. Over 1/3 of all white shark attacks along our coastline have been recorded in the region bounded between Big Sur to the south, the Farallon Islands to the west and Point Arena to the North. The odds of an encounter with a large white shark are higher in the months we call Sharktober, between September and November when the large adults return from their migration to feed on marine mammals nearshore.
Besides trading in the surf board for golf clubs, surfers can reduce their risk by choosing when and where they surf. The best way to avoid a shark encounter is to avoid locations and seasons where risk is highest, the study's authors advise. For example, the riskiest time and place for California surfers is October and November in Mendocino County. That risk can be reduced 25-fold if you surf in March, and more than 1,600-fold if you surf in March between San Diego and Los Angeles.
Co-existing with sharks
White sharks are increasing off our coastline, and scientists believe that is a good thing since it is a sign of ecosystem recovery.
Sharks play a vital role in marine ecosystems, and benefit prey populations and even humans by increasing ecosystem health. There is hope that through increased awareness, better data and warning systems we will minimize shark encounters. Individuals can also take responsibility to reduce a shark encounter. Below are suggestions beach goers can take so both humans and sharks can swim unharmed.
How to Reduce Your Risk of a White Shark Encounter
Avoid areas with high activity of seals in the water or where they are known to haul out.
Don't enter the water in areas of known shark activity. Known hot spots in southern California include San Onofre, Seal Beach and Sunset beaches. Northern CA hotspots include Humboldt (Bunkers), Dillon Beach, Ano Nuevo and Pt Conception.
Pay attention to Nature's signs. Circling birds, splashing water, a dead whale, feeding seals and dolphins may also indicate a shark is near.
Use the buddy system. Most shark attack survivors lived because they had immediate aid.
Don't look like shark food. A dark silhouette may resemble shark prey. Long boarders have lowest risk with swimmers and divers the highest. Patterned wetsuits and surfboards are available and touted by some but not well tested by science or time for this species.
Low light may add to a mistaken predation. White sharks have an incredible sensory toolkit but are also visual predators. These sharks may mistake swimmers or surfers as a seal or sea lion during hours of low light.
River mouths or areas of low water visibility can increase risk. White sharks also frequent areas with deep channels and drop offs or canyons.
Don't bleed in the water. If you have a cut get out. (The evidence of sharks attracted to menstrual blood or urine attracting sharks is inconclusive.)
If you see a shark, alert others, stay calm and paddle away avoiding jerky, splashing motions and exit the water. Warn others.
Observe the signs. Beaches are posted if a large shark is sighted. Some like Stinson Beach have permanent signage. Tweets using the #SharkWatch tag, drone footage and alerts on social media often outstrip the news and can alert ocean goers where high shark activity may be occurring. Sharks patrol areas and are not locals so in time the shark will leave an area.
Final Resort? Shark survivors have described striking the nose, eyes or gills as a successful (and last ditch) approach towards inducing the shark to release them. Return attacks with white sharks are extremely rare and the odds of survival are high with immediate stabilization and care.
Applying Technology to Prevention
Besides better observation tools using drones and evacuating the water when a shark is near ocean-goers, several technologies have been developed whose efficacy remain uncertain against white sharks. Some of these technologies include Shark Bandz using magnets and Shark Shields using an electrical field may act as a deterrent to shark investigations. Smart buoy systems that monitor sharks in an area and alert life safety officials have been tested off Newport Beach and documented incursions of white sharks, but the system was determined to be cost prohibitive by the city. Low tech solution includes stickers with eyes, or a disruptive striped pattern applied to the bottom of a surfboard board. Patterned wetsuits have also been developed to persuade these ambush predators that surfers aren't their favorite prey (seals and sealions).
See a shark? Add to the observation database by send out a tweet or instagram tagging SharkStewards and #SharkWatch. We will record the observation and share.
A first estimate of white shark, Carcharodon carcharias, abundance off Central CaliforniaTaylor K. Chapple, Salvador J. Jorgensen, Scot D. Anderson, Paul E. Kanive, A. Peter Klimley, Louis W. Botsford, Barbara A. BlockBiol Lett. 2011 Aug 23; 7(4): 581–583. Published online 2011 Mar 9. doi: 10.1098/rsbl.2011.0124PMCID: PMC3130246
* Reconciling predator conservation with public safety, Frontiers in Ecology and the Environment, August 2015 Francesco Ferretti, Salvador Jorgensen, Taylor K Chapple, Giulio De Leo, Fiorenza Micheli
Burgess GH, Bruce BD, Cailliet GM, Goldman KJ, Grubbs RD, Lowe CG, et al. (2014) A Re-Evaluation of the Size of the White Shark (Carcharodon carcharias) Population off California, USA. PLoS ONE 9(6): e98078. https://doi.org/10.1371/journal.pone.0098078
Want to save sharks and protect ocean health? Join Shark Stewards for one of our Sharktober education events and Sharktoberfest celebrations. Please volunteer, share the message or donate to support our education and conservation efforts to save sharks.