If you see a beautiful woman with a fish tail instead of legs, you can call that woman a mermaid — a mythical creature that lives in the ocean. … Mermaid means "maid of the sea," from mere, "sea" in Middle English, according to Google. Original blog post by Cheryl Breiss in Aquatic Park and Pier Project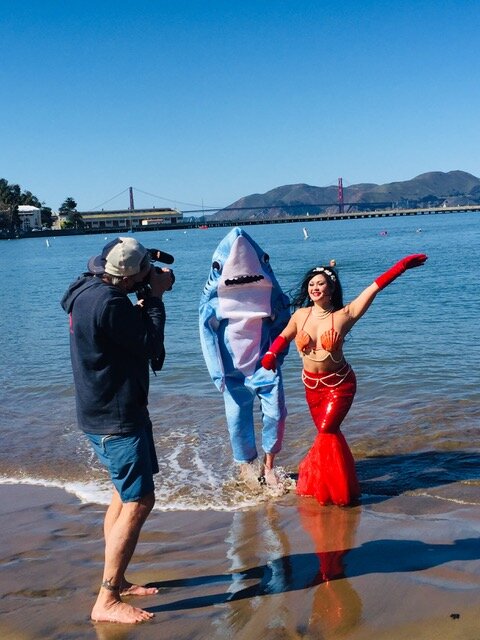 South End Rowing Club member and Aquatic Park & Pier fan Nancy Luna is a mermaid in her other life. Inspired by David McGuire's Shark Stewards, she decided to do a beach clean-up. At first, it was a one off event. But everyone loved it so much and people kept asking Nancy when the next beach clean-up would be, and it grew organically from there.
"I got a sign and stickers to raise awareness of the beach clean-ups, and I enlarged the scope to go beyond the beach to all of Aquatic Park because the pier, parking lot and the bleachers also get trash. There was lots of broken glass and I don't want people to step on it. As our group grew, I started to assign people areas to cover. Part of our effort includes separating cigarette butts. Honestly, I don't like counting them, but it is an important task and they need to be documented and sent to TerraCycle for recycling. I always remind myself and others that we need to keep this magical spot clean not just for our own use, but for all of the critters that live here. We share this space with wildlife. I also want to keep this area clean for anyone who wants to enjoy this beautiful place. It's like a second home to me, but I know that there are many who are discovering it or re-discovering it for the first time," shared Nancy.
"I tend to pick a different Sunday every month in order to give everyone an opportunity to come. I also try to make it fun. I usually select a guest of honor which is really just a fancy term for a friend who did something cool. One example is my friend's child Abigail who is 6 and loves to help. She's really motivated and I like to recognize supporters for their help. Sometimes they co-host and invite friends. We get up to 30 people sometimes!" recalled Nancy.
"Even if it looks clean at first glance, you always find stuff that doesn't belong there," remembered Nancy. "We might find as many as 1200 cigarette butts on a day, or 600 on a slow day. Among the cigarette butts, we also find car keys, Band Aids, to-go food containers, cups, fishing line, zip ties, fish hooks, packages of rotten meat for bait, candy wrappers, condoms, hypodermic needles, and needle caps. At this point in time, I have done 13 beach clean ups. I even do it when I'm on vacation in Florida and Hawaii. It would be nice if the only thing we could pick up are pretty seashells, but sadly, that's just not the case."
"One thing I try to tell people is not to pick up the seaweed, but to leave it there. It is important for sand crabs to hide in there. That's where the birds forage and even if it appears dead, washed up and dry, it is still important for our ecosystem to thrive," said Nancy. "I also want to encourage folks to think about the types of trash we tend to find, such as many, many take out containers. There are usually ice cream holders, spoons, plastic bags, and other types of trash left there. One idea is to make your own food, drinks, and snacks because it creates less waste in our environment."
Are you interested in joining the next beach clean-up? Dates are posted as public events on Facebook www.facebook.com/SharkStewards/ and shared with the Dolphin Club, South End, and Shark Stewards to spread the word as widely as possible.