Scientists evaluate the health risk assessment of globally consumed shark meat and shark fins.
Shark meat and shark fin soup are part of global seafood trade regularly exported and consumed worldwide. More than 200 countries and territories import and export shark and ray meat in a global trade that was valued at between 2012 and 2019 at US $2.6 billion. Increasingly, shark products are being consumed, often with inaccurate labeling and no warning of the potential health risks.
In a 2022 study titled Health Risk Assessment of Globally Consumed Shark-Derived Products, investigators analyzed concentrations of total mercury, the harmful organic form methylmercury, and the metal selenium in 267 processed fin trimmings from Hong Kong Special Administrative Region and mainland China (Hong Kong) and 33 meat samples from Trinidad and Tobago. In conjunction with the most recent data from consumer practices surveys, and taking into account consumption rates, average body weight of consumers and the chemical interaction between mercury and selenium, the researchers calculated the risks of consuming shark meat and shark fin soup from different shark species.
A 2021 report by the World Wildlife Fund titled THE SHARK AND RAY MEAT NETWORK A DEEP DIVE INTO A GLOBAL AFFAIR reported the total value of shark and ray trade in the period 2012-2019 exceeds US$4.1 billion. The value of shark and ray meat combined ($2.6 billion) exceeds the value of shark fins ($1.5 billion) in the same period. Prices can range from US$0.1/kg for meat to more than US$100/kg for the fins. Spain is the world's top exporter, with Italy the top importer and the EU accounting for over 20% of the global shark meat trade. Of the top traders, Italy pays on average the highest price for imports of shark meat at US$4/kg, while Hong Kong pays the highest price for fins at US$30/kg.
37% of Shark and Ray Species are Listed as Endangered (IUCN 2021)
Long lived and slow growing, apex predators like large sharks can accumulate and magnify toxins that move their way through the food chain. Fat soluble toxins like methyl-mercury are especially bio-accumulative and reach hazardous levels to humans and other vertebrates that consume them. Due to this well-documented biomagnification and high levels in large fish including tuna, swordfish, sablefish and sharks, many countries have health advisories advising citizens to minimize consumption of these fish. The US EPA and California Office of Environmental Health Hazard Assessment advises against consuming high mercury fish, especially pregnant women and children who are most sensitive to the reproductive and developmental toxin. Mercury levels are high in larger fish and sharks, but may vary greatly within and among species. Since shark-derived products can represent an important source of protein in some communities, assessing the consumption health risks of different shark species is needed.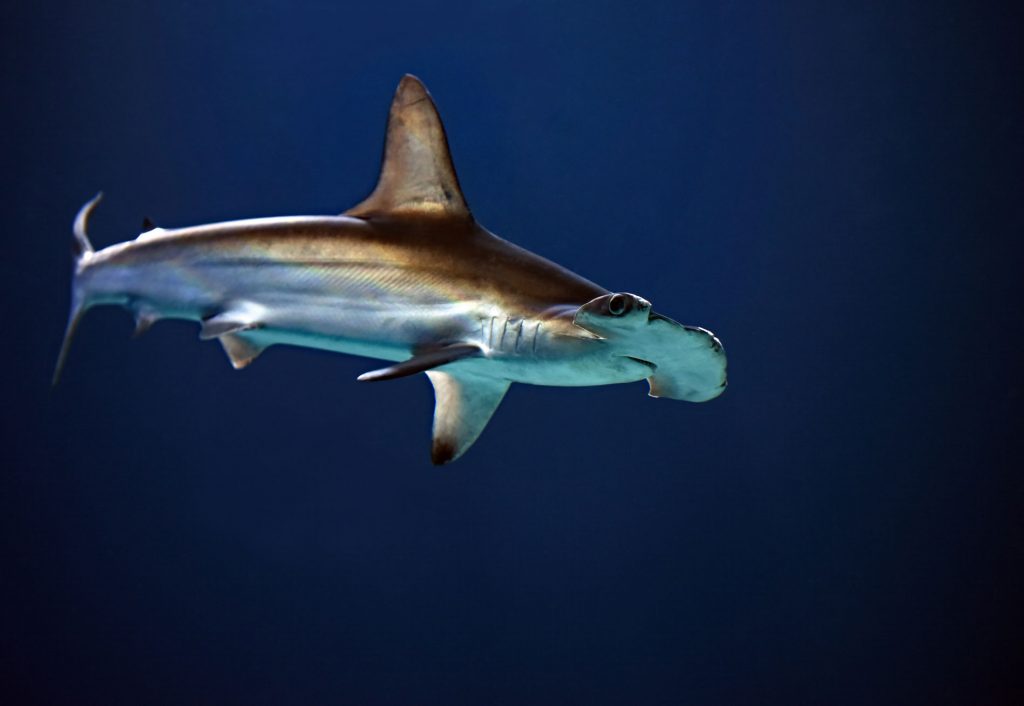 "Eating shark meat and shark fins are bad for sharks, but it is also bad for human health."

David McGuire, MPH Shark Stewards
The authors of the 2022 health risk assessment conclude that meat and fin products from large hammerhead sharks including the Critically Endangered Great Hammerhead, Sphyrna mokarran, the Endangered Smooth Hammerhead S. zygaena, and Scalloped Hammerhead S. lewini should be avoided by consumers, and not sold by retailers, due to high mercury levels.
For the first time, shark species-specific advisories are recommended to be issued for meat and fin products from oceanic whitetip and dusky smooth-hound sharks. These an other large sharks should be avoided by women of childbearing age the authors conclude. Considering these sharks are endangered and in decline, a complete prohibition on landings might not only help the species, but also benefit human health.
Selected References
García Barcia, L., Valdes, A.E., Wothke, A. et al. Health Risk Assessment of Globally Consumed Shark-Derived Products. Expo Health (2022). https://doi.org/10.1007/s12403-022-00500-5 Exposure and Health
The Shark And Ray Meat Network A Deep Dive Into A Global Affair 2021, WWF Evan Jeffries Editor
Sharks in the Mediterranean 2019 WWF Mediterranean Marine Initiative / Evan Jeffries PDF
García Barcia, L., Valdes, A.E., Wothke, A. et al. Health Risk Assessment of Globally Consumed Shark-Derived Products. Expo Health (2022). https://doi.org/10.1007/s12403-022-00500-5
Ali L, Grey E, Singh D, Mohammed A, Tripathi V, Gobin J, Ramnarine I (2020) An evaluation of the public's knowledge, attitudes and practices (KAP) in Trinidad and Tobago regarding sharks and shark consumption. PLoS ONE 15(6):e0234499. https://doi.org/10.1371/journal.pone.0234499CAS Article Google Scholar
Bosch AC, O'Neill B, Sigge GO, Kerwath SE, Hoffman LC (2016) Heavy metals in marine fish meat and consumer health: a review. J Sci Food Agric 96(1):32–48. https://doi.org/10.1002/jsfa.7360CAS Article Google Scholar
Cardeñosa D, Fields AT, Babcock EA, Zhang H, Feldheim K, Shea SK, Fischer GA, Chapman DD (2018) CITES-listed sharks remain among the top species in the contemporary fin trade. Conserv Lett 11(4):e12457. https://doi.org/10.1111/conl.12457Article Google Scholar
Cardeñosa D, Fields AT, Babcock EA, Zhang H, Feldheim K, Shea SK, Fischer GA, Chapman DD (2020a) Species composition of the largest shark fin retail-market in mainland China. Sci Rep 10(1):1–10. https://doi.org/10.1038/s41598-020-69555-1CAS Article Google Scholar
Cardeñosa D, Fields AT, Babcock EA, Zhang H, Feldheim K, Shea SK, Fischer GA, Chapman DD (2020b) Small fins, large trade: a snapshot of the species composition of low-value shark fins in the Hong Kong markets. Anim Conserv 23(2):203–211. https://doi.org/10.1111/acv.12529