The Broadnose Sevengill shark (Notorynchus cepedianus) is an enigmatic and little known species that lives along the continental margins around the world except the Northwest Atlantic. A deeper water species, this shark also enters the shallows and estuaries like the San Francisco Bay. Ocean Sanctuaries was founded in 2014 to promote marine citizen science mostly as a result of a memorable encounter with a Sevengill. It started with with a in La Jolla, that passed between me and my dive buddy like it owned the place–which it probably did.
Michael Bear is the President and co-founder of Ocean Sanctuaries and 2 of our 4 marine citizen science programs are for shark lovers: 'Sharks of California' and the Sevengill Shark ID Project, which uses the pattern recognition algorithms contained in 'Wildbook' to help identify Sevengills returning to La Jolla [and Cape Town] from year-to-year.
The 'Shark of California' program uses a different citizen science tool maintained by BSCS, called 'Fieldscope' and it's a simple photographic encounter database. 'Wildbook' was developed by Jason Holmberg [wildme.org] from some open source code developed by NASA to search for star patterns and, later, was tailored to identify Whale Sharks in Australia. He has worked with us to modify it to scan the 'freckling pattern' often seen on the side of Sevengills, between the nares and gill area, which is like a fingerprint that can be used for identification purposes.

Divers have been contributing photos since 2010 through https://sevengillsharksightings.org/ and Wildbook has been able identify around 76 individual matches during that time period in the La Jolla area alone.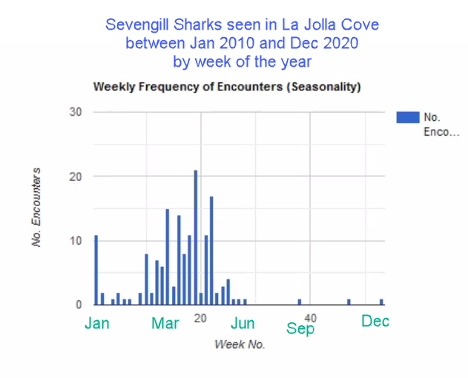 We also have attempted to address the 'absence' issue by creating a 'zero data' database for when divers go out looking for Sevengills in the La Jolla area and 'get skunked' as we call it, ie: see no Sevengills. Our efforts are an attempt to to address the status of Sevengills worldwide, listed by IUCN as 'data deficient.'
Other sharks species are reported through BSCS's 'Fieldscope's 'Sharks of California' database and they include Great Whites, Thresher sharks and Hammerheads, which were seen in recent years during periods of unusually high water temperatures.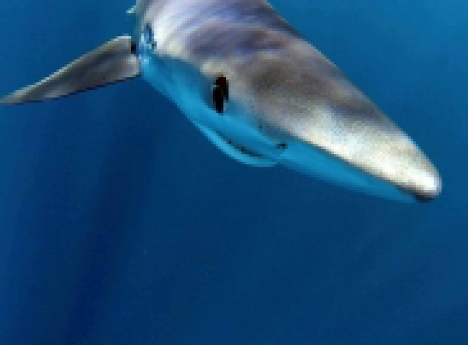 We have also been pleased to work with David McGuire, founder of Shark Stewards, who has lent his scientific expertise and support throughout.
If you've seen a Sevengill anywhere in the California area and would like to upload a photo, please feel free to do so at the URL give above for Sevengill Shark Sightings.
Have a safe and productive 'Shark Week' and we shall see you on Instagram–we will be posting under #savesharks [Shark Stewards] all week. We will also be contributing to 2020's 'Snap Shot Cal Coast' in iNaturalist, so see you online!