Whale attracts a congregation of white sharks near coastal area frequented by surfers, divers. Ocean goers advised to be on alert.
On July 29, an adult sperm whale was reported dead and washed up on the rocks of Portuguese Beach near the town of Mendocino off the California North Central Coast. A lightly populated fishing and tourist area, the coast is frequented by fog and intrepid surfers.
Scientists from the nearby Noyo Center for Marine Science's Marine Mammal Stranding Unit worked with authorities to move the whale to a more accessible location in hopes of examining it and collect samples and collecting the skull for display at the Center under the California Academy of Sciences plans to use its Scientific Collecting Permit to collect the animal's skull.
The Noyo Center worked with the Mendocino Volunteer Fire Department, Noyo Center Science Advisor Jeff Jacobsen, local boat Telstar Charters, the United States Coast Guard, Cal Poly Humboldt, the Marine Mammal Center, and scientists from the California Academy of Sciences in attempting to move the whale carcass to an undisclosed beach where they'd be able to study the animal.*
On Monday the team towed the carcass north past several beaches popular to surfers, anchoring it overnight. Surfers reported seeing a large great white shark in the lineup at the surfing beach off Noyo Harbor over the weekend. An anonymous mariner filmed 5 or more large white sharks consuming the whale as it was being towed, and observers reported seeing sharks from the bluffs. On Tuesday August 3, the whale was towed northwards but broke apart and sank before it could be landed at a remote location north of the harbor.
Although numerous news stories covered the rare discovery of an adult sperm whale nearshore, a valuable find for science, no mention was made of the sharks. Although the spokesman in the Mendo Voice emphasized safety concerns, they were for the crew and not the general public alerting them to the risk of encountering a white shark.
The presence of large white sharks is common along the California coastline where they patrol for seals and sea lions and the occasional dead whale like this sperm whale. White shark attacks on humans do occur along the coastline, Mendocino has 4 recorded white shark attacks with one fatality since scientific record keeping began investigated and collated by Dr. Ralph Collier of the Global Shark Attack File (GSAF) from the 1850s forward. The sole fatality event in Mendocino County was was particularly gruesome when a 15 foot white shark bit an abalone diver in the throat.
History of Confirmed White Shark- Human Incidents in Mendocino
In August 2004, a great white shark decapitated a popular diver, Randy Fry, witnessed and reported by his dive buddy near Kibesillah Rock on the Mendocino coast just north of Fort Bragg. The other 4 victims were all divers who suffered injury but fortunately survived.
In July 1974 a freediver survived being bitten in the arm and shoulder by a white shark while fishing for abalone off Albion Cove.
In 1975 and and again in 1984 two separate abalone divers were bitten off Bear Harbor.
In 1991 an abalone diver experienced a near miss when a white shark entangled his hookah air hose while diving Shelter Cove just north of Fort Bragg.
On August 14 1993. David R. Miles, 38, of Eureka, was diving along Mendocino when a shark swallowed him head-first, and then spit him out. Miles survived with severe lacerations to the back, chest, face and scalp.
According to the GSAF, recorded incidents between humans and white sharks in Sonoma to the south are far higher at 15, and Humboldt higher still at 18 recorded and confirmed white shark incidents.
Since 1950, there have been 203 shark incidents** in California involving all species of sharks, at least 180 of which involved white sharks according to the California Department of Fish and Wildlife (CDFW). Of those, 15 were fatal and all of the fatalities involved white sharks.
While the risk of shark attack is very low, incidents with white sharks can be serious and even fatal.
Scientists agree that most white shark incidents with humans are not predatory attempts, but rather the result of exploratory bites from sharks investigating unusual objects in their environment, such as paddleboards or kayaks. The major cause is believed to be sharks mistaking a person for their usual prey of a seal or sea lion. Juvenile and sub adult sharks, which can be as long as 10-12 feet, sometimes charge and "bump" larger objects, possibly learning as they transfer prey from fish and rays to larger marine mammals. Swimming in areas where sharks have been observed or where white sharks have been seen feeding is not recommended, and this includes whales.
This coast is lightly covered by professional life guards days after the sharks had been observed. We believe that public safety authorities in this case should have alerted the press and life safety about the increase in white shark activity associated with the whale. Reported attempts to bring the dead whale up the Albion River could have been disastrous and fortunately did not occur.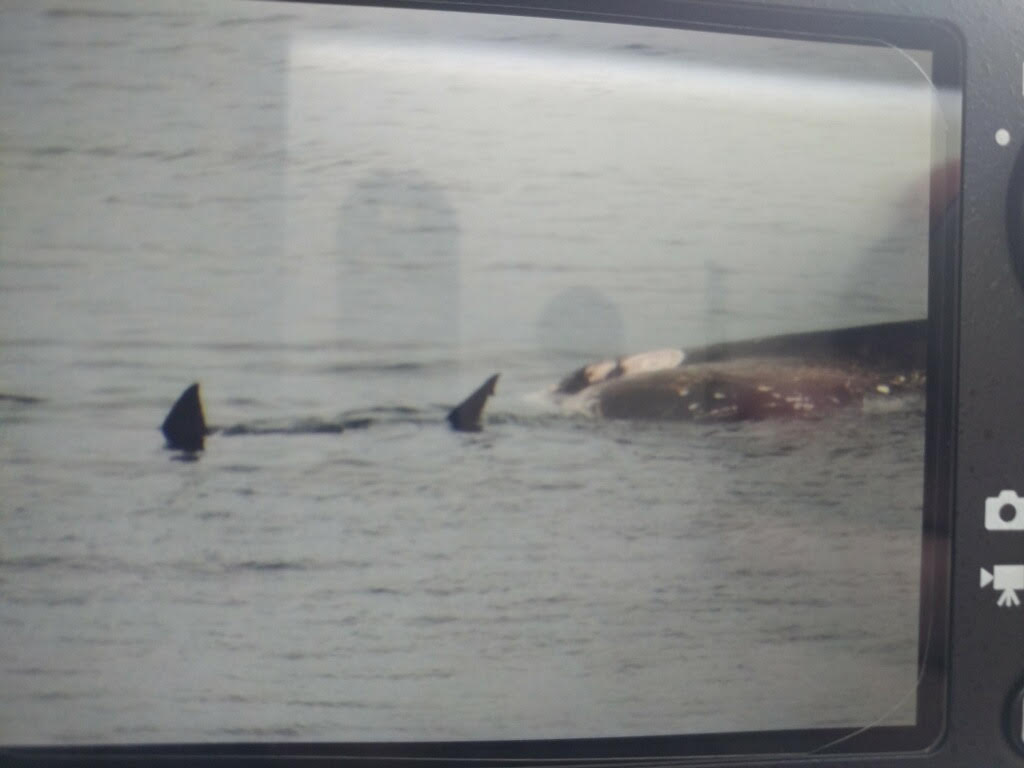 Scientific knowledge is critical to understand and protect endangered whales like sperm whales, but the risks of burying whales or necropsies must take into account increased risk to ocean goers. Sharks and humans can coexist with proper education, communication and an alert system. An alert system on twitter using the tag #Sharkwatch shared on twitter is one mechanism the community can use to alert others (eg surfers and divers) about shark sightings and war others.
*Anyone who finds a dead animal washed up in Mendocino County should reach out to the Noyo Center's Marine Mammal Stranding Coordinator Sarah Grimes at (707)-813-7925. Those who find a live marine mammal in distress should contact The Marine Mammal Center at (415)-289-SEAL.
**The CDFW defines a shark incident as any documented case where a shark approached and touched a person in the water or a person's surfboard, kayak, paddleboard, etc. This summary does not include shark sightings where no contact occurred, incidents where sharks approached boats, or cases where hooked sharks caused injury or damage.