"Pua ka wiliwili, nanahu ka manō"
A Hawaiian saying relating to the time in when the Wiliwili tree flowers bloom corresponds with an increased frequency of manō (sharks ) biting humans. Ancient Hawaiian's proverbial observations and lore continue to ring true today.
A man was bitten and seriously injured by a shark on Tuesday morning December 13, while swimming at Anaehoomalu Bay in Waikoloa, on the Big Island's northwest coast.
According to a Hawaii Police Department news release, the attack took place at about 8 a.m while the 68 year old man was swimming around 400 yards offshore. The man fought the shark off with a knife and was assisted to shore by nearby paddleboarders, and then transported to a local hospital by Hawai'i Fire Department personnel. The man was later transported to Oahu for further treatment to his injuries on his torso and is reported stable. The state Department of Land and Natural Resources (DLNR) said the tiger shark was reported to be 12 feet long.
This follows an event Thursday December 8, when a woman disappeared off Maui in what is highly likely to be a fatal encounter with a tiger shark. The female snorkeler's husband reported to the US Coast Guard the couple saw a shark swim around them repeatedly as they snorkeled about 50 yards from Keawakapu Point near the Southeast end of the island. Separated from his wife, the man swam ashore around noon, and called 911 when he didn't see his wife exit the water. The US Coast Guard Ocean Safety and the Maui Fire Department conducted air and sea search and rescue for several days without signs of the woman. Later, part of a bathing suit and snorkeling set were recovered. The DLNR classified the disappearance as a "shark attack-fatal," and police have called the incident a "miscellaneous accident-fatal." However, witnesses ashore reported signs of a shark feeding in the area where the 60 year old woman and her husband had been swimming.
Shark sighting signs were posted along the beach and the beach was closed. Without locating the woman, the search was called off on December 9.
"When the Wiliwili tree blooms, the shark bites."

Mary Kawena Pukui, Hawaiian Proverbs
The Hawaiian people have a deep connection to the land and sea and the plants and animals they live with, with a rich oral history interpreting their relationship to Nature.
Most shark incidents in Hawaii occur between the months of September and November, at the same time as the Wiliwili tree blooms. One of the few deciduous tree species endemic to Hawai'i, the Wiliwili (Erythrina sandwicensis), also know as the Hawaiian Coral Tree, is in the pea family (Fabaceae) and inhabits the main Hawaiian islands. Wiliwili occurs on the leeward slopes of the islands near sea level to 2000 feet altitude. Mature pods are found on the trees during winter months between December and February. The name Wiliwili means "twist-twist" in Hawaiian, and may refer to the orange-red seed pods twisting open when the seeds are ready for dispersal. In summer, the trees lose their leaves, and in the fall the flowers bloom and drop with the seasonal storms, to wash down to the sea. These majestic trees grow 35-40 tall with a canopy of around the same size. Early Hawaiians used the tree for many purposes including medicine, fishing, leis and favored the wood from the Wiliwili for surfboards and canoes. The trees are considered vulnerable and have lost much of their range.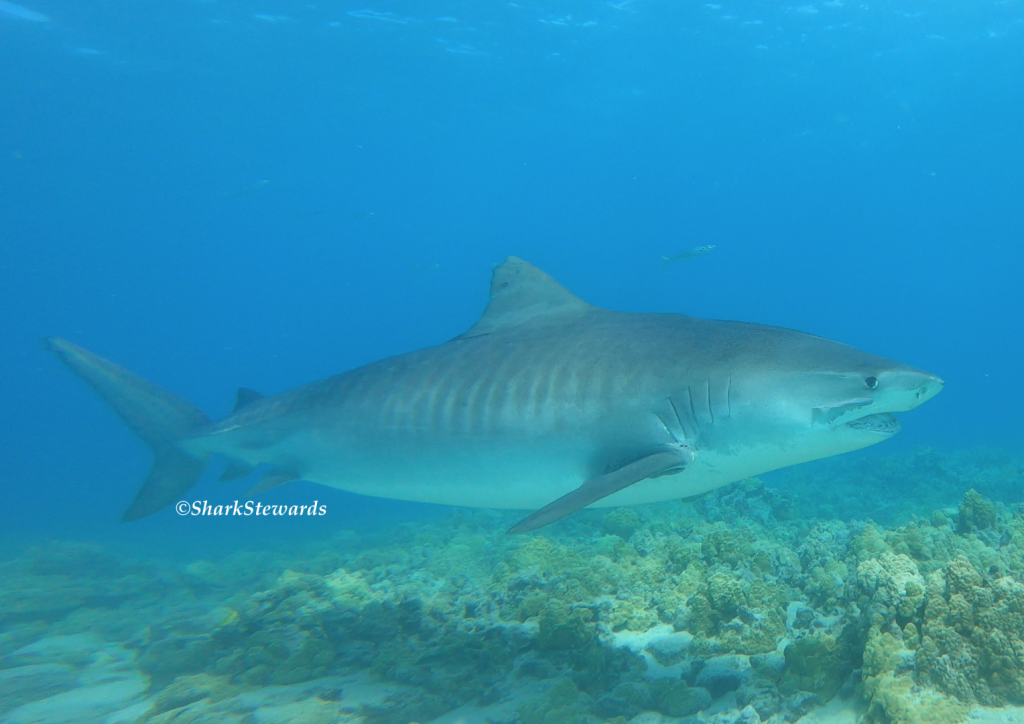 An increase in encounters with sharks in the main islands of Hawaii occur during fall months, coinciding with the period when the female tiger sharks migrate from the Papahānaumokuākea (northwestern islands) down to the main Hawaiian islands to give birth. During this migration and pupping period, female sharks have lower energy reserves and might become more aggressive. Increased rain during this time also leads to cloudy and muddy water with poor visibility, potentially increasing the sharks mistaking humans for their large prey.
How to Avoid a Shark Attack
It is recommended avoiding swimming and surfing around any areas where freshwater streams meet the ocean, since the sediments lower visibility and can also carry food or scent that can attract sharks. Swimming or surfing with a group, like diving with a buddy, increases safety and chance of rescue. Small board or boogie boards where the arms and legs hang off may resemble a sea turtle, the tiger shark's favorite prey. When spearfishing remove the fish from the water immediately to avoid attracting sharks and contain any fish blood. Avoid using fish blood or offal to attract sharks, and do not enter the water bleeding, or with fish blood or oils on your clothing or body. With tiger sharks, avoiding low light conditions, e.g .dawn and dusk, reduces risk of an encounter.
What is Your Risk?
The Hawaiian islands are ranked from records maintained by the International Shark Attack File by Florida's Natural History Museum as number 3 in the USA for frequency of shark attacks. The island of Maui has the highest recorded encounters in the islands now at 71 since 1995, according to the Hawaii Department of Aquatic Resources (a division of Department of Land and Natural Resources). Surfing and Standup paddleboarding are the highest risk sport associated with unprovoked shark encounters in Hawaii, followed by snorkeling and swimming. Spearfishing and SCUBA are far lower risk, although there have been several bites associated with feeding sharks for tourism off of Oahu. Spearfishing and attracting sharks are considered "Provoked attacks" by the DLNR due to the nature of the activity.**
Human-shark encounters in Hawai'i are a reality but are still extremely rare- but condolences go out to anyone who loses a loved one or suffers an injury. Swimmers are the highest risk group, followed by surfers and then divers. This is the 10th confirmed incident of an unprovoked* shark bite on a human in 2022, making it the 157th event logged by the DLNR since 1995.
Poor water quality and reduced visibility aren't much fun to swim or dive in anyway. Perhaps we can learn from the kapuna- the Hawaiian elder's wisdom- and dive and swim another day when the Wiliwili is not in bloom, or by following safety recommendations.
Help keep these articles free and sharks swimming.
References
Pua ka Wiliwili, Nanahu ka Manō: Understanding Sharks in Hawaiian Culture, Noelani Puniwai University of Hawaiʻi at Mānoa 7-1-2020
Pukui, M. K. 1983. ʻŌlelo No'eau: Hawaiian Proverbs and Poetical Sayings. Honolulu: HI:
Bishop Museum Press.
Bishop Museum Ethnobotany Database
http://data.bishopmuseum.org/ethnobotanydb/ethnobotany.php?b=d&ID=wiliwili
Wailaloa Dry Forest Initiative https://www.waikoloadryforest.org/plants/wiliwili-erythrina-sandwicensis
Hawaii Department Aquatic Resources Shark Incidents List https://dlnr.hawaii.gov/sharks/shark-incidents/incidents-list/ ( For incidents prior to 1995, see Balazs, G.H. "Annotated list of shark attack cases in the Hawaiian Islands 1779-1996".)
Florida Museum International Shark Attack File
https://www.floridamuseum.ufl.edu/shark-attacks/
Notes:
*Provoked incidents are defined by the International Shark Attack File as occurring "when a human initiates physical contact with a shark, e.g. a diver bit after grabbing a shark, a fisher bit while removing a shark from a net, and attacks on spearfishers and those feeding sharks." Incidents resulting from fishing activity are generally considered provoked. Sudden activity next to a shark, such as falling off a surfboard, may also result in an incident being classified as provoked.
**Unprovoked incidents are those "where an attack on a live human by a shark occurs in its natural habitat without human provocation of the shark. Incidents involving…shark-inflicted scavenge damage to already dead humans (most often drowning victims), attacks on boats, and provoked incidents occurring in or out of the water are not considered unprovoked attacks."