White sharks (Carcharodon carcharias) are pan- global but tend to aggregate in temperate waters in a few regions of the world, including seasonally along the western seaboard of North America. Thanks to movies like Jaws and Shark Week, white sharks receive a disproportionate amount of negative attention in the media. Like many shark species, white sharks are slow to reach reproductive maturity and produce only a small number of young each year, making them highly susceptible to the threats of fishing and other human activities. The population in the Northeast Pacific has had a history of exploitation and the population fished down tseverely in the 1970s and 1980s.
According to the International Union for the Conservation of Nature and Natural Resources (IUCN) white sharks are listed as vulnerable (VU). In the USA, white sharks are protected under several federal laws, regulations, and management efforts.
Federal law prohibits trade in all white shark products, as the U.S. recognizes the Convention on International Trade and Endangered Species (CITES) treaty. This is supported by the Lacey Act, which makes it unlawful to import, export, sell, acquire or purchase any fish, animal or plant protected by state or international law, including CITES.
Take of white shark is prohibited under the West Coast Highly Migratory Species Fishery Management Plan (HMS FMP). The scope of this prohibition covers all United States vessels that fish for HMS species using authorized gear within the United States Exclusive Economic Zone (EEZ; 370 kilometer, 200 nautical miles) as well as the west coast state territorial waters of California, Oregon, and Washington. Additionally this applies to those vessels fishing the high seas and landing in the States of California, Oregon, and Washington. The large mesh drift gill net fishery targeting swordfish and thresher shark is a federally managed fishery under the HMS FMP. Originally managed by the State of California, this fishery came under federal jurisdiction with the adoption of the HMS FMP, and California's protective measures for white shark were incorporated into the federal regulations.
They are listed under Appendix II of the Convention on International Trade of Endangered Species of Wild Fauna and Flora (CITES). Species listed in Appendix II of CITES are those species that are not necessarily threatened with extinction but may become so if trade in these species is not regulated. White Sharks are listed on the International Union for Conservation of Nature (IUCN) Red List, as Vulnerable .
White sharks are federally managed under the Magnuson-Stevens Fishery Conservation Act (16 U.S.C. 1801-1883). Within the Exclusive Economic Zone (12–200 nautical miles from shore) offshore California, Oregon and Washington, White Shark management requirements are specified in the Highly Migratory Species Fishery Management Plan, which prohibits the commercial fishing of White Sharks. If fishermen catch a White Shark, it must be released immediately unless other provisions for their disposition are established, such as for scientific study (Pacific Fishery Management Council, 2007).
The Shark Conservation Act (SCA) of 2010 was signed into law (P.L. 111-348) on January 4, 2011. It amended the High Seas Driftnet Fishing Moratorium Protection Act and the Magnuson-Stevens Fishery Conservation and Management Act in order to improve existing domestic and international shark conservation measures some activities related to education and research that allow exceptions to prohibitions on a case-by-case basis.
In California, white sharks have been protected since 1994. It is illegal to pursue, capture, or possess them in whole or in part. Title 14, California Code of Regulations, Fish and Game Code Section 28.06 states that White Sharks may not be taken.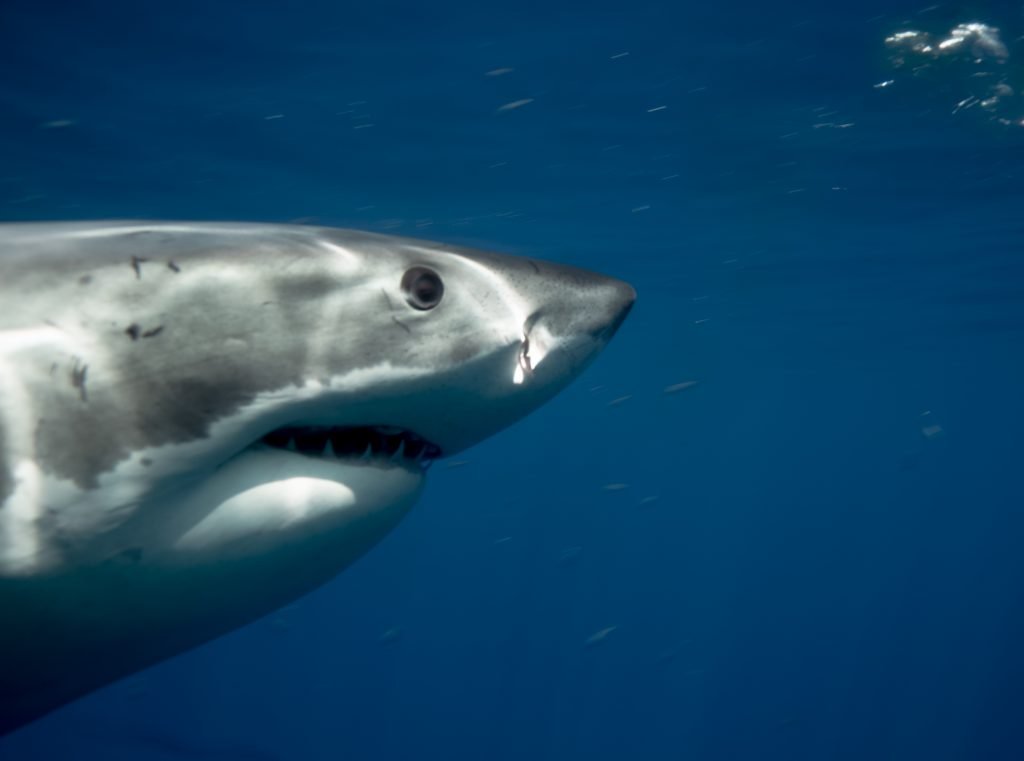 In the San Francisco Bay region additional viewing and approach restrictions are in place to avoid harassment and behavioral impacts on white sharks in the Gulf of the Farallon National Marine Sanctuary. The Gulf of the Farallones National Marine Sanctuary (GFNMS) and the Monterey Bay National Marine Sanctuary (MBNMS), have prohibitions on attracting white sharks. Additionally, the GFNMS also prohibits vessels from approaching within 50 meter (164 feet) of white sharks within 3.7 kilometer (2 nautical miles) of the islands.
These prohibitions were put in place to manage adventure tourism, filming, and research activities associated with white sharks that have potential to cause disturbance to natural behavior. The GFNMS issues permits to allow wildlife viewing (cage diving) and educational tours. A naturalist trained in the White Shark Stewards program must be aboard the vessel.
Unfortunately, they have not been granted full international protection yet, which allows a sizable black market network to perpetuate the sale of white shark jaws and teeth. In 2015 white sharks became listed under Appendix II of the Convention on International Trade in Endangered Species of Wild Fauna & Flora (CITES).
CITES is an international agreement between governments that regulates trade and is controlled with specific conditions. Under Appendix II, species are not considered threatened with extinction.
White shark fins bring high value in the Asian market, primarily for display purposes. Along with basking sharks and whale sharks, white sharks fins can sell for over $10,000 in the Hong Kong market. The Shark Finning Prohibition Act of 2000 amended the Magnuson-Stevens Fishery Conservation and Management Act (MSA) and prohibits shark finning within the jurisdiction of the United States. This Act also prohibits the custody, control, or possession of shark fins aboard a fishing vessel without the carcass or landing of shark fins without the carcass.
The Shark Fin Conservation Act of 2010 strengthens the prohibitions on shark finning under the MSA and under the High Seas Driftnet Fishing Moratorium Protection Act (HSDFMPA). The prohibitions on shark finning under MSA and the HSDFMPA provide some additional protections for white shark.
While the Northeast Pacific population of white sharks is in recovery, this species is still at risk and scientists support current protections in the USA and Mexico. With the Greater Farallones National Marine Sanctuary, Shark Stewards has helped develop education and a white shark stewardship program to educate the public and tour operators in the Sanctuary on the importance of white sharks to marine ecosystem and permitting for shark tour operators for best practices.
Now the public can help scientists better understand individual shark movements and identification. Photographs of white shark fins can be used to identify specific individuals and enter into a long term database shared by the Monterey Bay Hopkins Marine Lab and Stanford's Tagging of Pacific Predators (TOPP). Additionally, observations entered into the iNaturalist platform Shark Watch plays a critical role in the protection of this species and other sharks and rays.