Located close to San Francisco, one of the world's most recognizable metropolises, there is a series of desolate, fog shrouded, wind and wave-sculpted islands. Known as the "Islands of the Dead" by the Native Miwok, and given the term the "Devil's Teeth" by Spanish mariners, these islands have a fascinating history of human exploitation, killing and loss. Today, these islands are refuge to hundreds of thousands of seabirds and marine mammals. A part of the Fish and Wildlife Refuge system, the islands are encircled by the Greater Farallones National Marine Sanctuary and are part of the California Marine Protected Area network.
With a past of whaling, sealing, egg collection, oil spills and even radioactive dumping, the islands are well protected and monitored by scientists from Point Blue and the Fish and Wildlife Service. Today the islands are largely occupied by hundreds of thousands of nesting seabirds, including random visitors like Western Gannets, and endangered species like the Ashy Petrel. Other seasonal occupants include five species of pinnipeds (seals and sea lions) that feed and breed at the island. Other rare visitors include swimmers from the San Francisco Dolphin Swimming and Rowing Club and the South End Rowing Club, a few who have successfully crossed the treacherous waters from the island to the Golden Gate Bridge. Surrounded by a rich marine ecosystem filled with rockfish and invertebrates, the waters are now fully protected as a State Marine Reserve under the California Marine Life Protected Act. The most famous visitor of all are the great white sharks that visit in the fall to early winter to forage on the seals and sea lions. We celebrate the return of these apex predators to the Sanctuary, after a nearly 5000 mile round-trip migration to the central Pacific and back. Once hunted, impacted by habitat loss, pollution and killed as bycatch in nets and longlines, this population of sharks is in recovery.
Each Sharktober, we lead public wildlife expeditions into the Greater Farallones National Marine Sanctuary. Follow our adventures and shark science in our Field Notes or join us aboard the Amigo, departing Fisherman's Wharf, San Francisco.
California Academy of Sciences Farallon Island Web Cam
Greater Farallones National Marine Sanctuary (Site)
Non Fiction
The Farallon Islands: Sentinels of the Golden Gate, Peter White
Farallon Islands: The Devil's Teeth, Marla Daily, Santa Cruz Island Foundation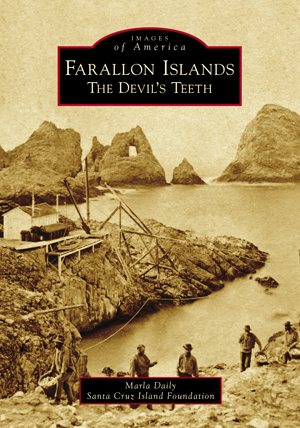 The Devils Teeth, Susan Casey
Sea Birds of The Farallon Islands, David Ainley
Islands of Abandonment: Nature Rebounding in the Post-Human Landscape, Cal Flyn
Fiction
The Lightkeepers, Abby Geni
FARALLON ISLAND by Russell James
Videos
Sanctuary in the Sea, Robert Talbot for NOAA
Devil's Teeth, Roger Teich