July 2023 Newsletter View this email in your browser
Each summer sharks receive a lot of attention. Shark Week and SharkFest are two popular programs appealing to the Galeophobes (those fearing sharks) and the shark-loving  Selachimorphaphiles (from the term Selachimorpha which is the scientific term for all species of extinct and living sharks).

Sharks are also in the news since summer months bring more people in contact with waters where sharks swim. Warmer waters bring rays and juvenile sharks closer to shore, with an increased odds that humans and sharks shall meet. 


Shark bite survivors Keane Webre-Hayes, Steven C. Robles, Maria Korcsmaros and Leeanne Ericson, from left, in a group photo at Corona del Mar State Beach in Newport Beach on Friday, May 3, 2019. This was the first time Korcsmaros swam the buoy line after being bit by a shark there in May, 2016. All four are shark bite survivors, giving each other support. (Photo by Paul Bersebach, Orange County Register/SCNG)

We at Shark Stewards work to reduce fear through education, and to motivate action to protect these magnificent animals. This includes shark encounter investigations and working with survivors to turn fear into fascination. Read about some of our summer shark developments and upcoming education events below. Watch Shark Steward's own Chairperson and shark survivor Maria Korcmaros on National Geographic's SharkFest with Dr. Stephen Kajiura on When Sharks Attack 360.

Join us on the beach, in the water or online, and learn more about why we should be afraid for sharks, not afraid of sharks.

In the News

August 1 is Respect for Fish Day, a day that brings awareness to the plight of fish, including overfishing and fish abuse. Scientists have established that fish feel pain, and sharks and other fish suffer through cruel practices by commercial and  sports fisherman and collection for the recreational aquarium trade. Learn how you can help save fish and reefs at Sharkstewards.org.

UK Passes Shark Fins Act
In July the United Kingdom announced that the Shark Fins Act banning the international shark fin trade had passed into law. Like the USA, shark finning has been banned in the UK since the early 2000s, and closed loopholes with a 'Fins Naturally Attached' policy that reduces finning but allows for the trade of a  estimated 20 tonnes of fins. The new Act follows similar laws in Canada and the USA preventing the trade of detached shark fins and related products.

EU: it's time to Stop the Fin Trade
Shark Stewards joins the StopFinningEU Citizen's Initiative calling for an end to the shark fin trade in Europe. The coalition has gathered over 1.1 million EU citizens to demand that the EU supports science and stops the barbaric practice of shark finning and stops the flow of fins to Asia. On July 5th, the European Commission, recognizing the threats to sharks, announced that they will launch an impact assessment on the environmental, social and economic consequences of a shark fin ban by the end of 2023.
Sign the Petition

Not All Sharks are Apex Predators: Some Sharks Are Omnivores
Watching Shark Week, one would think that all sharks are toothy apex predators, but that is not the case. Most species in the elasmobranch group are 'flat" sharks (skates and rays) that are mostly bottom feeders, consuming invertebrates like molluscs and crustaceans. Many species of sharks consume deep sea squid, or dead fish on the seafloor. Some, that include the largest sharks such as the whale and basking sharks, even survive on tiny plankton like copepods, fish eggs and krill!
One unique shark, the Bonnethead, is the smallest member of the family Sphyrnidae, which includes the hammerhead sharks. These small coastal sharks consume fish and invertebrates, but also forage on seagrass! Habitat loss, fishing, pollution and now climate change (including the marine heatwave in Florida) are threatening this shark with extinction. However, this and all hammerhead sharks, and nearly 90 other species were listed under the Convention on the International Trade of Endangered Species in Panama last year, helping protect them from trade.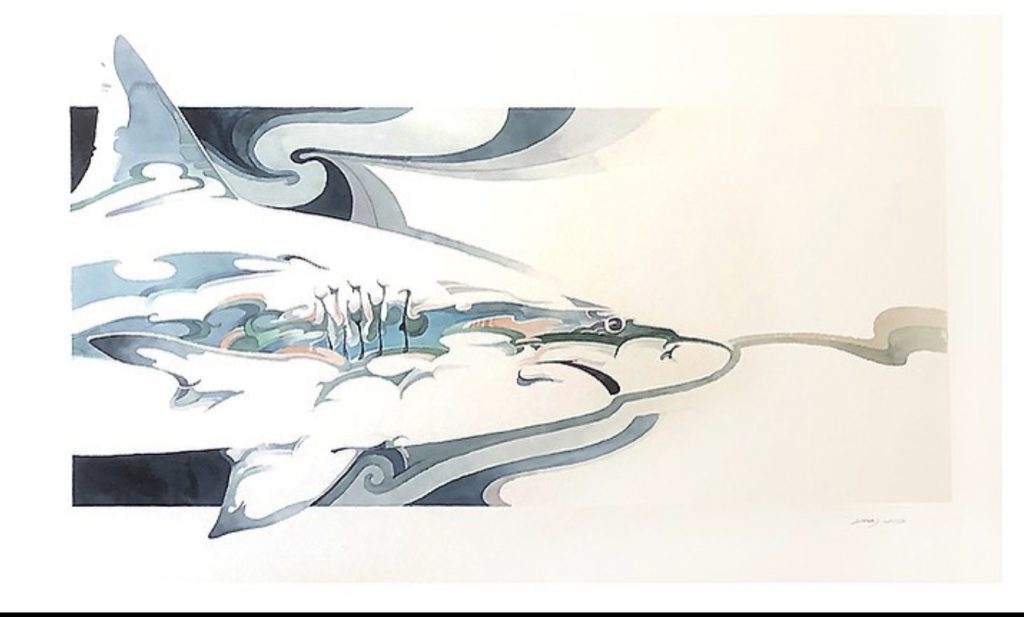 Bonnethead, a watercolor by Dana Lamb (above), has been contributed to our Art for Sharks Program (click to watch the video). Check out the conversation with Dana and artists Sean Nelms (Sarcastic Shark) and Kevin McHugh (Disco Shark), learn about art, sharks and inspiration, and bid on their work at our live event  Sharktober Golden Gate Cruise October 15. 
Shark Watch: Connect and Protect

Learn about our California Shark Watch community science project, featured this month by Sci Starter. Volunteers above and below the surface can collect observations and submit them to our project for identification and monitoring using the Wildbook algorithm. 


Another Bay Area Epidemic?
We are receiving observations of rays and small sharks washing up on San Francisco Bay shores. As water temperatures rise, there is concern we might be entering another Harmful Algal Event, placing shark and other marine life at risk. See a shark? Scan the Sharkwatch code and help us map these strandings.
Join Us!
Act Today to Save Sharks
To keep sharks swimming, it is urgent we protect them, including the ecosystems they inhabit.
Despite shark finning bans, the demand and trade is still occurring. Brazil recently claimed a record shark fin bust, seizing nearly 20 tons of fins from 10,000 sharks!  Stronger fishing and wildlife trade laws are essential to save many species of sharks and rays from extinction. Supporting newly proposed Pacific marine protected areas will benefit threatened sharks and rays, and protect coral reefs.
There are over 500 species of sharks in our ocean and new shark species are still emerging from the deep. They are vital for the ocean ecosystem and need our protection. Join us and help keep sharks and marine ecosystems alive!
EVENTS
August 5, Jaws and the Meg 2 Special screenings at the Regency Theatre, Laguna Niguel for Shark Week 2023. Visit Shark Stewards in the lobby when you arrive and learn more about these fascinating apex predators. 
August 13, Magic Sands and Pahoehoe beach cleanup, Kona 9am-12 pm with partners Clean Swell.
August 27, Beach Cleanup with Back Bay Science Center, Newport Beach Back Bay 0900-1100
September 3, California Shark 101 and Sevengill shark search. 2 tank dive with Waterhorse Charters, La Jolla CA.
September 16- Nov 3  Sharktober Sanctuary Wildlife Expeditions Visit SE Farallon Island and experience our National Marine Sanctuaries and CA Marine Protected Areas on a cruise seeing whales, seabirds, weird marine wildlife and maybe a great white shark!  LEARN MORE
September 30 Sharkoberfest with the Sanctuary. Join us for our annual celebration of the return of the white sharks to our Greater Farallones National Marine Sanctuary. Music, shark education and fun! GFNMS Headquarters, Crissy Field, San Francisco. 
October 7 Sixth Annual Run for Sharks and Ocean Health Fair, Newport Dunes, Newport Beach. Run, walk, learn or volunteer!
October 15, Sharktober Golden Gate Bay Cruise And Art for Sharks Wildlife Benefit Celebrate Sharktober on the San Francisco Bay with art and nature on the magnificent San Francisco Bay. Advance tickets to this exclusive event on the luxury yacht Empress. Original ocean art available to support our endangered shark protection program.  
Buy Advance Tickets to this benefit event!
With your support, we keep sharks swimming and the ocean healthy. We value your time, your passion, and any size donation.Shark Stewards is rated highest by Charity Navigator, Platinum-ranked by GuideStar, a member of 1% for the Planet, and a proud project of the Earth Island Institute, a federally registered 501(c)3 non profit.
Will you help us save sharks with your donation?
Copyright © | 2023 | SHARK STEWARDS | All rights reserved
Our mailing address is:
Shark Stewards, PO Box 617, Sausalito, CA 94966
Add us to your address bookWant to change how you receive these emails?
You can update your preferences or unsubscribe from this list.