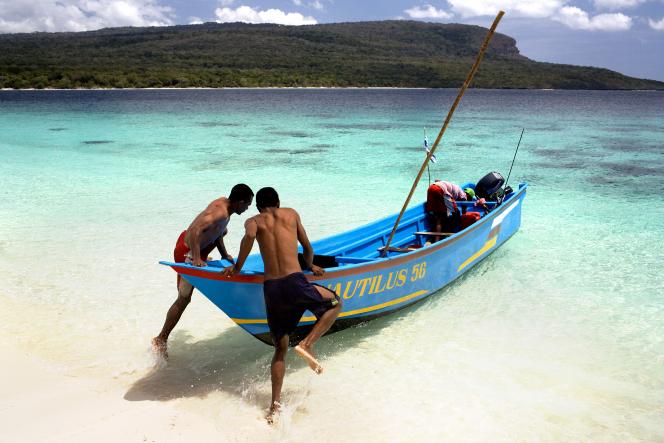 June 8th, 2020
Celebrating a New Hope Spot: Timor-Leste's Oceans of "Blue Hope"
Timor-Leste (June 8th, 2020)–
The small island nation of Timor-Leste has been internationally recognized for its vibrant marine life and its commitment to ocean conservation and ecotourism.
Mission Blue, international marine conservation non-profit has recognized the northern waters of Timor-Leste as a Hope Spot. Hope Spots are special places critical to the health of the ocean — that recognize, empower and support local communities and governments around the world in their efforts to protect the ocean.
Dr. Sylvia Earle, Founder of Mission Blue, says the Ombai-Wetar Strait Hope Spot recognizes the global significance of Timor-Leste's oceans, particularly its coral reefs and marine wildlife – and the island's potential for sustainable marine ecotourism development. "The Hope Spot also offers 'blue hope' – recognizing the people of Timor-Leste's extraordinary commitment to ocean conservation. Particularly its Champions' goals of establishing the country as a sustainable dive tourism and whale-watching destination, developing community-based conservation and marine ecotourism livelihoods, and supporting improved ocean protection", said Dr. Earle.
Situated in heart of the Coral Triangle region, Timor-Leste's rich waters include the global epicentre of tropical marine biodiversity.
Dr. José Ramos-Horta, Nobel Peace Prize-winner and former President of Timor-Leste praised the international recognition and emphasized its local significance for Timor Leste. "The Ombai-Wetar Strait Hope Spot offers great recognition of what many of us in Timor-Leste already know. We live in a very, very special place with truly extraordinary and abundant marine life. The great challenge for Timor-Leste is to protect and celebrate it – and promote stewardship of this extraordinary gift from Mother Nature. The Hope Spot is a major step and formal recognition of Timor-Leste's commitment to doing precisely that."
The Ombai-Wetar Strait Hope Spot encompasses the Timor-Leste waters of the Ombai and Wetar Passage, including the 3-km deep waters of the Ombai and Wetar Trough. The ecosystems of the Hope Spot are globally-significant and include the world's highest recorded coral reef biodiversity and also the Ombai-Wetar Strait Transboundary Marine Corridor, a recognized Indo-Pacific migration corridor of regional importance to large whales, pelagic sharks, sea turtles and other marine megafauna.
As a fragile, post-conflict developing nation, Timor-Leste faces major economic and human development challenges, with some of the highest levels of poverty and food insecurity in the Asia-Pacific region. Increasingly, however, conservationists are looking to nature-based tourism as a key national economic development priority.
Dr. Karen Edyvane, marine biologist, President of the Marine Tourism Association of Timor-Leste and Hope Spot Champion says that the Hope Spot's marine ecotourism values are exceptional, holding great economic potential – but are also highly vulnerable.
"Timor-Leste's amazing, globally-significant oceans and extraordinary marine wildlife can be lost in the blink of an eye through practices like unsustainable fishing, unregulated marine tourism and poorly planned coastal development. This Hope Spot recognizes Timor-Leste's world-class reefs and marine life, particularly its whales and dolphins. The Hope Spot also highlights what can be achieved when tour operators, development partners, the government and local communities work together towards ocean conservation and sustainable tourism."
"The Ombai-Wetar Strait Hope Spot emphasizes the critical importance of addressing poverty and employment in ocean conservation and protecting the most biodiverse reefs on the planet." David McGuire, shark expert, conservationist, Director of Shark Stewards and Hope Spot partner described the foundational change that he believes will be a key part of a healthy ocean and economic future for Timor-Leste. "The best conservation mechanism is to support local jobs and livelihoods that move away from killing, by bringing international tourists on and into the ocean to witness these magnificent animals – alive and thriving – in their natural habitats and protect them," he said.
The U.S. Government has provided major support for the Hope Spot, establishing the Marine Tourism Association of Timor-Leste and supporting the nomination of the Ombai-Wetar Strait Hope Spot.
"I am delighted that our Tourism For All Project has been able to make a tangible contribution. Natural resources protection is vital to the United States' vision for the Indo-Pacific and the Hope Spot designation is important recognition of that," said Kathleen Fitzpatrick, U.S. Ambassador to Timor-Leste.
About Mission Blue
Led by legendary oceanographer Dr. Sylvia Earle, Mission Blue is uniting a global coalition to inspire an upwelling of public awareness, access and support for a worldwide network of marine protected areas – Hope Spots. Under Dr. Earle's leadership, the Mission Blue team implements communications campaigns that elevate Hope Spots to the world stage through documentaries, social media, traditional media and innovative tools like Google Earth. Mission Blue embarks on regular oceanic expeditions that shed light on these vital ecosystems and build support for their protection. Mission Blue also supports the work of conservation NGOs around the world that share the mission of building public support for ocean protection. The Mission Blue alliance includes more than 200 respected ocean conservation groups and like-minded organizations
About ATM-TL
The Marine Tourism Association was launched in August 2019, with the help of he United States Agency for International Development (USAID) and the Ministry of Tourism, Commerce and Industry to make Timor-Leste a world renowned destination for environmental tourism. The association reinforces USAID's commitment to the Government of Timor-Leste's drive to diversify its economy beyond oil by promoting sustainable ecotourism with economic benefits flowing to local communities, private tourism operators and the government.
About Shark Stewards
Founded in 2006 to protect sharks and critical marine habitats, Shark Stewards works in education, science and policy to protect threatened species and ecosystems. As part of the Earth island Institute in Berkeley, CA, The group works nationally and internationally and has worked in the Philippines, Malaysia, Indonesia and Timor Leste building eco- dive tourism to create marine protected areas and protect sharks. Shark Stewards visited Timor Leste in 2019 to help launch the ATM and work with local operators to assess sharks and reef biodiversity for increased protection, and was a major partner in the Hope spot designation.
Additional information/resources can be found at the following websites: