SHARK STEWARDS YEAR END REPORT 2022
Shark Stewards has had a tremendously successful year fighting for sharks and ocean health in 2022. Emerging from the tough two years we all experienced during Covid, suffering a significant decline in funding for our direct education and outreach programs, we rebounded this year and conducted 10 formal Aquarium and Museum events and over 30 school and beach cleanup events. A few highlights in California include the Shark Day at the Ocean Institute, our 12th annual Sharktoberfest with the Greater Farallones National Marine Sanctuary in San Francisco, Ocean Science Day with the Walter Munk Foundation and Scripps Institute of Oceanography in San Diego, and in Hawai'i with the Miloliʻi Lawai Ohana Camp, along with other events reaching over 10,000 people talking shark face to face!
This year we succeeded in adding major gear restrictions to protect pelagic sharks, especially blue sharks. One of the most heavily fished shark and victim to bycatch globally, the fins from an estimated 20 million blue sharks enter the Hong Kong shark fin trade each year.
We also helped pass two federal laws that will regulate the trade of shark fin in the USA and significantly reduce bycatch of sharks in the Pacific. After 10 years of work we were able to see the US Shark Fin Sales Elimination Act ushered through the Congress, and sign into a law by President Biden. Following countless meetings and reports over 8 years, we also saw another Federal bill signed that will reduce bycatch and eliminate lethal driftnets in federal waters off California. Below is our end of the year report of our work in education, science and policy in 2022 and goals to continue protecting sharks in 2023.
TABLE OF CONTENTS
Introduction__ Page 1
Table of Contents_Page 2
Policy Passed_Pages 3-5
Hawaii and California Chapter ActivitiesPage 6
Southern California Chapter Activities and Shark WatchPage 7
San Francisco Ecoblitz and Plastic Free Parks_____Page 8
Plastic Litigation and Pending LegislationPage 8
Mentorship, Science_Page 9
Media and What's Ahead in 2023Page 10
APPENDICES
I Partners, Donors and Grants_______________Page 11
II Events _Page 12
III Income and Expenses_Page 13
Policy
Our biggest victories this year have been in the policy sphere.
Shark Watch CA, Community Science and New Shark Fishing Regulations
Supported by Lush Cosmetics and Patagonia, the Shark Watch community science project collected thousands of observations of sharks in the wild, including shark catch and release, or catch-and-kill, applying the Shark Watch App developed with the UC Berkeley Fung Team for Engineering and Innovation. Gleaning catch and release, and catch-and-kill data from social media (white sharks in particular), we were able to identify recreational shark fishermen catching and attracting large sharks including protected great white sharks at public piers and beaches. We provided data and influenced a new regulation by the California Department of Fish and Wildlife (CADFW) banning attracting and fishing for sharks "when white sharks are in the vicinity." (More on Shark Watch below. or scan the QR code)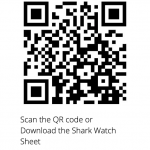 Convention on International Trade in Endangered Species of Wild Fauna and Flora (CITES).
This year we secured monumental international and national protection for sharks – especially heavily targeted blue sharks and critically endangered grey reef and oceanic whitetip and hammerhead sharks. We entered formal comments and provided scientific documentation to support the protection of scores of sharks and ray species at the 19th Coalition of the Parties (CoP19) in Panama under the Convention on International Trade in Endangered Species of Wild Fauna and Flora (CITES).
In collaboration with the Shark Research Institute and the Species Survival Network we participated at CoP19 in Panama in November 2022, distributing science materials developed by Shark Stewards, and lobbied with delegates to support listing three entire families of sharks and guitarfish under Appendix II.
Despite a motion by Canada, Peru and Japan to exclude blue sharks due to their large commercial fisheries contributing to the shark fin trade, the delegates voted overwhelmingly to support all members of the Requiem sharks (Carcharhindae). All 19 lead species of the Requiem sharks in Proposal 37 met the criteria for Appendix II with widespread declines exceeding 70% with regional extinctions. The Requiem shark family dominates the shark fin trade with 46% of the total family documented in the Hong Kong trade. With them, all hammerhead sharks were listed including the critically endangered Bonnethead shark, and all guitarfishes, a family of rays that have been overfished, suffered habitat loss and whose fins have come into high demand with the decline of other shark species. All species will now have increased protection from the trade of their fins and other body parts under CITES, helping ensure their survival.
USA Shark Fin Sales Elimination Act
For over 16 years, starting with the introduction of the California Shark Fin Ban and then supporting and/or submitting legislation state by state, Shark Stewards has been advocating for a federal shark fin ban. This year, after lobbying 4 Congresses and collecting nearly 150,000 signatures in support, the US Shark Fin Sales and Elimination Act passed through Congress and was signed into law by President Biden on December 23, 2022.
Bycatch Reduction and Driftnet Elimination Act
Included in the Spending Bill President Biden also signed into law the Bycatch Reduction and Driftnet Elimination Act phasing out the last lethal driftnet fishery in US waters. Since 2010 we have worked to eliminate this gear set for swordfish, but killing millions of sharks, seabirds, dolphins and sea turtles in federal waters off of Southern California.
This year we successfully lobbied fisheries managers to pass significant gear restrictions from California to Hawaii to the Western Pacific in 2022. In 2021 Shark Stewards began work in Hawaii lobbying for shark protection with local groups on Oahu. A bill passed by the 2021 State Legislature banning shark fishing will take effect January 1, 2022. Act 51 (House Bill 553) makes it illegal to knowingly capture, entangle, or kill a shark in state marine waters. The new law applies to all shark species found in Hawaiian waters.
West and Central Pacific Wire Leader Ban Protects Sharks
Following Hawai'i's lead banning wire leaders in the tuna fishery, we petitioned NOAA's National Marine Fisheries to do the same in all Pacific commercial tuna industries, which was adopted last year and implemented in May 2022. The regulation will replace wire leaders — short lengths of wire that stop fish from biting themselves free from hooks — with nylon alternatives. Plastic leaders give sharks a better chance of survival because they can bite themselves free, or fishermen can cut them loose with greater ease. This new regulation prohibiting the use of wire leaders in longline fisheries is expected to increase the survival of hooked oceanic whitetip sharks by up to 30%.
This summer we petitioned NOAA to support similar gear restrictions in the Pacific at the West and Central Pacific Fisheries Management Council, governing tuna industries in that region. In December 2022, the Council agreed to the USA proposal to eliminate shark lines and wire leaders in west Pacific tuna fisheries that will protect blue sharks from accidental catch and the shark fin trade.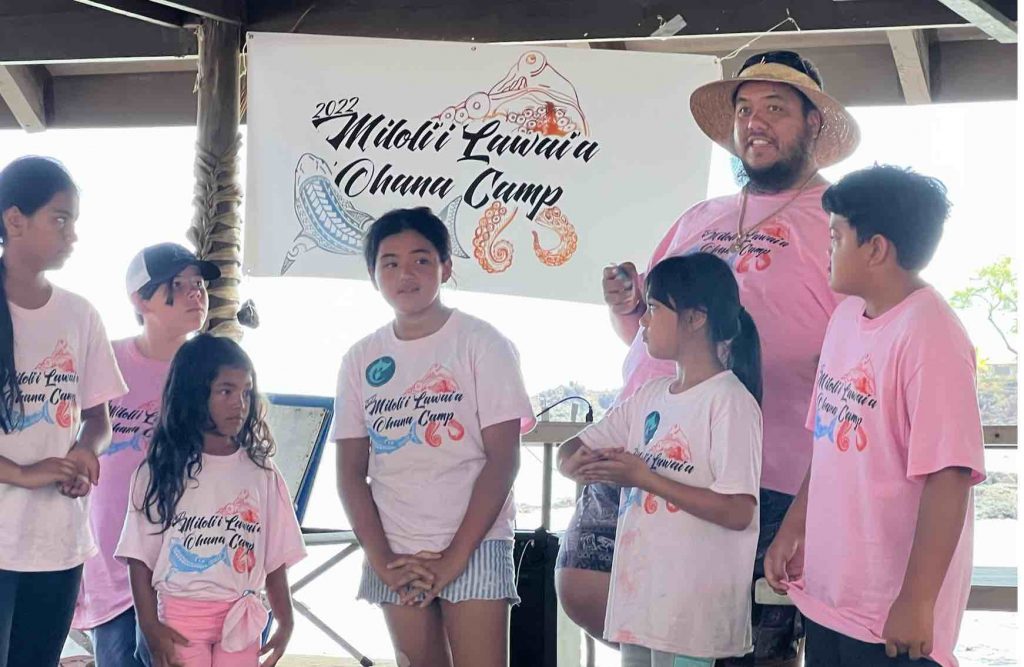 Hawaiʻi Chapter Education Activities
Due to Covid we shifted our Pacific shark and MPA program from SE Asia to Hawaii and started a new chapter in Kona to influence legislation in 2021/2022. We built our chapter in 2022 led by freediver and advocate Angela Fryar. Partnering with divers and five community partners, we conducted 5 beach clean ups in Hawaii, including two youth education camps: one with the Hawaiian Preparatory Academy with Keep Puako Beautiful, and one with the Miloliʻi Lawai Ohana Camp in Miloliʻi (Ka'u district) with native Hawaiians. Known as the last traditional fishing village in Hawaiʻi, this community has established the first community-based fisheries management area.
With the Shark Research Institute we are working on a tiger shark ID study in Kona and continue testing our pattern recognition with Shark Book AI developed by Wild Me. With Hawaiian leaders in the Miloli'i and a coalition with The Dark Hobby Film, we are petitioning the Department of Land and Natural Resources to end licensing aquarium reef fish exports in Kona.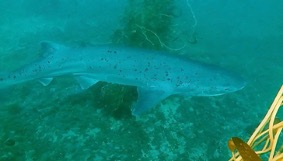 Southern California Activities and Shark Watch CA, Community Science
In Southern California our lead and Shark Survivor Maria Korcmaros hosted and participated in 20 Beach Cleanups between Newport Beach and Long Beach with over 100 volunteers. We hosted our 5th annual Run 4 Sharks Fun Run, Walk and Ocean Health Fair with 300 participants and 12 ocean education and health partners. Maria and David also spoke to 5 dive clubs, museums, and groups including the Orange County underwater photography society with Hawaii photographer Deron Verbeck. With our science leads Carmen Pasos, Audrey Holloway and our new board member Michael Bear, we hosted two community science sevengill shark ID dives in La Jolla Cove with Waterhorse Charters. We are conducting a socio-economic survey and study of sevengill sharks, photo-identifying individuals building on the Sevengill Shark Project started by Mike Bear in 2006. To date, over 70 unique individuals have been photographed in San Diego and La Jolla Cove. (Appendix II)
Shark Watch also has collected incidents of over 3,000 shark catch, kill or shark catch and release gleaned from social media by a team of UC Berkeley undergraduates advised by our Director. Incidents of shark catch are collected by location and species from Instagram, YouTube and Facebook. Many incidents of deliberate and illegal capture and injury to protected great white sharks have been documented. This data has been compiled into a report and submitted to the California Department of Fish and Wildlife resulting in increased regulations. (See Policy Section)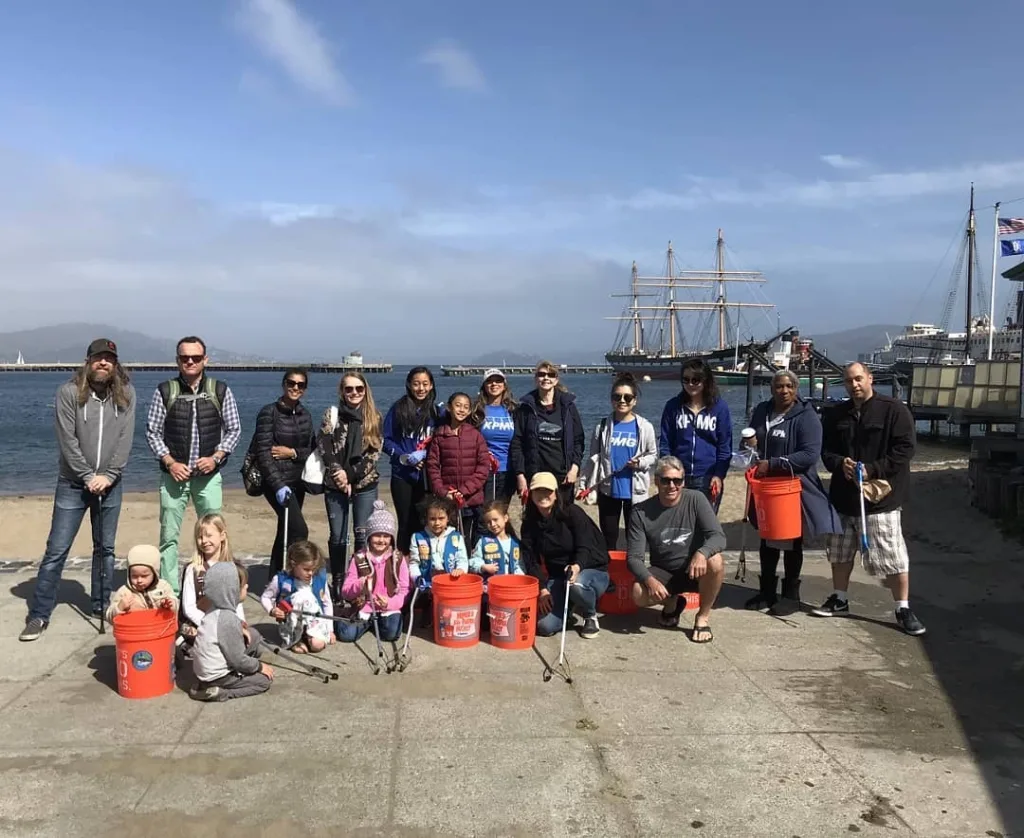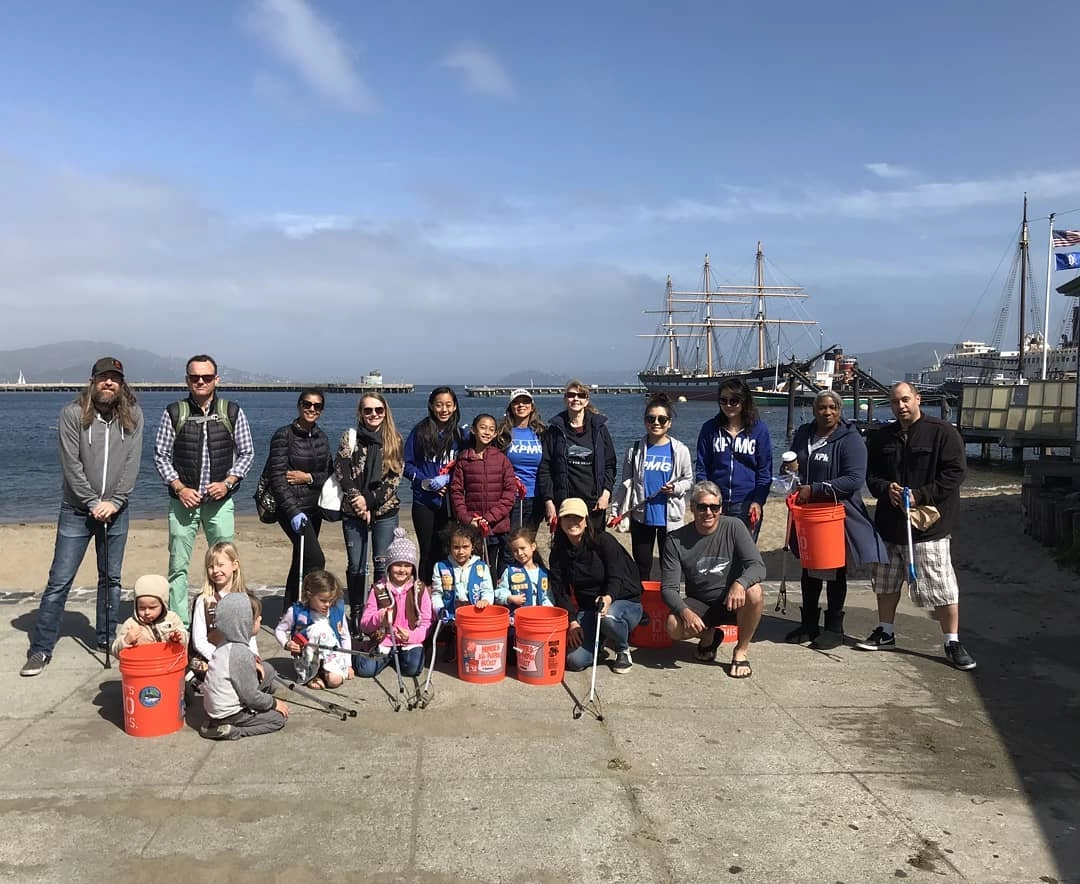 San Francisco EcoBlitz and Plastic Free National Parks
In San Francisco we were able to continue our 9-year-old Aquatic Park Stewardship program with San Francisco Unified School District and the San Francisco Dolphin Club through a grant by the City of San Francisco Public Works. Based on a project we developed with the National Geographic Explorers Program, our Ecoblitz program directly reaches youth and engages them in data collection of trash collected in 5 different city neighborhoods including Aquatic Park. We collect wildlife observations using iNaturalist with the California Academy of Sciences and compare data between areas of the City. We also conducted 8 community cleanups at the National Park in 2022, engaging 186 volunteers and picking up over 4,800 cigarette butts. Data from cigarette butt collection is used in a campaign to eliminate this hazardous waste from our waterways and wildlife.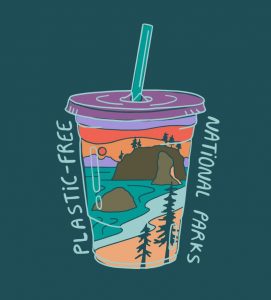 Plastic Litigation And Pending Legislation
Our beach cleanups are focused on cleaning and quantifying marine debris, and providing branding data to support a lawsuit under the California Clean Water Act with the Earth Island Institute against the top-ten plastic producers including Coca Cola and Nestle. This lawsuit, filed in 2021 and represented by Stanford Law Center has survived a challenge to move to the Federal court system, and is currently filed in the California State Superior Court.
With 5 Gyres we provided data from our cleanups in California and Hawaiʻi in National Parks to leverage legislation as part of the Plastic Free National Parks campaign to be introduced in 2023.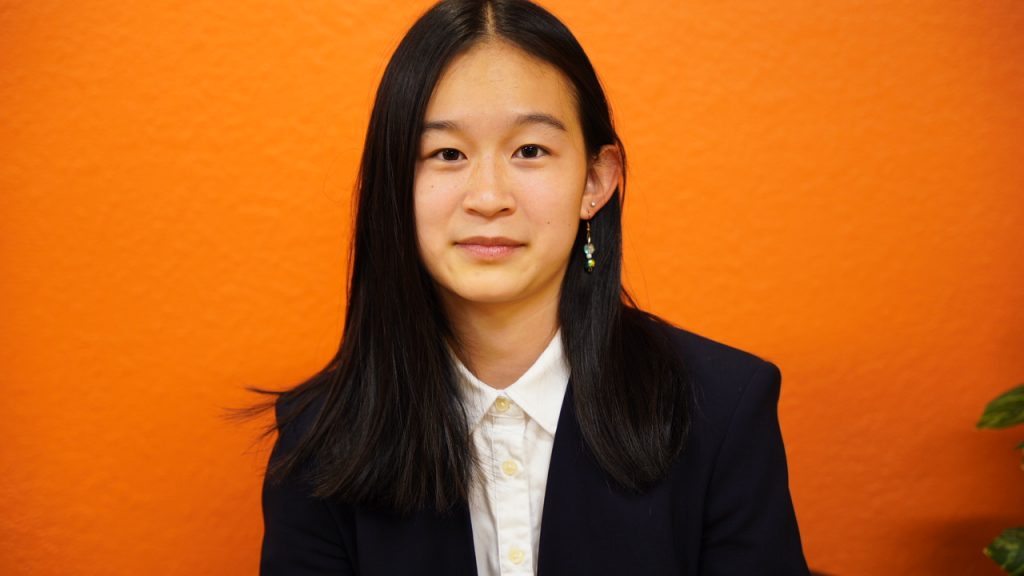 Mentorship and Science
This year with our cultural and academic advisor Dr. Vincent Yip, we mentored Asian American youth providing academic guidance to four young women matriculating them from high school into university to future thier careers in media and environmental science. We are very proud of UCLA freshman Elizabeth Tan who has been a youth leader combatting Asian Hate, and helping guide our study and film to educate Chinese about shark fin and fish consumption.
This summer we hosted an international intern Vivian Guido, an environmental studies masters program student at the University of Toronto. Vivian researched and helped write scientific fact sheets on endangered sharks and rays that we distributed to delegates at CoP19 at CITES in Panama. She also assisted with writing and collecting data for a report we are producing on the global socioeconomic benefits of dive tourism to domestic economies. Included in our report will be work contributed by teammember Carmen Passo's masters thesis in Mexico and the sevengill study she is leading in San Diego. This global evaluation of the shark diving industry and socioeconomic benefits will be provided to governments to justify dive tourism and increase marine protection in new regions. Vivian's mantle has been picked up by our new intern Gillian Ferguson, a senior at the University of New England. We intend to present the report at the Oceans Conference hosted by Panama in March 2023.
In San Francisco we continued our work with the National Ocean and Atmospheric Association (NOAA) and the Greater Farallones National Marine Sanctuary White Shark Stewardship, a program we helped found, educating the public and supporting shark ID at the Farallon Islands. We led four expeditions with over 100 public members participating.
For our third year we are working with a multidisciplinary team of graduate and undergraduate students at UC Berkeley in the Fung Fellowship's new Conservation + Tech program developing new software and hardware to collect shark and ray observations in the wild. With our expedition partners Blue Endeavors, we will be leading dive and marine science students into the field to collect observations using the technology created under the Fung Institute Challenge. Our Shark Watch survey and code were first developed with a student team in 2020, and we are applying the data towards increased shark awareness and regulation. (See olicy section)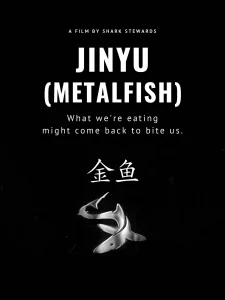 Media
This year we published a scientific article comparing mercury in fish, shark fins and the associated health risk factors among Asian consumers in San Francisco and Honk Kong in the Asian Journal of Health. The publication was accompanied by the short documentary Jin Yu (Metal Fish) made with our co-authors: student Kevin Zhao, Tak Yung Hi, Dan Valentyne and David McGuire.
Jin Yu, our documentary on the study premiered at the International Ocean Film Festival and was screened in other film festivals. The goal of the paper and film is to educate consumers on the health risks associated with eating high trophic-level fish like tuna, swordfish, king mackerel and shark, and allowed consumers to change their consumption behavior to reduce impacts on overfishing.
In April we were proud to partner again with the International Ocean Film Festival curating the shark program at Fort Mason in San Francisco. We hosted onstage shark films, tabled with volunteers throughout the festival and presented a special shark panel discussion with filmmakers and experts. For the 12th year running, we continue our partnership since premiering our first Shark Stewards of the Reef at the Festival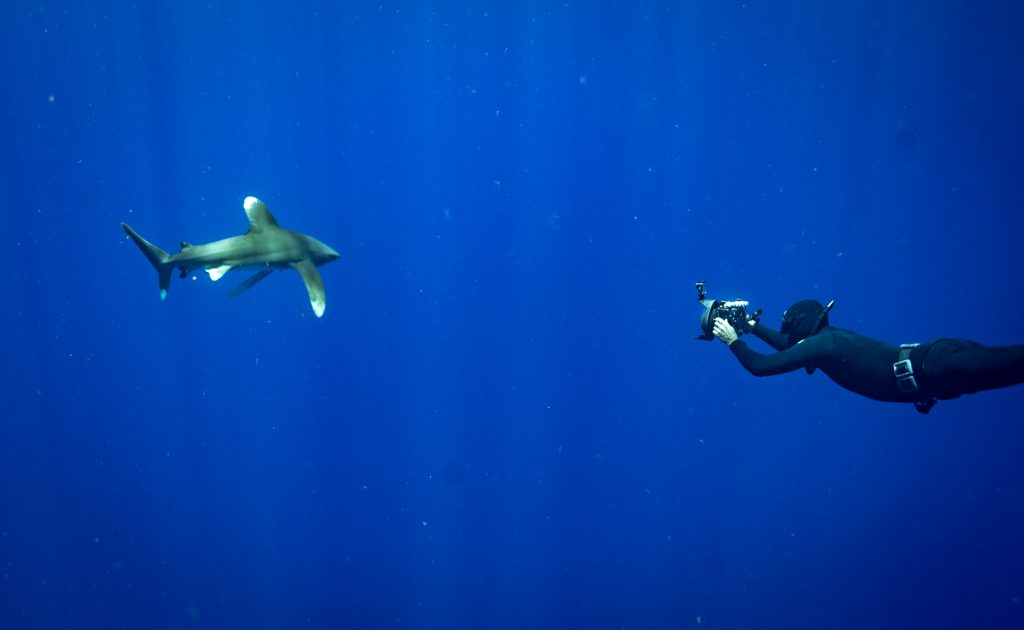 Looking Ahead- 2023 Campaigns
Since 1996 Shark Stewards has made the overfished blue shark the symbol for pelagic shark protection and protecting them from the shark fin trade. In 2023 our flag to fly will be to protect the critically endangered Oceanic Whitetip Shark.
Watch for our proposed protection under the Endangered Species Act, zero retention in the Pacific of any OWT. Building on the West Pacific regulations adopted this year, we will work to increase gear restrictions to protect sharks in the Eastern Pacific Tuna fisheries in 2023. With increased trade restrictions we achieved under CITES, we will bear pressure on eBay for selling unpermitted species that fall under the international trade restrictions of sawfish rostra, shark jaws and teeth of protected species.
In 2023 we intend to provide data to CADFW to close the language loophole in the shark attraction regulation and prohibit chumming and shark gear at all public beaches and piers, for the public safety and to protect threatened sharks.
We are also advocating for the protection of two National Marine Sanctuaries, one in the Papahānaumokuākea a haven for pelagic sharks in Hawaiʻi, and the other, the Chumash Heritage National Marine Sanctuary in California. We will also focus on developing scientific justification to uplist critically endangered sharks like the Oceanic Whitetip and the Whale Shark to Appendix I at CITES in 2025.
Thanks to a grant from the Ignite Foundation, we are currently working on a new documentary "E Mālama i ka manō " (respect and take care of sharks) on Pacific sharks and Hawaiian culture we plan to premiere in 2023.
This has been a truly momentous year!
Thanks to the passion and energy of hundreds of volunteers, we can achieve so much on such a modest budget. A review of policy victories and what is ahead can be seen on our end of year team meeting recorded on YouTube.
We want to thank our board members, supporters and volunteers for helping us continue to save sharks and their habitat in 2023!
Thanks for your support,
David McGuire, Director Shark Stewards


Legislation Supported and Passed in 2022
California Shark Attraction Ban
Hawaii/ NOAA Wire Pacific Longline Leader Ban
WCPFC Wire Leaders and Shark Lines Ban
CITES Listings sharks and rays
Shark Fin Sales Ban
Bycatch Reduction and Drift Gillnet Elimination Act
APPENDIX I
California Partners
California Academy of Sciences
California Marine Protected Area Collaborative
Greater Farallones National Marine Sanctuary
Save Our Beach
San Francisco Dolphin Club
Stand Up to Trash
Ocean Institute
Newport Landing Whale Watching Earth Day
Mary Muth Interpretive Center with Newport Bay Conservancy,
Surfrider Foundation
5 Gyres
Hawaii Partners
AB Seas
Jacks Dive Locker
I Am Aquatic
Kaimana Ocean Adventures
Keep Puako Beautuful
Ocean Defenders Alliance
South Kohala Alliance
Shark Research Institute, Big Island Tiger Shark Study
Miliol'i Community
Corporate/ Government Donors and Grants
Ignite Foundation
Long Beach SCUBA Show
Jacks Dive Locker
The Spicy Shark
San Francisco City Public Works
SharkGuardz
Kissed by a Shark Wellness
Lush Cosmetics
Ocean Protection Council
APPENDIX II
2022 EVENTS
Adventurers Club, Los Angeles
Aquatic Park Beach Cleanup, San Francisco Maritime Heritage National park (8)
American Women's Academic Association, Cerritos CA
Beach Cities SCUBA
Oakland Zoo, Earth Day
Chabot Museum Science Night
Cherry Beach Cleanups (3)
Dana Point Whale Festival,
Dana Point Shark Day with Stand Up to Trash
Jackʻs Dive locker Shark Day Kona Public lectures (2)
Kawaiihae Beach Cleanup (2)
Lawai Ohana Summer Camp, Miloli'I HI
Long Beach SCUBA Show
Mary Muth Interpretive Center with Newport Bay Conservancy,
Newport Beach Cleanups (3)
Newport Landing whale watching Earth Day
Newport Landing, Girl Scout Troop Troop San Clemente,
Oceanic Institute, Dana Point
Ocean Awareness Day Munk Foundation/SIO La Jolla
Old Airport Beach Cleanup, Kona HI (2)
PCH SCUBA
Puako Beach Cleanup
Patagonia, Palo Alto
Orange County Underwater Photographers Society
Safari West, World Oceans Day Sonoma
Seal Beach Cleanups (5)
Shark Awareness Day, Ocean Institute/Standup to Trash
Sharktoberfest, Greater Farallones National Marine Sanctuary, San Francisco
Sharky's SCUBA
Standup to Trash Cleanup, Dana Point (2)
APPENDIX III
Income and Expenses 2022